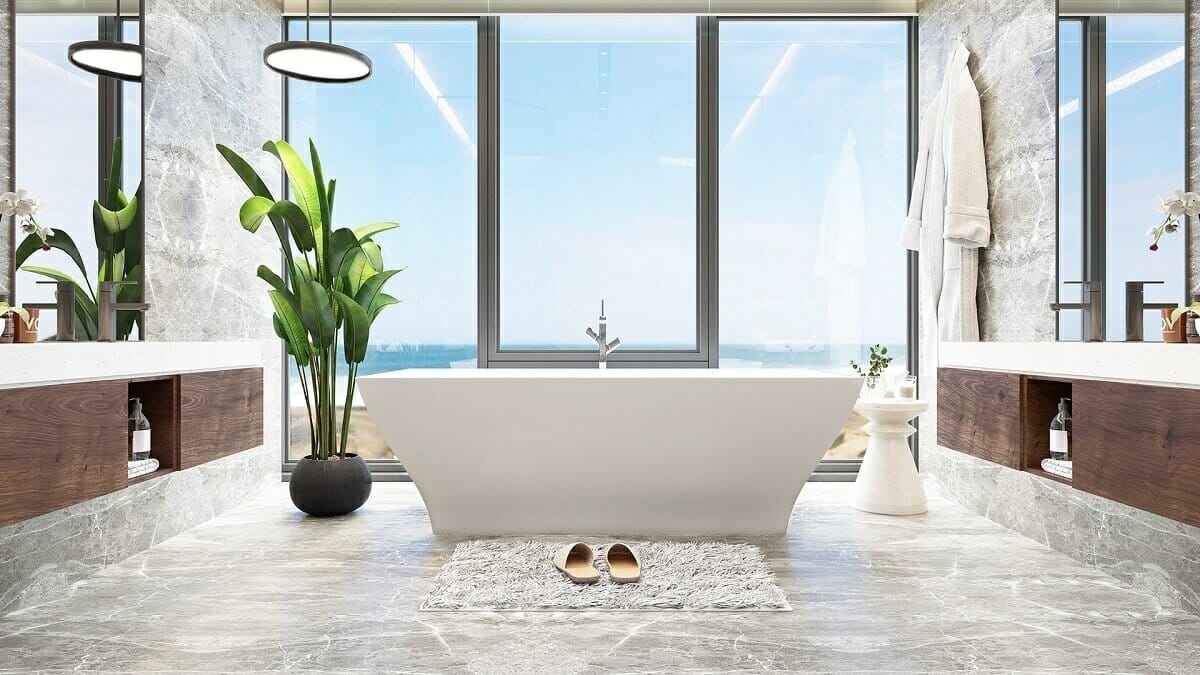 Bathroom remodels can be an incredibly daunting project – not only is it one of the most value-influencing rooms in your house, it's also where you spend a ton of time. It's a room that your guests will most likely visit, and one of the easiest rooms to make remodeling mistakes. 
In this blog post, we are going to provide the information and inspiration you need to successfully plan and complete your beautiful bathroom remodel. 
Where to start with your bathroom remodel 
When thinking of remodeling, there can be lots of confusing thoughts swirling around your mind, and one of the hardest things to do can be deciding where to start. 
One of the first things to consider is the budget you allocate for your bathroom remodel – this can make the difference between a complete gut job and just minor changes. Once you've decided on your overall budget, the next step is identifying which elements you want to change the most, and finding inspiration for what those changes will look like. Whether you're scrolling Pinterest, browsing interior decorators' photos, or searching through Instagram, there is tons of inspiration out there just waiting to be used in your bathroom remodel project! 
Once you have these questions answered, and you've figured out whether you're hiring someone or DIYing the remodel, then the fun of designing and choosing materials/fixtures can start! To get you started, check out this page.
What Not to do in a Bathroom Remodel
As we stated earlier, the bathroom is one of the easiest places to make remodeling mistakes. Here, we're going to break down some of the most common bathroom remodeling mistakes, and share what you can do instead. 
Mistake #1: Not planning ahead
Instead, make sure you have a solid plan in place for your bathroom remodel, including budget, designers, contractors, etc. Bathrooms are one of the areas in your home that require in-depth planning ahead. 
Mistake #2: Picking random materials
Bathrooms are a relatively small space, and can quite easily be mismatched and disjointed. There are a lot of websites and apps that make it easy for you to see what your choices will look like together, so you can make sure your project vision is holistic and comprehensive. 
Mistake #3: Choosing a design just because it's trendy
There's nothing wrong with trendy design if you genuinely like it and want it in your home long-term. The most important thing is to design a bathroom that feels right for you, not just one that will look good online. 
Mistake #4: Choosing the wrong paint
Of course it's important to consider the color of your walls. But, you're also going to need to choose a bathroom-appropriate paint that repels moisture. 
Mistake #5: Leaving your bathtubs, sinks, and faucets to the end
These are a few of the most important features in your bathroom – and they also require extra planning in terms of placement of drains and water lines. If you are choosing a different type of bathtub than you previously had, or moving water lines, you are going to want to know exactly what needs to be changed or moved before you start any work.
So, is remodeling worth it?
Bathroom remodels can be expensive. But, they are also one of the key factors in determining the value of your home if you plan to sell in the future. 
Not only that, but on average, we spend over 2 years of our lives in the bathroom. So, since you're spending so much time in this space, you're going to want to make sure it's somewhere that relaxes you, makes you happy, and you enjoy spending time in. 
It's ultimately going to be your decision if the remodel is worth it, but hopefully this blog post helped you clear up some confusions and start to get an idea of how to plan for your future remodel. 
Helpful blogs: