Adoni Luxury Freestanding Bathtub
The Perfect Alcove Bathtub
 Stone Resin Freestanding Tub
T & L's Adoni luxury freestanding bathtub is ergonomically designed to provide you with all the splendor, comfort and relaxation you've always dreamed about. Create a personal oasis in the comfort of your home.
For those who love the classic elegance of the Oceanus Bathtub but are limited on space, our Adoni Freestanding Bathtub is the perfect solution. 
Meticulously designed for comfort and glamor, our Adoni luxury freestanding bathtub is available as a soaker tub or as a tub with jets. Warm air blown through a series of pin-hole jets positioned in the floor of the tub creates a soft cascade of bubbles enhancing your bathing experience.
Our proprietary InspireStone® stone resin material is warm to the touch, easy to clean and retains the heat of the water for a longer, more enjoyable bath.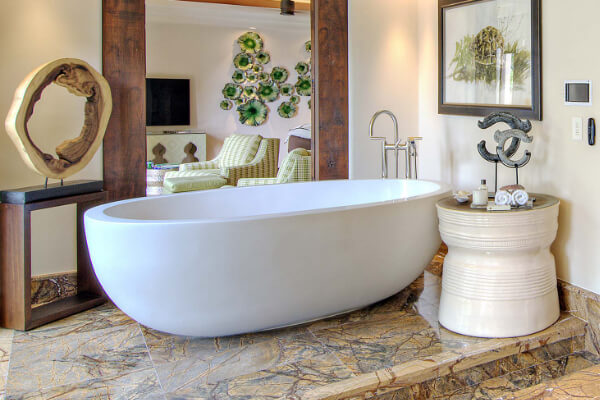 Villa Manzu Estate, Costa Rica
"I purchased my dream bathtub (Adoni) over 4 years ago and had it shipped to our little town in southern middle Tennessee. The customer service at that time was excellent, and the whole process was seamless. It is one of my favorite things in our home and feels as luxurious as it looks. Recently, during the master bathroom remodel, quarter sized hole was punctured in the tub. I was heartbroken, but T&L went above and beyond to get the tub repaired. It looks flawless, and I am sincerely grateful for their exemplary customer service, then and now."
"This is the second tub I have ordered from Tyrrell and Laing! Trust me when I say it is worth the cost. It's the absolute best soaker tub I have ever tried. I get so many compliments on it and people always ask me where they can get one. The customer service is excellent. They go above and beyond to be accommodating. You'll never regret your decision to purchase one."
"Glyn is extremely personable and helpful with all aspects of the ordering process, and their tubs are far superior than the standard acrylic tubs that dominate the market. We are very satisfied with our purchase!"
Adoni Bathtub Specifications