Oceanus Freestanding Bathtub
Our best selling tub for 5-star hotels and private residences
Our Oceanus luxury freestanding bathtub is inspired by the Roman sense of beauty. It is an ideal centerpiece for your personal sanctuary and suitable for two-person bathing.
Tyrrell & Laing InspireStone™ has the appearance of natural stone without the drawback of excess weight.
On average, the Oceanus freestanding bathtub uses just 42 gallons (160 liters) of water per bath, whereas an average bathtub uses about 50 gallons (189 liters). This could be a saving of nearly 3,000 gallons a year in water and associated energy costs.
Available as a soaker tub or enhance your bathing experience with our hot air massage jetted option.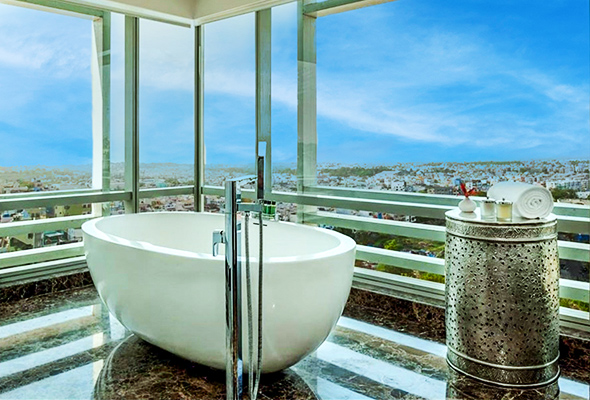 Park Hyatt hotel, Hyderabad, India
Get inspiration from some of our customers' luxury bathrooms
Click on an image to see a larger version and description
Oceanus Bathtub Specifications
Available in Two Height Options
I can't say enough about the T & L Oceanus freestanding bathtub! This is the second one I've purchased (pictured). The quality and style is very elegant and high end. Glyn is absolutely fantastic and extremely helpful.
Highly, highly recommended!
Charlotte Sunderland