Acqua Rectangular Freestanding Bathtub
Indulge yourself in an Unforgettable Bathing Moment 
The Acqua rectangular freestanding bathtub is handcrafted to make a bold statement in your bathroom. It is sloped to accommodate two person bathing for a long, relaxing soak. This bathtub accommodates a shower/bath combo with its flat bottom design.
Our beautiful stone resin finishes are available in classic white, or trendy black. Take your bathroom design to new heights with our NEW Onyx and Calcutta finishes. You will love your new T & L Bathtub regardless of whether you choose a traditional color scheme or a trendy one.
Available in three sizes in our proprietary InspireStone® stone resin material. Benefits of our material include: 
– Scratch and stain resistant
– UPC/IAPMO Approval
– Warm to the touch
– Mold and mildew resistant
– Internal overflow
Pairs perfectly with our Contemporary Basins – bring your bathroom design to life!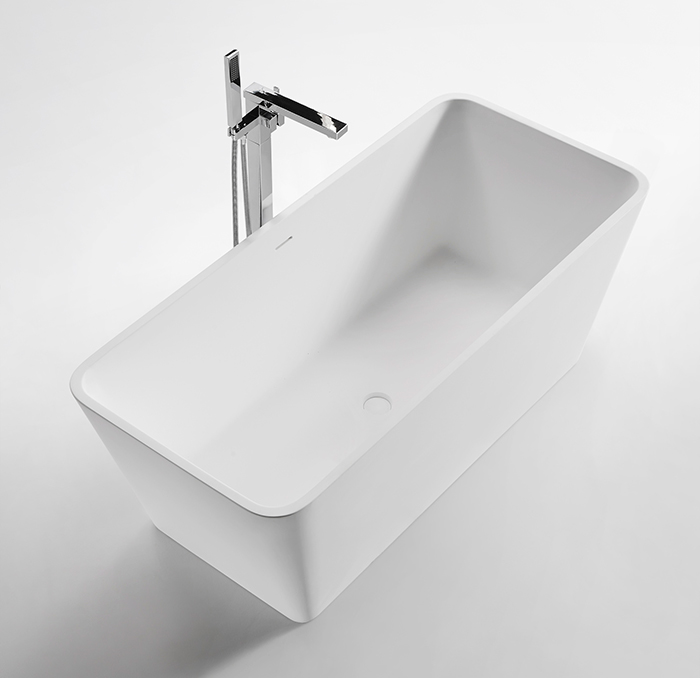 "I have no reservations about recommending their tubs, and based on our experience you can expect great service after the sale."
"I ordered two T &L bathtubs for my clients and they could not be happier with them. The tubs are so beautiful, comfortable and of high quality. Glyn and Jenna are very resourceful, assist with any question and give quick responses, they provide a great customer service from samples to install. Highly recommended , I can't wait to use another T & L for one of my projects."
I love everything about my new T & L bathtub! They have done an excellent job with the design. Beautiful, contemporary, very comfortable, and the material they use keeps the water warm for much longer than my old tub.
"I could not be happier with the Tyrrell & Laing tub. I have been soaking in for years. It is visually and sensually very pleasing and makes me happy every day, whether I take a bath or not. I have never regretted the splurge we made when we purchased this tub for our remodeled bath. Glyn has reawakened my belief in customer service and she could not have been kinder, or more helpful. THANK YOU SO MUCH!"
 Custom Freestanding Bathtubs
Did you know that you can fully customize your T & L Luxury Freestanding Bathtub? 
Our Contemporary Bathtub Collection is available in:
Stone White 
Black 
Onyx
Calcutta
Our RAL Color service allows you to take your design to new heights. Contact us to fully personalize your T & L Freestanding Bathtub.
T & L's Inspirestone® stone resin material is:
Non-porous
Easy to clean
Stain resistant
Mold and mildew resistant
Retains the heat of the water for a longer bath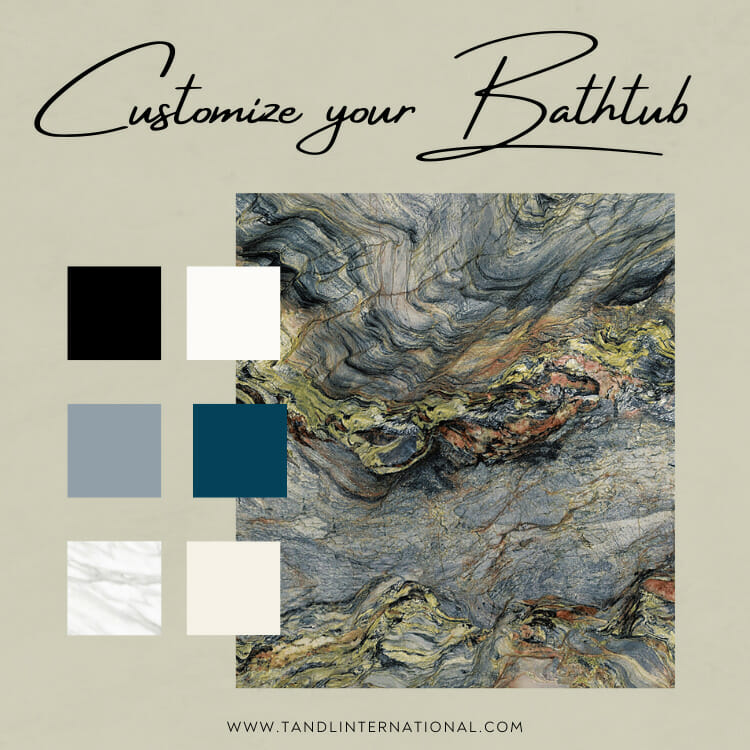 Acqua Flat Bottom Bathtub Specifications