Tyrrell & Laing Testimonials
Read some reviews of our tubs from our customers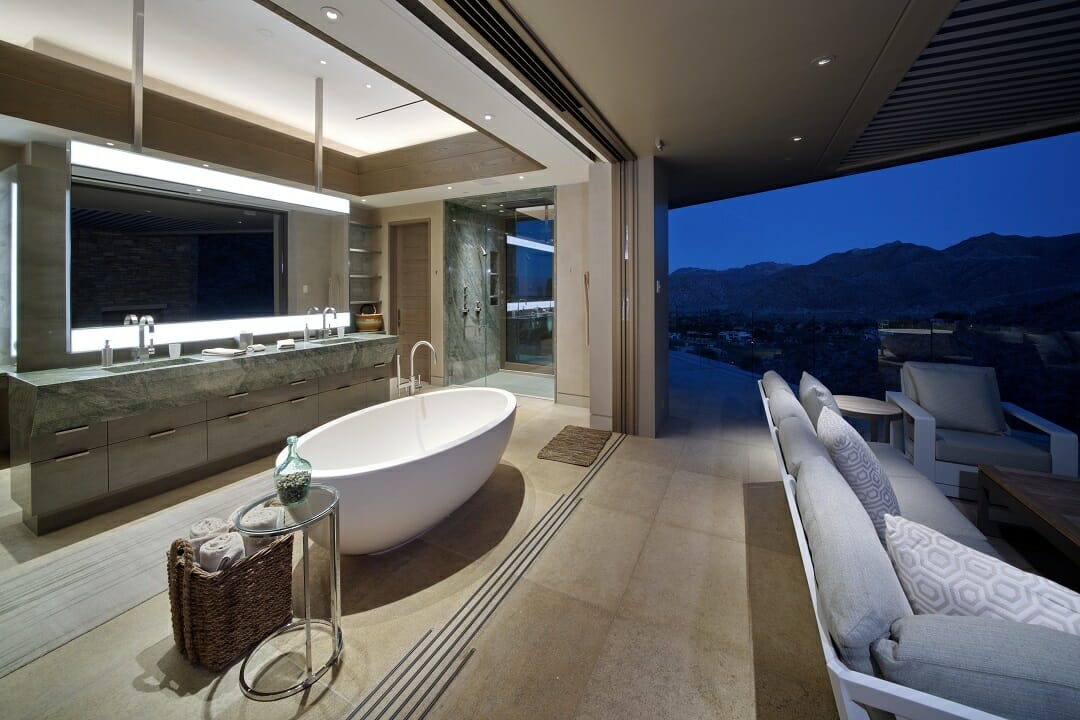 Love, love, love my Imperia Bathtub from Tyrrell and Laing! It's the most beautiful tub in the world. It really sets off my master bathroom!
Roberta Williams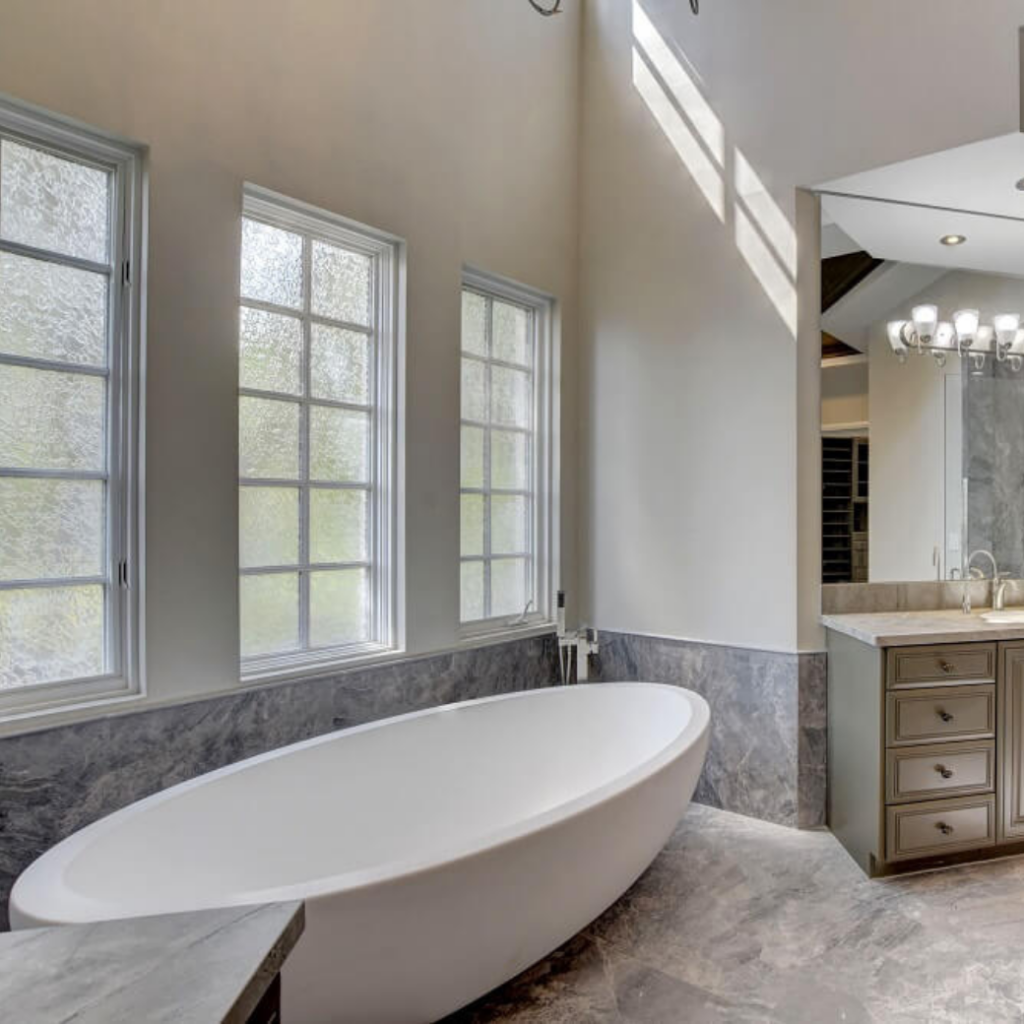 My T&L Imperia bathtub is the focal piece of my new master bathroom remodel. The quality of the finish is spectacular and worth every penny. It's sure to last a lifetime and make every bath special. Glyn's customer service and communication made the buying experience very easy.
Philip Wood
Homeowner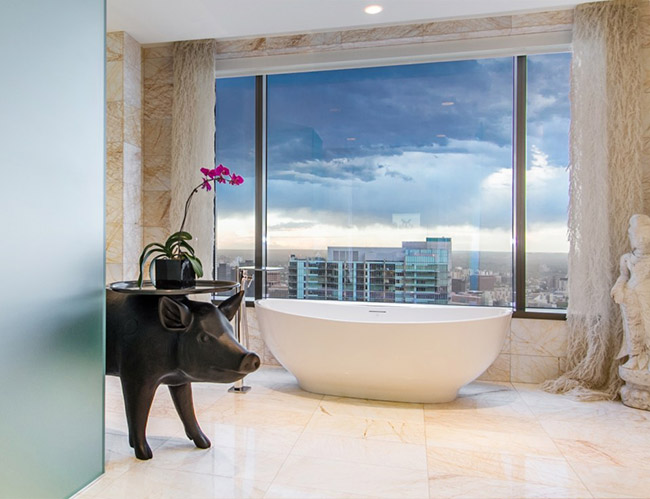 Slipper tub, Four Seasons Denver Private Residences
The product is well constructed and finished, and the experience in our recent Four Seasons Denver Private Residences project proved you have good production capacities and exceptional client response.
The Denver project had a supplier problem mid-construction, and your firm stepped up to the plate and corrected the issues in a most professional manner. I was also pleased with your ability to interpret my designs for the Oceanus and Isis baths with precision and attention to detail. I would be happy to work with you again on another luxury residential or hospitality project and would welcome any questions from others considering your talents.
Janice Clausen
Clausen Chewning Interior Design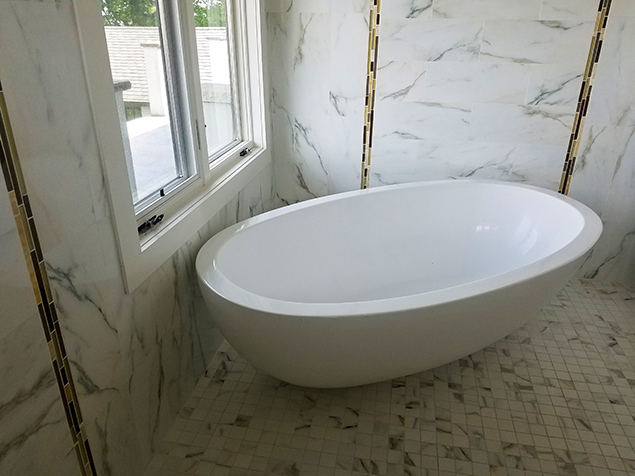 The tub (an Adoni) is in pristine condition after all this time. It still looks as good as the day it was installed with hardly any maintenance. It resides in a "wet room" in the shower, within the bathroom. 
Notice there is no faucet. It fills by a laminar flow fixture in the ceiling with an electronic control on the wall. It also has a remote that can be taken into the tub.
We are very happy with our tub and would certainly purchase one again if we had a new construction project. Thank you for all of your help in the past with choosing it.
It was a pleasure to work with you.
Mark Lister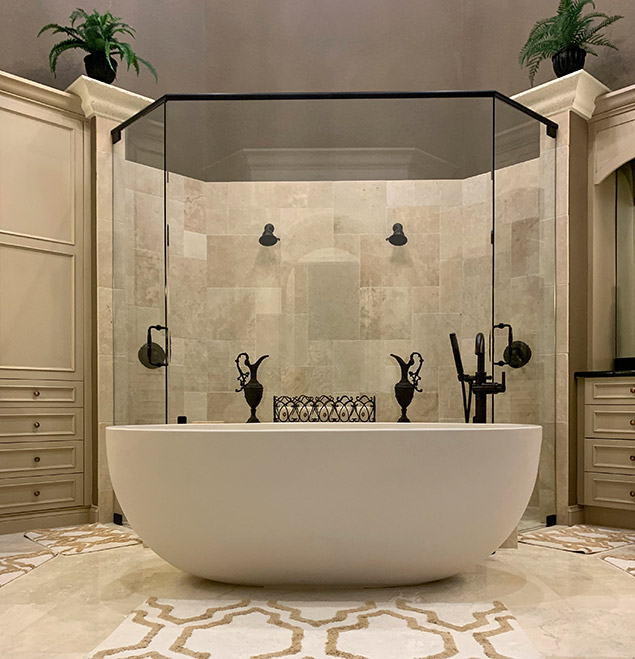 Charlotte Sunderland's second Oceanus tub
I can't say enough about the T & L Oceanus freestanding bathtub! This is the second one I've purchased. The quality and style is very elegant and high end. Glyn is absolutely fantastic and extremely helpful.
Highly, highly recommended!
Charlotte Sunderland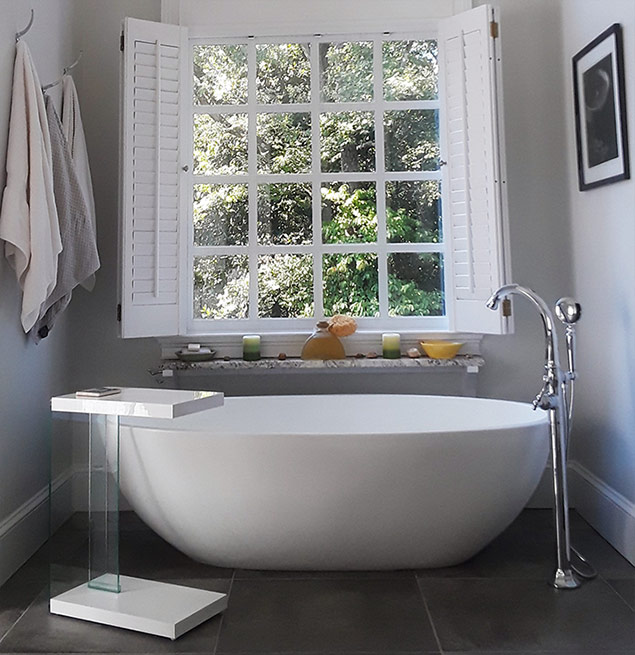 Betty Londergan's Neptune tub
We have loved our Neptune tub from T&L and believe me, it is getting used every single day! The service is just as good as the quality of the tub…questions answered so fast, and massive knowledge of the product.
Highly, highly recommended!
Betty Londergan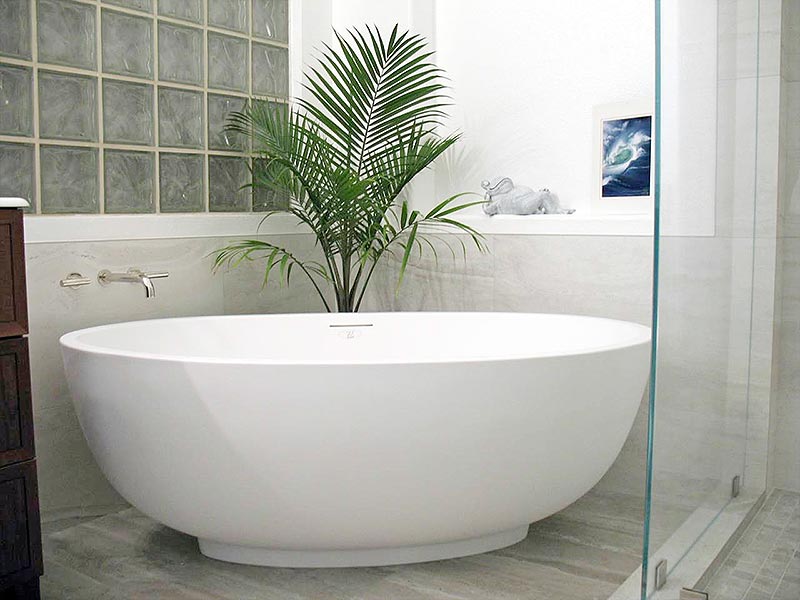 I searched high and low to find a tub that not only would fit , but be much more eco or green than the others. The Petit fits perfectly in my bathroom and the size is just right for my husband and I.
What I also love is not just the looks as I got the matte finish as you suggested and love the stone look of it , but I also love the fact it holds hot water hot where other acrylic tubs do not hold temperature well is what I hear. This is a sturdy, well built tub.
I also want to thank you for helping get through this remodel. Its been fun but a lot of work. Your customer service is superior. You could not have been more obliging with all the samples and templates you sent me. Everyone that comes to look at my tub loves it. It is the WOW factor in the bathroom.
Thanks again,
Pam Vincent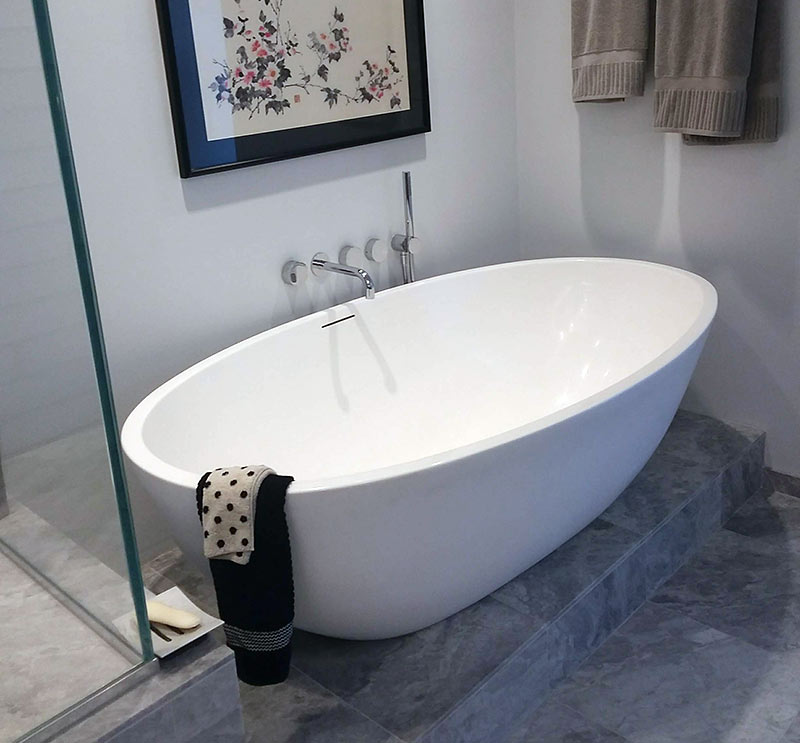 Linda Teplin's Neptune tub
I had always been a shower addict, and purchased the bathtub only because of its design and elegance. I tried it once, and instantly became addicted to daily baths. It is the most comfortable tub I have ever sat in. The curve of the tub matches the design of the human body. 
And have I mentioned that it is gorgeous?
Linda Teplin, Chicago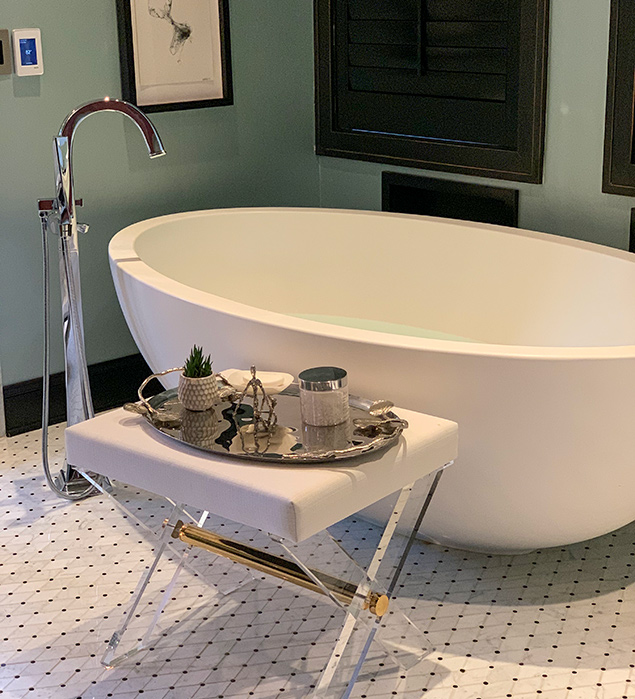 Kim Moorhead's Oceanus tub
Wow, is just all I can say! I thought my marble floor was going to be THE WOW factor, but once my mom told me about how beautiful your bathtub was at the Four Seasons Orlando, I got the information and knew this tub was going to be a show piece! It truly is a show piece and puts a smile on my face every day!
We are not to completion as of yet, but when we are, I will send a photo to you! It is stunning! I also love the basins for our vanity! I so appreciated you working with me on a personal level and the attention to detail and customer service you showed me! Having a family business, we know that your level of service has been sub par!!! Kudos to you and your staff!!!
Kim Moorhead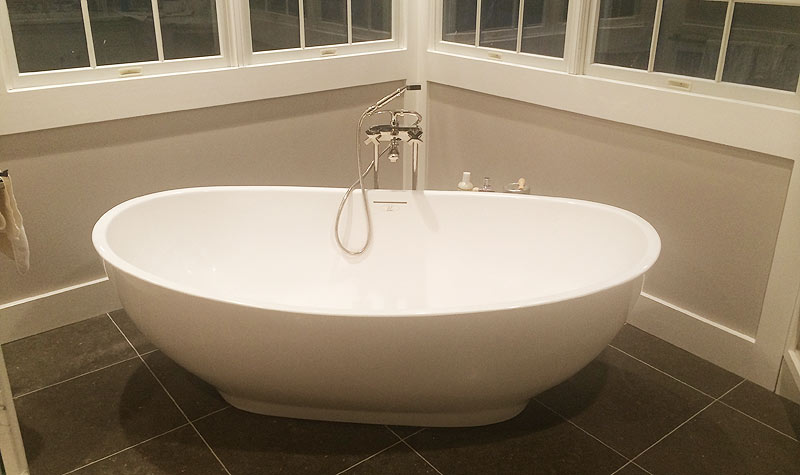 Cindy Butler's Slipper tub
I am a daily tub user and when it came to renovating our master bathroom, I researched tubs, which for me, meant needing to sit in tons of tubs until I found the perfect fit. I traveled from Maryland to Long Island, NY, to CT to to try out a T and L International tub among others. I knew from website pics that the Slipper was a beauty, but needed to test the fit and feel. What I found is that the Slipper IS the most comfortable tub I could have purchased. As a tall woman, I can even stretch my legs out fully. The fit against my back is perfect, and way more comfortable than that of the multiple brands I also tested. I highly recommend the Slipper.
As others have remarked, T & L customer service is simply top notch. You patiently responded to all of my many questions throughout my long inquiry process. Your responsiveness to my questions was speedy and efficient. I can't say enough about working with you and your company.
Thank you in advance for many a relaxing evening soaking in my beautiful tub. I am one contented customer.
Cindy Butler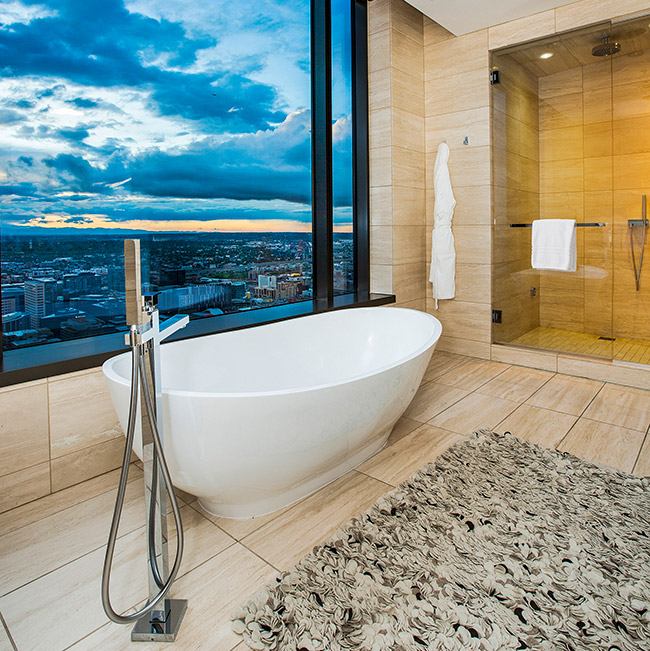 Slipper bath in the Four Seasons Denver
Recently I attended a wedding in Denver CO where my wife and I stayed at the Four Seasons Denver. We had a gorgeous suite on 14th floor with a beautiful view.
As it was a relaxing weekend without the children we decided to have a bath in the T & L Slipper bathtub in our suite. What a wonderful experience, we enjoyed it so much I called T & L while in the bath to order a tub for my home in New York.
I HIGHLY recommend it! 
Jason Hill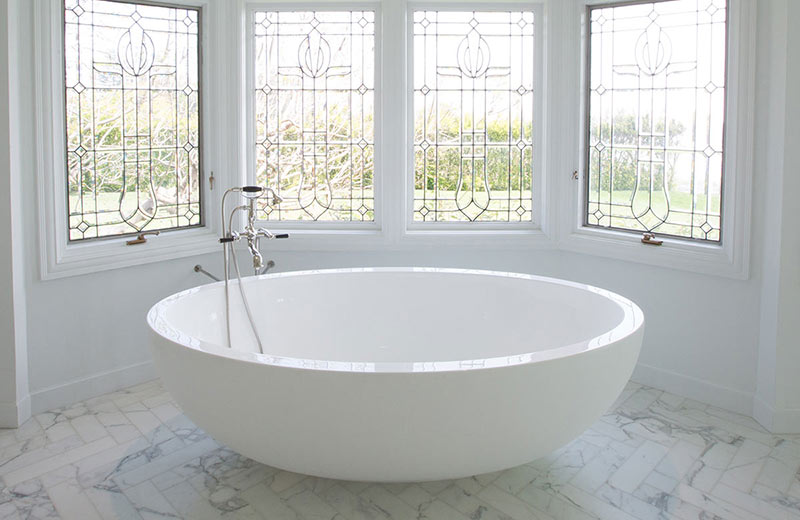 Harold Wrobel's Imperia tub for two
I absolutely LOVE the Imperia bathtub. It's the perfect way to relax after a long day. And with your special someone , it's an amazingly romantic experience!
Harold Wrobel, the owner of Harold's House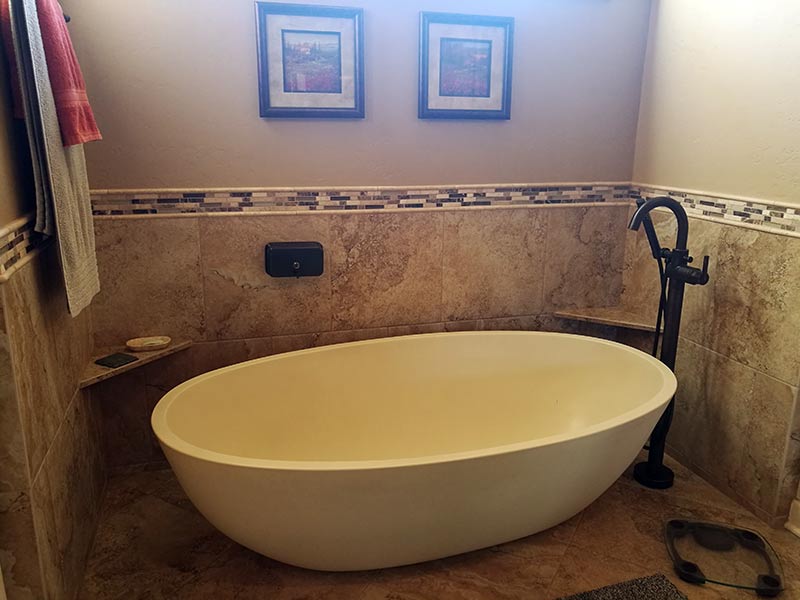 We've had your tub for five years now and it looks like it did they day we purchased it for our new home. We've had countless people comment on how amazing it looks.
We'll likely build a country cabin next year and will definitely be getting another. Thanks for making such a great product and providing exceptional customer support!
Rick Jones, Lake Conroe, Texas