Slipper Luxury Freestanding Bathtub
A Classic Look with a Modern Twist
Soaking Slipper Tub for Two
The T & L Slipper is an eye-catching slipper-shaped luxury tub that combines elegant soft contours and a unique double-ended design to give your bathroom a contemporary look.
Introduced in the late 19th century – the Slipper Bathtub design has eloquently stood the test of time. Its beautiful curves serve as the perfect comfort for two person bathing. Offering head, neck and back support the slope design offers complete relaxation.
Our Slipper Bathtub can be found in homes and 5-star hotels around the world such as Four Seasons Hotel Denver, Colorado and Four Seasons Resort Orlando at Walt Disney World® Resort  World.
Bring your bathroom to life with T & L Bathtubs.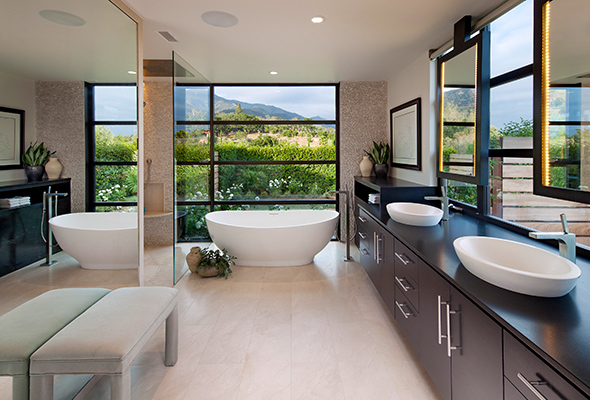 Private residence by Design ARC. Photographer Jim Barsh
Get inspiration from some of our customers' luxury bathrooms
Click on an image to see a larger version
The name "Slipper" comes from their shape. Typically a freestanding slipper bathtub resembles a woman's high-heeled shoe, with one end higher than the other. The name is also referred to a "double-slipper tub" where both ends of the tub are raised. 
This design is very popular with two-person bathing as the ends are contoured to each bather promoting pure comfort and relaxation. The center drain allows for both bathers to soak without the inconvenience of drain hardware.
Slipper Bathtub Specifications
Recently I attended a wedding in Denver where my wife and I stayed at the Four Seasons Denver. We had a gorgeous suite on 14th floor with a beautiful view.
As it was a relaxing weekend without the children we decided to have a bath in the T & L Slipper bathtub in our suite. What a wonderful experience, we enjoyed it so much I called T&L while in the bath to order a tub for my home in New York.
I HIGHLY recommend it! Good luck!
Jason M. Hill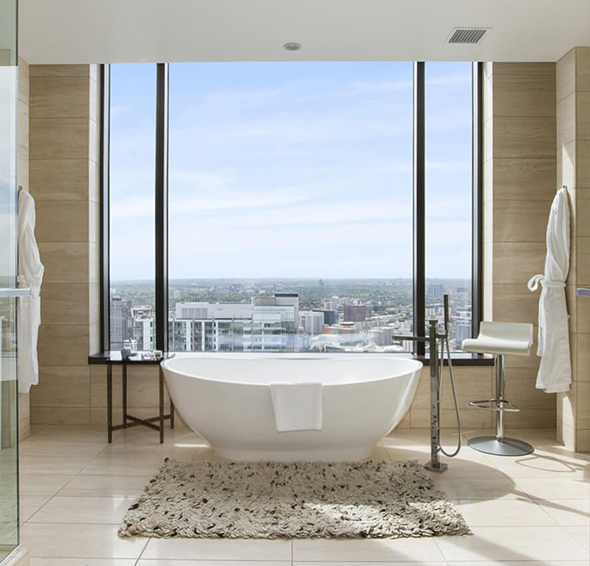 Four Seasons Hotel, Denver