A bathtub is as much an aesthetic piece as a functional one. We use them every day to make ourselves feel better and more relaxed. When we replace our old bathtubs with new ones, we may not always choose the type that will best fit our needs. So what are freestanding and drop-in bathtubs, and how do they compare?
What is a freestanding bathtub?
A freestanding bathtub is a finished on all sides and stands alone without touching any walls. It can be placed directly on the floor or placed on a pedestal. Freestanding bathtubs come in a huge variety of shapes from oval, round, rectangular and even square. Slipper designs, double ended bathtubs and bathtubs with end drains are among the vast options in todays market. Common materials include acrylic, stone resin, stainless steel, cast iron and even hand-carved natural stone. Traditionally, freestanding bathtubs have been regarded as a high-ticket item, more recently they have become available at various price points. A freestanding bathtub makes a statement in your bathroom design, catches your eye and creates a luxurious ambiance.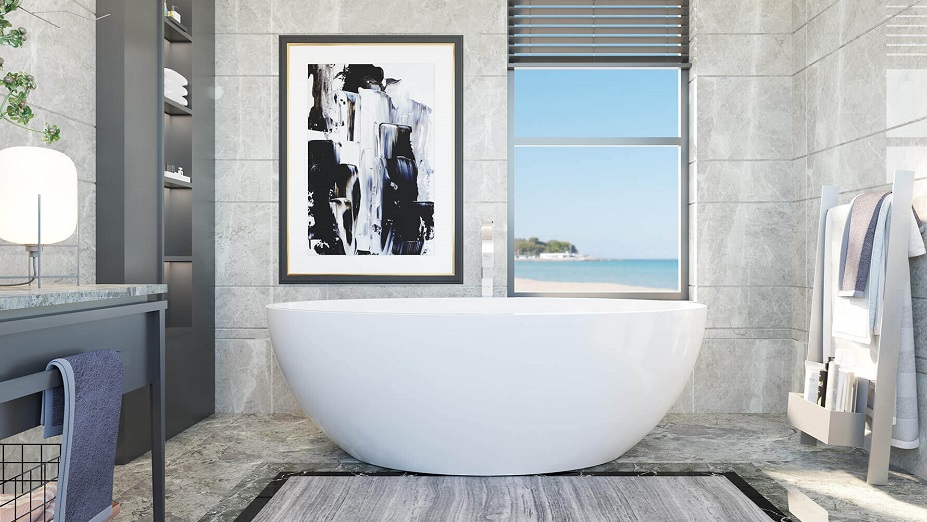 What is a drop-in bathtub?
A drop-in bathtub is finished only on the front (or apron) and is nestled against the walls in the bathroom. Homes are typically built with drop-on bathtubs since they are so versatile and can accommodate a shower application as well. Drop in bathtubs are typically made from stainless steel.
Do freestanding bathtubs take up more space?
Today, both freestanding bathtubs and drop-in bathtubs are available in a wide variety of lengths, widths and depths. However, a freestanding bathtub calls for more room because it is suggested you have at least 4 inches of space surrounding the bathtub. This ensures cleaning around the tub is easier, also helps with esthetics. What if you have a small bathroom? There are small freestanding bathtubs such as our Rosebud Bathtub specifically designed for condos or small bathrooms. Measuring 58″ and features an end drain, this "single person" bathtub is perfect to replace an existing shower for those who prefer a relaxing soak.
Does your bathroom design allow for a freestanding bathtub installation? You have more options and varieties when it comes to freestanding bathtubs: colors, materials, and sizes to name a few.
Quick Links:
Visit our Online Shop to explore our freestanding bathtubs.
What is the Most Comfortable Soaker Tub?