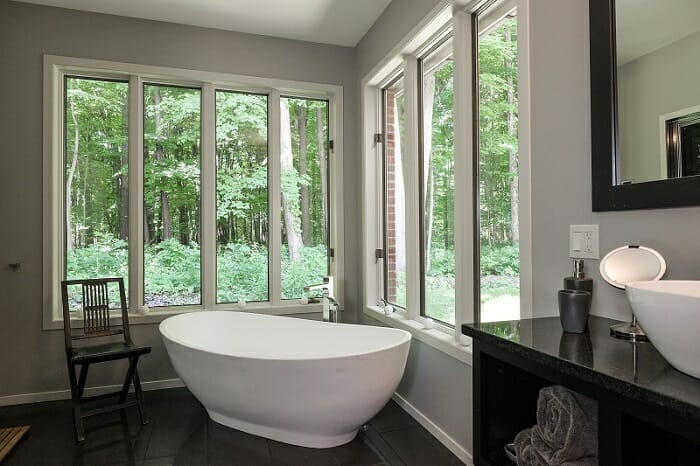 Freestanding soaker tubs have become a staple of luxury home design over the past several years. And while they are obviously beautiful in HGTV homes and luxury resorts, we all want to know if freestanding bathtubs are actually a realistic option for your bathroom. 
So today, we're going to answer that question for you, along with some other questions you may have about the practicality of a freestanding bathtub. 
Are freestanding tubs easy to install?
Actually, there's very little installation needed at all! When you add a built-in tub in your bathroom, you have to create and install those acrylic tub surrounds. On the other hand, when installing a freestanding bathtub, you can choose exactly where you want the tub to stand (you aren't limited to just wall space), and you get to decide the aesthetic your tub will create for your bathroom. 
You can view our complete and easy-to-follow Installation Guide in this link. 
Do you need to tile the surrounding wall for a freestanding tub?
It is not necessary to tile around a freestanding tub. However, if the freestanding tub is against a wall, you'll need to protect the wall from water damage. 
To do that, tile is one of the options, but it is not the only option! You could also protect the tub wall using glass brick, mildew-resistant paint, or wainscoting on the wall behind your freestanding tub. 
You may also opt to place your freestanding tub in the middle of the bathroom, bedroom, or patio. In that case, you're going to want to focus more on the floor than the walls. Freestanding tubs do traditionally sit on tiled floors, however it's not necessary. Wherever you place your tub, just make sure you can install the silicone base to keep the tub in place. 
How far should a freestanding tub be from the wall?
In short, your freestanding soaker tub should be at least 5" from the wall, with the faucet between the wall and the tub. However, if your faucet is coming directly out of the wall, the tub may need to be closer to the wall so the spout will reach. 
You can also install your faucet so it comes out of the floor instead of the wall. In that case, you can place your freestanding tub wherever you'd like! 
Here are answers to some other questions you may be asking: