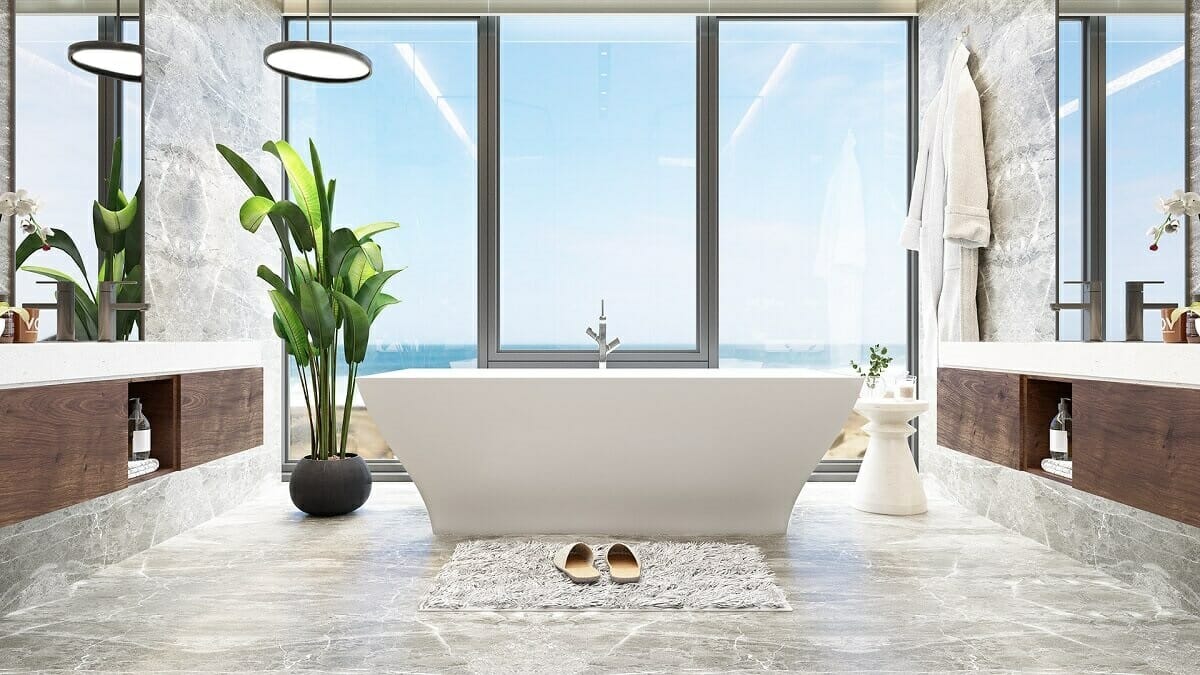 Freestanding bathtubs have become increasingly popular over the past few years – and it's easy to see why. A freestanding bathtub is associated with grandeur and luxury, and there are now so many freestanding tub options for any budget and any home design style. 
No matter which freestanding soaker tub you choose, there are a few things you want to make sure to look for to ensure you're getting the best tub on the market, and the best fit for you and your bathing needs.
Comfortable Soaker Tubs
If you are a fan of bathing, you know that comfort is of the utmost importance when choosing your bathtub. After all, comfort is the foundation of relaxation – and we want your bath to be the most relaxing part of your day. 
Some features that make freestanding tubs more comfortable are:
Back slopes that allow you to lean back in a natural position

Contours that fit the shape of your body

Large enough soaker tub to enjoy a full-body soak and be fully submerged
Our bathtubs have been meticulously designed for each bather to enjoy every minute of their soaking time – whether you're bathing solo or with a partner – and they come in a very large variety of sizes and shapes to fit the needs of each one of our customers.
Best Bathtub Material
In order to retain water heat and allow for a longer soak, you want to make sure that your tub is made of the correct material. A major part of choosing which tub is right for you is deciding which bathtub material will best suit your bathing needs. 
T & L InspireStone™ is our proprietary, unprecedented material motivated by sophisticated craftsmanship. Here are some of the key features of a stone resin bathtub:
Stone Resin imitates the look and feel of a luxury stone finish

It is non-porous, which is mold and mildew resistant

It retains the heat of the water

It has an incredibly long life-span and minor chips or scratches can easily be repaired

A gel-coat surface increases their resistance to scratches, or minor damages that can occur during installation

They're stain-resistant, so you can enjoy a mud bath, salt bath, or your favorite brightly-colored bath bomb without worrying about staining your tub

It is warm to the touch, elevating the luxurious, spa-like feel of your bath
Another popular option for bathtub materials is acrylic. Acrylic bathtubs are popular because they are affordable, lightweight, and non-porous. The lifespan of an acrylic bathtub is roughly 10-15 years. However, surfaces can easily be scratched, discolored, or damaged, even via cleaning your bathtub. 
You can learn more about the best bathtub materials in this free downloadable guide we created just for you: click here to download.
The Best Bathtub Shape
The best shape for your bathtub is going to depend on your unique space, design style, and preferences. Oval soaker tubs tend to be the most comfortable overall because of the ergonomic design that seems to hug your body. But, beautiful tubs come in a wide variety of shapes and can add a luxurious focal piece to your bathroom or wet room design – including rectangular, round, asymmetrical, slipper, or other unique shapes. 
What's the Best Size for a Freestanding Bathtub?
The first thing to consider is how much space you have in your bathroom, or wherever you plan to place your tub. The average length for freestanding bathtubs are 55″-72″. After you measure your space, you can narrow down which length is right for you. 
A good rule of thumb is to allow one foot of space between the bathtub base and the wall on all sides to allow enough room for cleaning and functionality.
If you're tight on space but don't want to sacrifice the luxury of a freestanding soaker tub, consider a space-saving design. There are also small tubs available, and some designed specifically to fit into an alcove. 
Whichever tub you choose, you can't go wrong with Tyrrell and Laing. 
Quick Links: