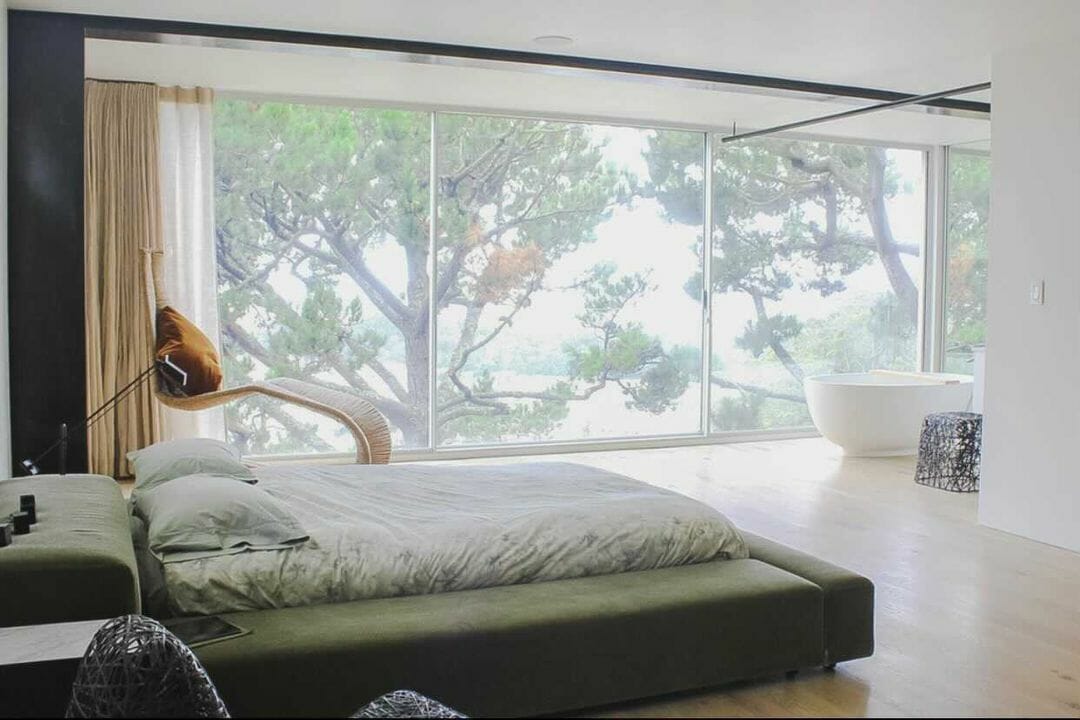 The last time you vacationed at a luxury resort, you may have wondered why the bathtubs were in the bedrooms instead of the bathrooms. Luxury and boutique hotels are credited with starting the sometimes polarizing trend of situating bathtubs in bedrooms, but that doesn't mean its popularity ends there. We're seeing more and more homeowners, home builders, and interior designers embrace this trend each year. 
But, while displaying bathtubs in bedrooms might work in a luxury hotel, does that mean you should try it in your home? Here are some things to consider.
Bathtub in Bedroom Trend
Installing a bathtub in your bedroom isn't just for the magazines and resorts – it's actually a lot more popular than you might initially think! Having worked with home builders and designers for over 15 years, we can confidently say we now regularly hear that they plan to install our tubs right in the bedrooms of their new-build homes.
Not only does this trend give you a better view, but it can also be a great way to catch up with your spouse after a long day while one of you bathes, a way to separate other bathroom activities from the relaxing luxury of bathing, and a way to create a more immersive self-care experience to add to your daily or weekly routine. "A bath is a lovely, leisurely activity, but not so much in a bathroom looking at your toilet," said New York designer Tamara Eaton. And, we tend to agree. 
Bathtubs in Master Bedroom
You just invested in a beautiful, luxury bathtub, and likely spent at least a few hours trying to find the right tub for you… so why would you want to hide it away in your bathroom? Placing your tub in your bedroom allows you to proudly show off your style, and display the beautiful bathtub you chose. 
Our bathtubs are available in a variety of finishes and colors, including Onyx  and Calcutta Marble, so you can thoughtfully curate the design of your in-home oasis.
There's no doubt that installing a tub in the bedroom adds a sense of luxury, especially when done tastefully. As a trend started by luxury hotels, this style is almost synonymous with high-end. 
Placing a freestanding bathtub in your bedroom can change the mood wonderfully depending on how it's set up – create a romantic retreat, a striking, modern focal point, a comfortable reading space, or an immersive self-care experience. No matter the mood you're trying to create, using a bathtub as your focal point will give it that extra touch of luxury you crave. 
Small Bathroom Solution
Who wouldn't want to roll out of bed directly into a warm bath with a view, or hop directly from bath to robe to bed without all the in-between that comes with having your tub in the bathroom. Plus, if you have a larger room with space to fill, a freestanding tub is a much more beautiful, luxurious, practical, and convenient use of space than a work area or yet another seating area.
On the other hand, if you have a smaller space but still want to enjoy the luxuries that come with bathing in a freestanding tub, then displaying it in your bedroom can sometimes be the only practical option! You shouldn't have to give up the luxury you desire just because you have a smaller space. 
Bathtub in Bedroom Ideas
We've put together a list of some of our favorite in-bedroom tubs for you to browse or get inspired by below. 
Petit Freestanding Tub:

The Petit is a small, stylish, and practical freestanding bathtub that is the perfect solution for those with limited space. 

Athena Freestanding Tub: Create the Ultimate Home Spa Experience. The T & L Athena freestanding bathtub is the epitome of beauty and craftsmanship. Its asymmetrical design is great for an alcove installation or as the main centerpiece.
Oceanus Tub for Two

:

our most popular tub, designed for the bath lover who appreciates a fresh, clean look and the simple pleasure of soaking in a comfortable bathtub. Ergonomically designed to contour to the shape of your body for pure relaxation.
Rosebud Space-Saving Bathtub: if you like a long, luxurious soak and want to enjoy the luxury of back support, easily maintainable stone, beautiful design, and more, but are limited on space, then this tub is for you.
SHOP T & L Freestanding Bathtubs: HERE