T & L Bathtubs is thrilled to unveil our NEW Onyx Bathtub Finish which will soon be available in our Contemporary Bathtub Collection. Drawing inspiration from natural elements, this unique yet versatile finish exudes modern sophistication in any bathroom. T & L's Onyx finish brings a distinctive and elegant touch. The beautiful variety of veins range from gray, cream, blue, white and black allows endless options when creating your bathroom around this beautiful centerpiece.
Stone Resin Bathtubs
T & L's Onyx finish may look like marble, but it is in fact InspireStone™ stone resin. Marble bathtubs are extremely heavy and can require foundation reinforcement. Not only are they heavy, but they are porous and retain moisture which leads to germs and bacteria in the material.
InspireStone™ is lightweight, while offering a solid and substantial bathing experience. Our bathtubs weigh roughly 200lbs to 350lbs depending on the model. Our proprietary material exemplifies high performance that is appreciated for generations. InspireStone™ was created with bath lovers in mind. It is warm to the touch, easy to clean and requires no special maintenance. This certified formula is non-porous, mold and mildew resistant – the epitome and hygiene and wellness.
Luxury Soaker Bathtubs
Freestanding bathtubs have become an exquisite way of turning your bathroom into a masterpiece. They are bold and luxurious. They offer endless design possibilities. Freestanding bathtubs can be installed in an alcove, outdoors, wet rooms, or as a focal point in your bathroom.
T & L's Contemporary Bathtub Collection offers a wide variety soaker tubs to suit your bathroom design. In the market for a large, deep soaker tub for two person bathing? Our elegant Stella Freestanding Bathtub has generous soaking space and is perfect for a spacious bathroom. It's petal-like curves are intriguing and delightful.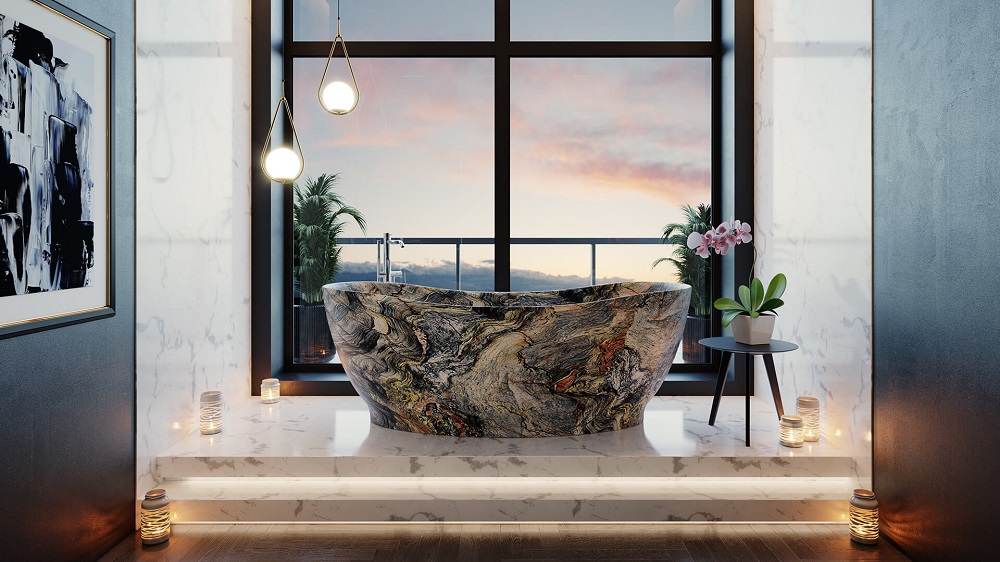 SHOP ONLINE: HERE
Can't decide which size bathtub is best for your bathroom? Download our simple guide here
Which bathtub material is best? Download our guide here