Are you considering a wet room design for your bathroom but not sure if it's right for you? Let's discuss some pros and cons and elements to consider for this popular trend.
Firstly, what is a "wet room"? It is, very simply, a bathroom that can get completely wet. The main flooring is the same level as the shower floor. There is no enclosure between the shower and the rest of the bathroom. All of the walls and tiles are specially sealed to prevent any water leakages.
Wet rooms have gained popularity over the years not only in high-end bathrooms, but in bathrooms with limited space.
Wet Room Pros and Cons
Like most things in design, there are pros and cons to consider. When creating your new open concept bathroom consider these advantages and disadvantages:
Pro: A wet room is an open design concept, allowing the room to feel spacious. Without any walls or shower doors restricting your space you can create a free flowing sanctuary.
Con: Everything in the room will get wet. Be sure to have proper ventilation in order for the steam to escape in order to not accumulate a very damp environment. Floors in wet rooms can be slippery.
Pro: Easy to keep clean, simply wipe all the surfaces.
Con: Tiling an entire wet room can get costly.
Pro: From a design concept your options and lay outs will possibly be endless since you will have very few limitations and constrictions. You can make the most of the beautiful tiles and they will be on display without walls hiding them.
Con: Be sure to use the correct materials. If you are including a freestanding bathtub make sure that it is manufactured from a mold and mildew resistant material.
Can you have a Freestanding Bathtub in a Wet Room?
Of course! This growing trend adds a flair of splendor and creates a "at home spa" feel.  Freestanding bathtubs exude luxury, and it has become increasingly popular to add a freestanding bathtub to a wet room. The result, well its stunning!
The beauty of this application is how limitless your options are.
Wet Room Inspiration
The Cove Eleuthera took the wet room concept to new heights. Steps away from the beach, these suites extend a calming feeling that spills into the bathroom. With an open air shower consisting of multiple shower heads. Showering under the stars or embracing in a long luxurious soak just steps away, is a truly magical experience.  The sandy beach color tones carry throughout from floor to ceiling, encouraging you to head back to the beach for more relaxation. Listen to the waves crashing while soaking in our Petit Small Soaker Bathtub.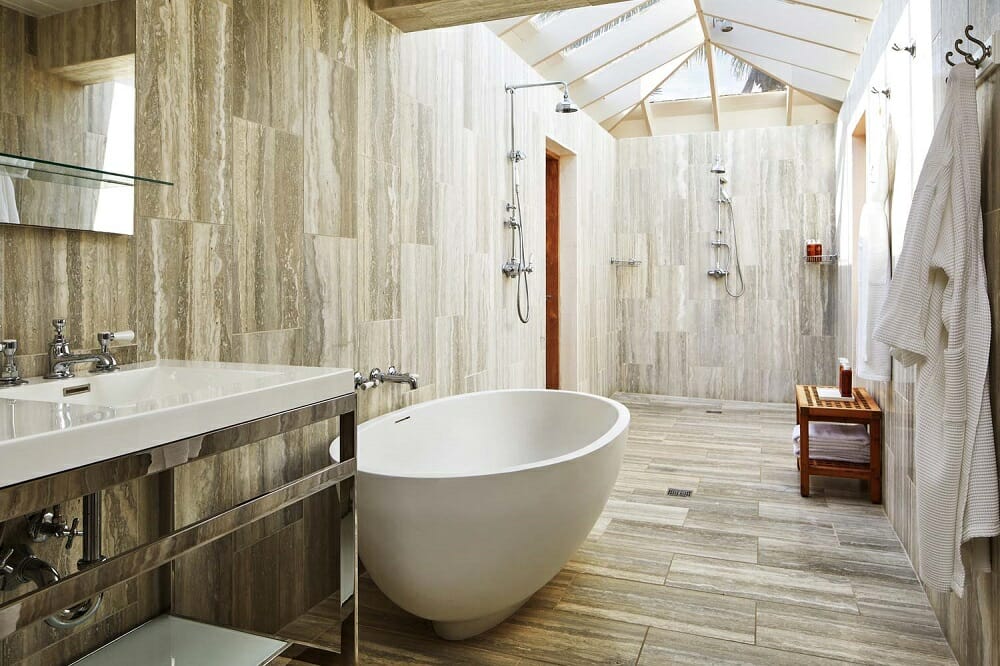 Shop Freestanding Bathtubs HERE
Read all about our NEW Bathtub finish – Onyx Bathtubs – A Striking New Finish
Have a small bathroom? 5 Best Freestanding Bathtubs for Small Spaces