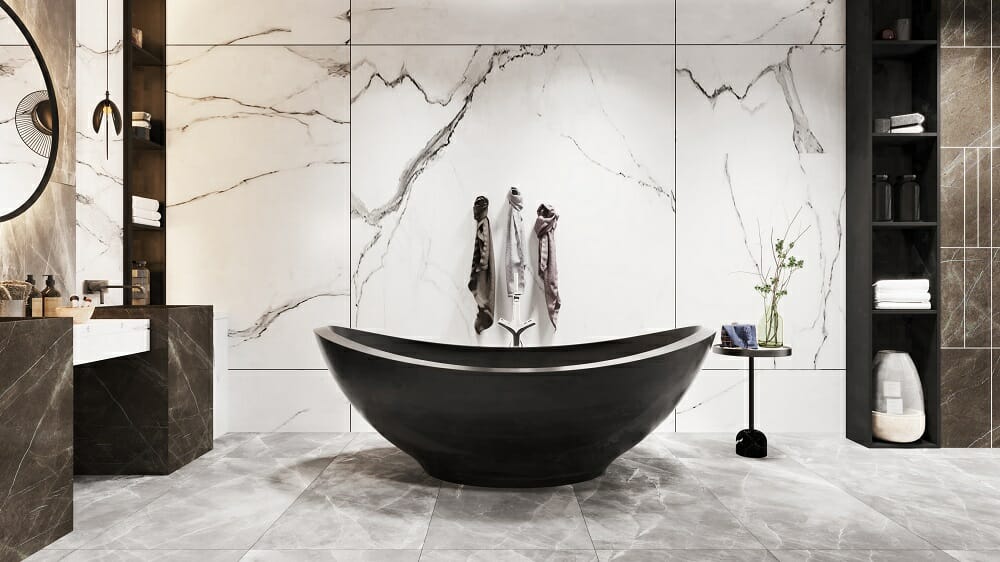 If you've been around Pinterest or have followed home design accounts on any social platform recently, you've likely noticed a rise in the black bathtub trend. While more muted colors like whites and grays have been standard in bathroom design for years, and generally have a wider mass appeal, more and more people have been opting for more style-forward, edgier choices like black bathtubs. 
Are Black Bathtubs in Style? 
While everyone's taste in home design is different, it's safe to say that black bathtubs are definitely in style and have been super popular over the past couple years – with that popularity only rising recently. They are stylish, classy and bold. Black complements a vast variety of options. Plus, our black bathtubs are available in matte and gloss finishes to suit your bathroom design style. 
Forbes states, "In recent years, bathrooms have transformed from purely functional spaces to rooms where homeowners want to make a statement, which is why black is a perfect choice. It's always sophisticated and enduringly chic, and it makes a strong impression in a small space." Whether you are creating a statement with a black bathtub as a centerpiece or tiling your bathroom in black, experts say that this trend isn't going anywhere.
Are Black Bathtubs Hard to Keep Clean? 
One of the most common questions we receive about black bathtubs is whether or not they are harder to keep clean than their white counterparts. And something people are sometimes surprised to hear, is that they are just as easy to keep clean as white bathtubs. 
Our black bathtubs are made from the same InspireStone™ composite as our white bathtubs, making them just as easy to clean. Our certified formula provides the epitome of hygiene and wellness, and is the perfect balance between luxury and durability. It is non-porous, easy to clean, and mold and mildew resistant.
Regular routine cleaning will keep your beautiful matte black finish looking as perfect as the day you first bathed in it. We have also created a quick guide for you on the ideal cleaning practices for matte black finishes – you can download it here: Matte Black Cleaning Guide.
What is the Top Selling Black Soaker Tub?
The Poseidon bathtub is our best selling large tub, and is the perfect size for two bathers. This significant, inviting soaking tub for two is sloped to allow bathing at either end with a center drain, making two person relaxation a dream come true – we even offer black drains to seamlessly blend in with the rest of the tub. Our remarkable drain design is flush with the floor of the tub when closed to elevate your bathing experience.
Our beautiful black finishes provide a timeless sophistication to your bathroom retreat. You will love your new T & L Bathtub regardless of whether you choose a traditional color scheme or a trendy one. To browse the rest of our Contemporary Tubs and learn more about your unique bathroom design options, click here. 
Helpful Links: