The traditional bathtub drain was largely left untouched for centuries — that is until now. We have revolutionized the standard bathtub drain with our incredibly smart drain design. Not only have we changed the way it functions, but we have manufactured them in matte black finishes to cater to the every growing "black bathroom trend". We always recommend matching your bathtub drain with your faucets to carry consistency through your bathroom design.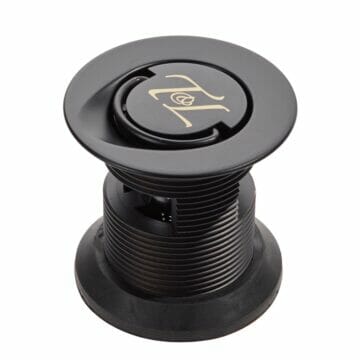 So, how does it work?  When our bathtub drains are closed they are flush with the floor of the tub. Why did we do this? As you know, we take bathing very seriously but more importantly we pride ourselves on a comfortable bathing experience. We do not want our customer's sitting on an uncomfortable drain while trying to relax.
It's easy to clean! As a homeowner, keeping your bathroom clean is easier said than done. No matter how often you clean your tub, hair and other debris always seems to end up in the drain. The traditional bathtub drain is not built to withstand this considerable amount of abuse.  Our drain tops can be twisted off at any time and thoroughly cleaned.
Do freestanding bathtubs have an overflow?
T & L luxury freestanding bathtubs feature an internal overflow, meaning that if the water were to reach the overflow line that it would drain internally through a aesthetically pleasing slit in the wall of the tub. The beauty of this type of overflow design is that there is not external piping required. This often takes away from the beauty of having a freestanding bathtub.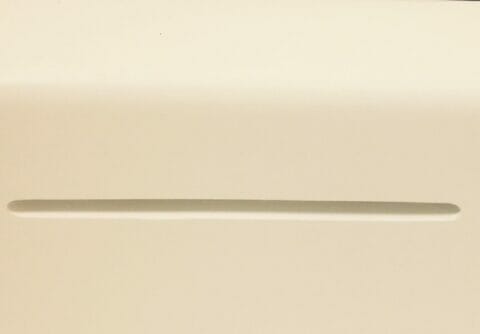 How to set a freestanding bathtub
The last step for installation is to ensure that your freestanding bathtub does not move. It is important to silicon the base of the tub to the floor. This guarantees that it will stay in place over the years. A tub that is not secured properly can cause damages to the drain causing leaks, but also cause damages to the bottom of the base of the tub.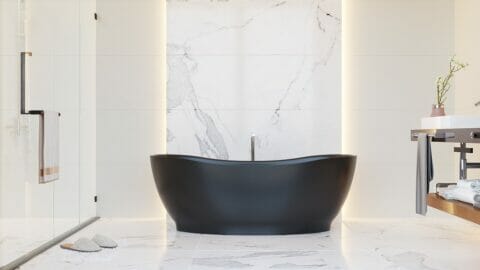 There is a misconception about black bathtubs and black fixture finishes. They are believed to be hard to keep clean, but that is simply not that case. Don't be shy to explore these beautiful finishes to create the bathroom of your dreams.
Shop our Luxury Freestanding Bathtubs – SHOP
Read more of our blogs on the links below:
Looking for inspiration? 5 Luxury Bathroom Ideas
What's the difference between a freestanding and drop-in tub? Freestanding Bathtub Vs. Drop-in
Take a look at this beautiful bathroom transformation:  Bathroom Remodel: Before and After