Freestanding bathtubs are available in many different styles, sizes, colors, and materials, to fit everyone's preferences and vision for their space. Tyrrell and Laing offer luxury freestanding bathtubs and basins to fit almost any style. Beautiful curves and generous dimensions make our tubs the eye-catching centerpiece of any luxury bathroom. What better place to relax after a stressful day than in one of our tubs. 
However, when it comes to choosing a freestanding tub for your bathroom there are some factors to consider, and one of the first will be which shape your tub will be.  In this blog post, we're going to cover the most popular freestanding bathtub styles and shapes, so you can get started on deciding which one is right for your bathroom!
Double-Ended Freestanding Bathtub
This ultra-deep freestanding bathtub is the epitome of luxury. Designed for two bathers with a comfortable sloping backrest on each side, and a center drain. Its subtle curves and comfort-first design allows the bather(s) to sink into complete relaxation.
Designed for those who desire a gentle, nurturing soak in a comfortable position, the double-ended freestanding bathtub is ideal for those who want to escape from everyday tension and soak their stressors away.
Two examples of this style are actually our best-selling bathtubs, Oceanus and Imperia.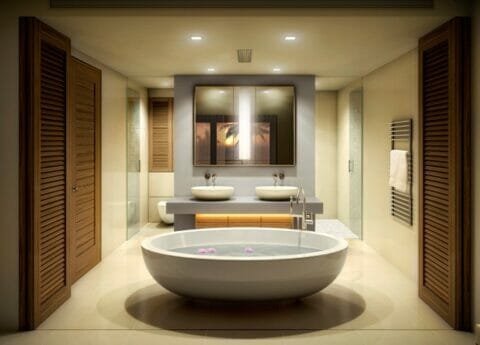 Double Slipper Freestanding Bathtub
Introduced in the late 19th century – the Slipper Bathtub design has eloquently stood the test of time. Its beautiful curves serve as the perfect comfort for two person bathing with one bather on either side. Offering head, neck, and back support and an ergonomic raised slope on either side, this design offers complete relaxation.
If you are interested in a double slipper freestanding bathtub that is perfect for two bathers, and will give your bathroom a unique, contemporary look, then you're going to want to view our Slipper.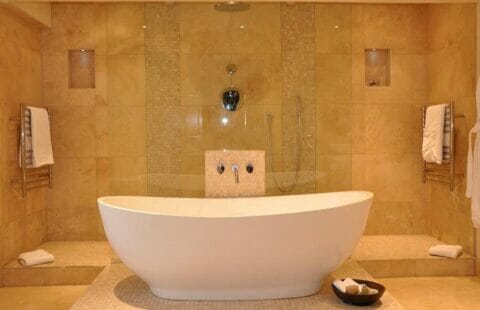 Single Slipper Freestanding Bathtub
Just like the double slipper bathtub for two person bathing, the single slipper is similar in shape and style, but meant for just one person. In these designs, only one side of the tub features a back support, and the drain is on the other side rather than in the center. Since these tubs also tend to be a little smaller than their double slipper counterparts, they make great solutions for bathrooms with limited space. A good example of one of our best-selling single slipper tubs is our Rosebud.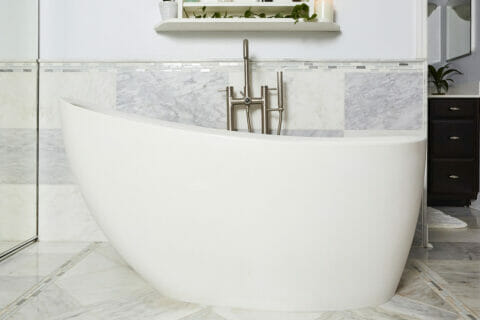 Traditional Freestanding Bathtub
Traditional freestanding bathtubs look exactly as they sound – traditional. The best example of this style is our Eros. The Eros freestanding bathtub is inspired by our Traditional Bathtub. The simple, clean lines of this soaking tub creates a tastefully traditional atmosphere for any bathroom.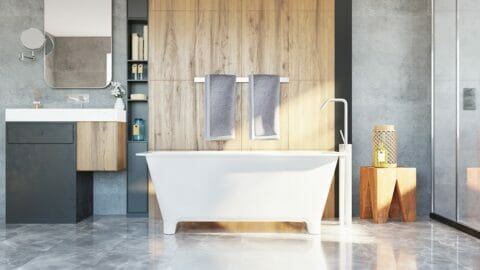 Modern Freestanding Bathtub
There are many ways to approach a modern freestanding bathtub – from artsy to angular and everything in between. Aurora is the epitome of a modern bathtub that remains classic and will stay in-style for a long time.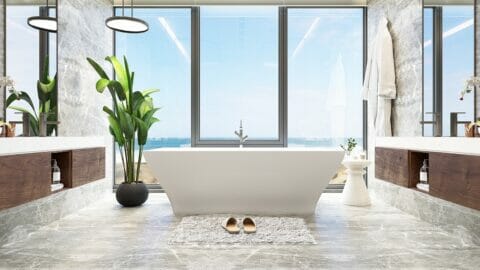 Another modern touch to add to your freestanding bathtub is to choose a black finish. Black bathtubs have been trending in home and luxury resort designs lately, and are a great way to bring the unexpected into your bathroom design with elegance.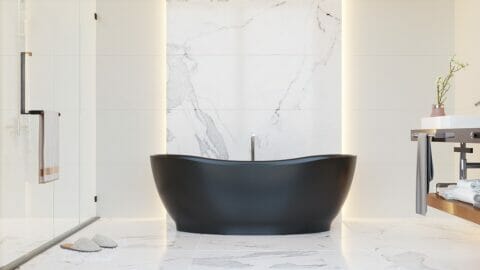 Whichever tub you choose, you can't go wrong with Tyrrell and Laing. 
Quick Links: