The Master Bathroom in the house is generally known for being large and sometimes extravagant. This room typically has all the extra amenities that create a lavish experience both at the start and end of the day. We have put together some of our favorite bathrooms for inspiration for your next remodel.
1. Open and Airy Bathroom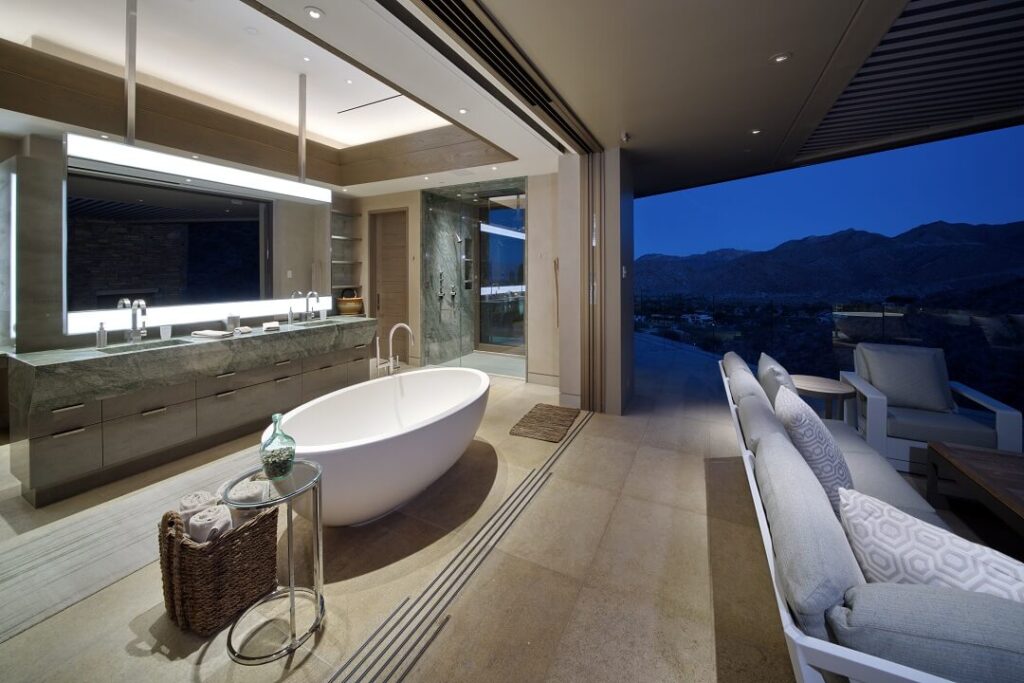 The concept of this Palm Desert bathroom design is open and spacious allowing you to freely move from one space to the next. With gorgeous views one can enjoy a luxurious soak in T & L's large Imperia Freestanding Bathtub.  With a view like this you may never want to leave!
2. Outdoor Oasis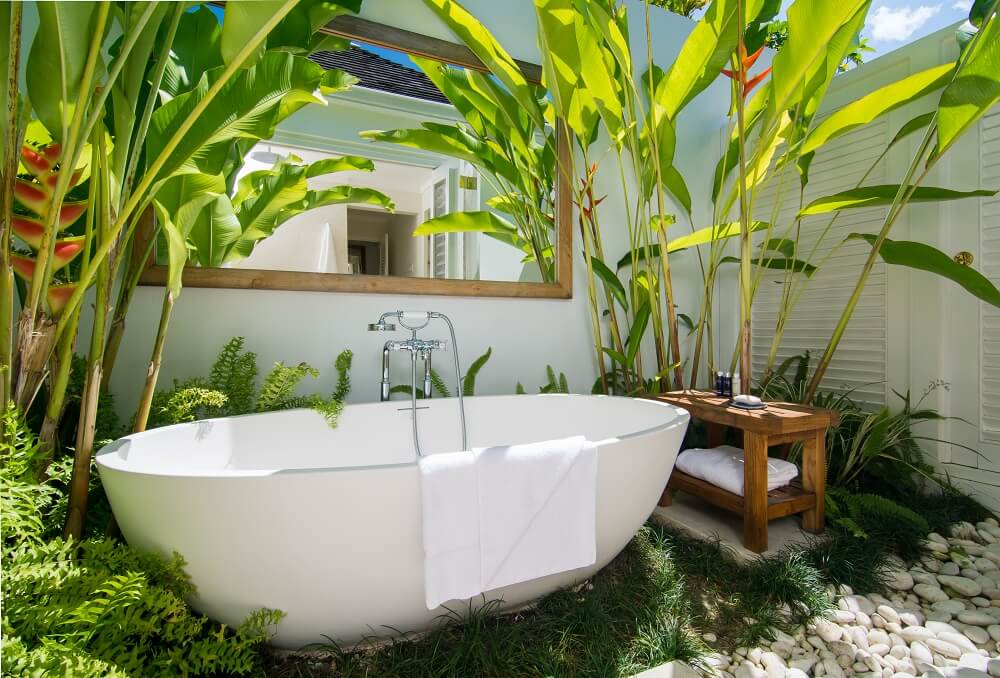 The Round Hill Hotel and Villas has the right idea! Bathe under the sun, (or stars) in your own private sanctuary. T & L's Neptune Bathtub is the perfect synergy of luxurious style and functionality. Surrounding yourself with greenery and nature is calming and revitalizing, adding the element of water heightens the serene experience.
Note: There are a few things to consider when designing an outdoor soaking space. One of the most important elements is whether the products in your design can withstand the elements. Some bathtubs have a UV protection coated on them so they will not discolor from the harsh sun exposure. There are also factors such as mold to consider. See our helpful material guide for the differences in bathtub materials.
3. Modern and Colorful Bathroom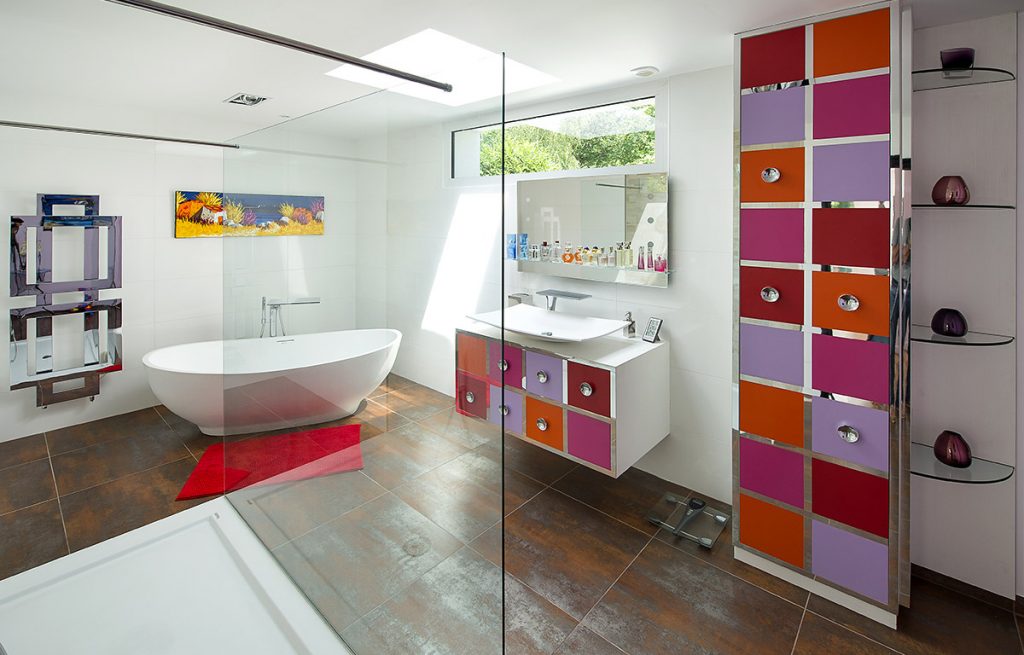 This Master Bathroom design from a private property in France is modern and playful. The colorful elements create a fun, yet functional atmosphere. The large open concept shower takes up most of the bathroom, while still allowing for a trendy freestanding Slipper Bathtub. The rustic floor tile seems like it belongs in a different bathroom which adds to the whole groovy design vibe.
4. Bold and Trendy Bathroom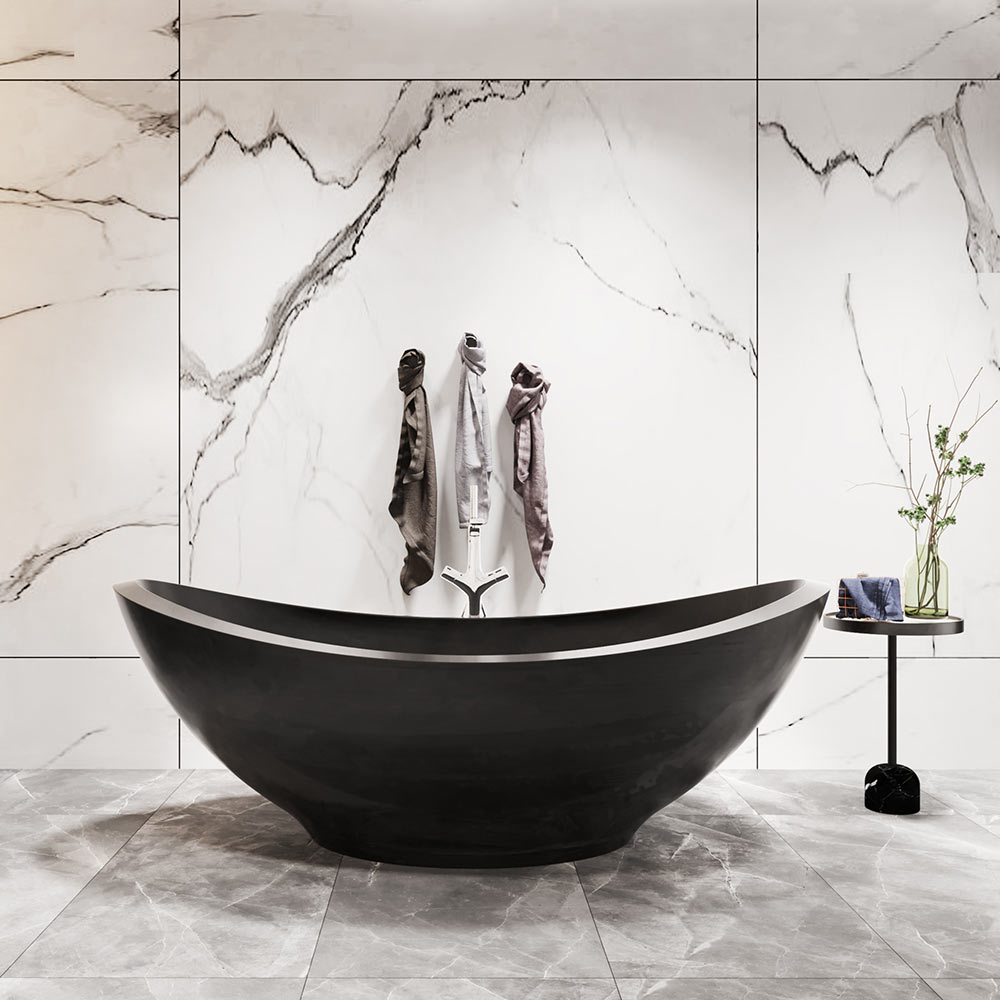 This Master Bathroom design makes a statement! Large tiles on all surfaces create a modern ambiance. Gray is the wonderful balance between white and black, making this bathroom beautifully synchronized from top to bottom.  Black bathtubs tend to stir up inspiration for a fearless approach to bathroom design.  T &L's Poseidon freestanding bathtub  is extremely large  – almost 79″ of heavenly handcrafted soaking space.
5. Contemporary Bathroom with a Dreamy View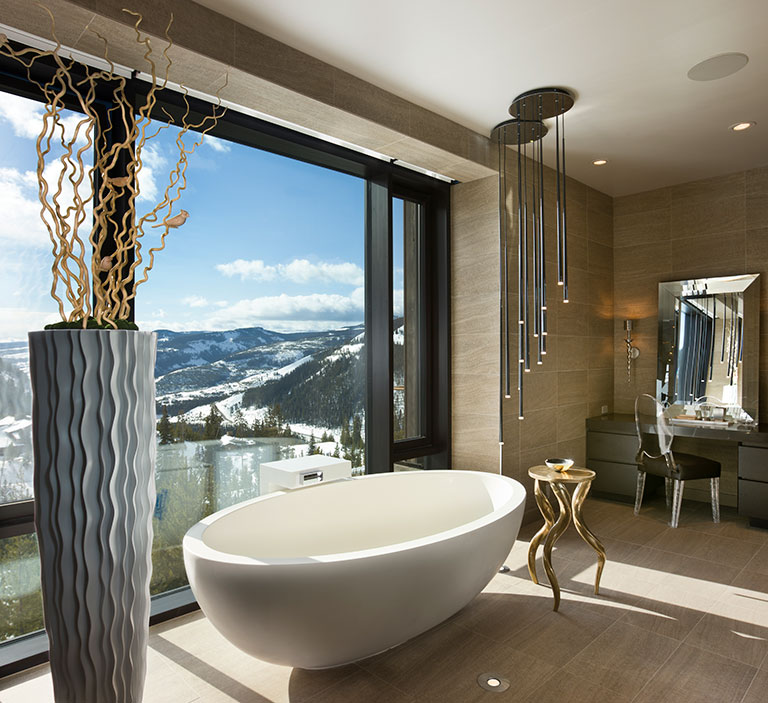 Large windows in a bathroom (or any room) allow for magnificent natural lighting, and of course the view is delightful. Overlooking stunning snow covered peaks and valleys – this bathroom is clean and crisp with a slight touch of glam. Symmetrical lines are accompanied by soft swirl touches creating a soft design component. T & L's Oceanus Freestanding Bathtub is placed perfectly in front of the large window to enjoy the view while soaking. The Oceanus Bathtub is our most popular bathtub in our Deluxe Collection and are enjoyed in luxury hotels and resorts such as the Ritz-Carlton, Sarasota Florida, Four Seasons Resort Orlando at Walt Disney World and many more.
Stay tuned as we share more of our favorite bathroom designs!
Shop Online here
Can't decide which size bathtub is best for your bathroom design? Download our simple guide here
Which bathtub material is the best? Download our guide here
Can you install a freestanding bathtub in an alcove? Read about it here