Tyrrell and Laing is breaking the boundaries of beauty with new Onyx Finish bathtubs. Traditionally, Onyx has been used in bathrooms solely for shower walls so it can be backlit (which, don't get us wrong, is absolutely gorgeous). But, we put a modern spin on this traditional style by offering Onyx Finish in our proprietary InspireStone™ stone resin material for freestanding bathtubs – to bring even more beauty to your bathroom! 
Our Onyx Bathtub finish brings the look of an Onyx marble stone, which is one of the most elite, semi precious stone materials, without the drawbacks of natural stone. Our InspireStone™ material is easy to clean and maintain, stain resistant, mold and mildew resistant, plus is warm to the touch and retains warm water longer than other materials. 
Onyx Freestanding Bathtubs
Onyx Finishes are available throughout our Contemporary Collection, complete with 18+ different size and style options to suit a wide variety of tastes and design styles. 
Featured below is the Stella Freestanding Bathtub in the Onyx Finish. The Stella freestanding slipper bathtub is modern, elegant, and ideal for today's contemporary bathroom designs with intriguing petal-like curves. Its subtle double ended design allows the bather to comfortably relax and enjoy a long refreshing soak, and can also comfortably accommodate two bathers.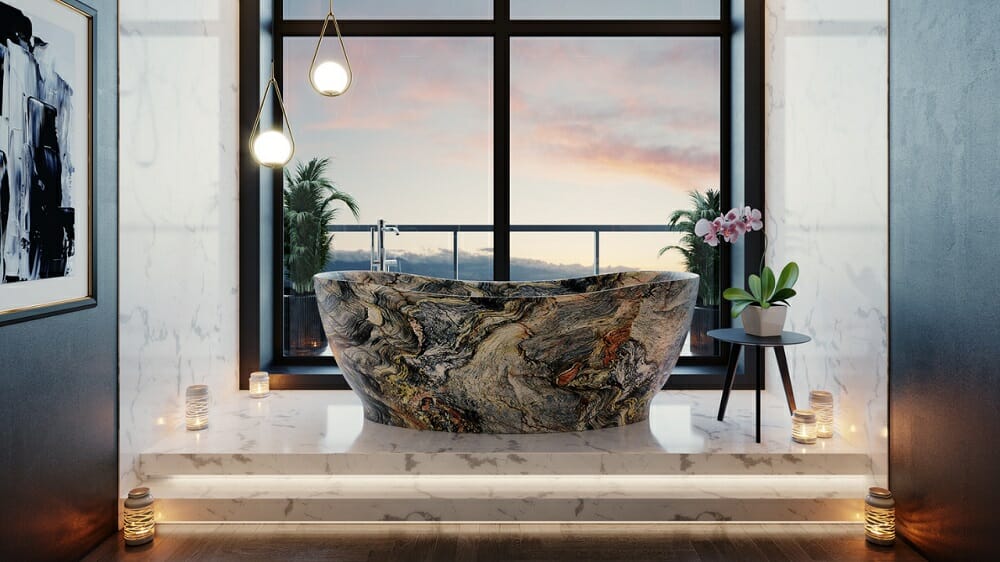 Best Luxury Bathtub
Tyrrell and Laing International was founded in 2005 on the inspiration to raise the bar in luxury bathing. We believe that everyone deserves a comfortable, relaxing, luxurious soak. Over the past 15+ years we have truly perfected the bathing experience through carefully curated styles, thoughtfully designed bathtubs, and unparalleled customer support. 
Whether you're renovating or designing your new home we will work closely with you,  your architect and designer to ensure that your personal sanctuary is everything you dreamed of. To get started looking for your new onyx finish freestanding bathtub, head to our Contemporary Collection. 
Quick Links:
Not sure what size bathtub is best? What is a Good Size for a Freestanding Tub?
Bathroom Ideas: Freestanding Bathtub Design Ideas
Not sure where to start on your bathtub purchasing journey? What Should I look for in a Freestanding Tub?