Freestanding bathtubs are so versatile. Whether it's shape, size, color or material – the options are endless! Let's discuss freestanding bathtubs and color options from T & L International.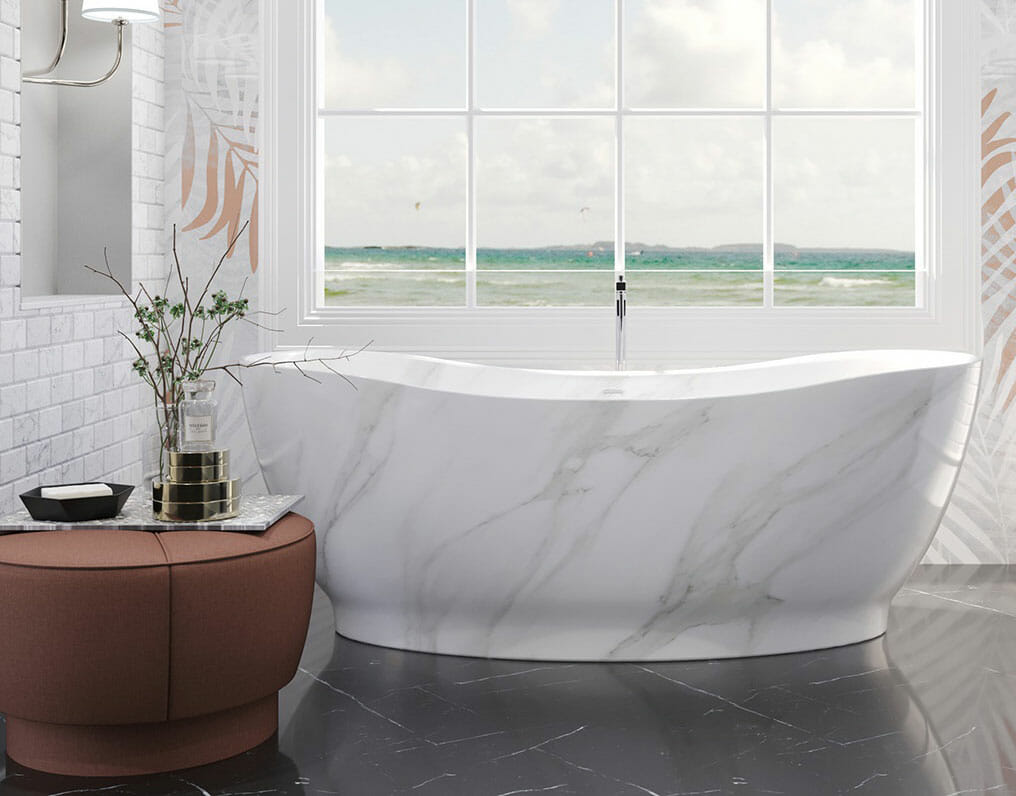 Do Bathtubs Come in Different Colors?
Yes, T & L Bathtubs are offered in a selection of colors with the option for custom colors (we will cover that, too). T & L offers White, Misty Pebble, Black, Onyx and Calcutta finishes. These colors are throughout our bathtubs; inside and out.
White tends to stand the test of time. It's classic and matches a wide variety of textiles and accents. Our white finishes are available in matte and gloss. What's the difference? Gloss is shiny and matte is dull. Matte seems to be the most popular as it resembles a natural stone finish.
Our solid black finishes are also available in matte or gloss. Black bathtubs and bathroom designs have been a major trend recently and is projected to last a while, so if you are considering a trendy masterpiece in your bathroom – a black freestanding bathtub is the way to go!
We recently launched our stunning Onyx and Calcutta finishes. Available in gloss which accentuates the beautiful tones throughout the finishes. Available in our Contemporary Collection, in an extensive selection of soaker tubs for one or two person bathing.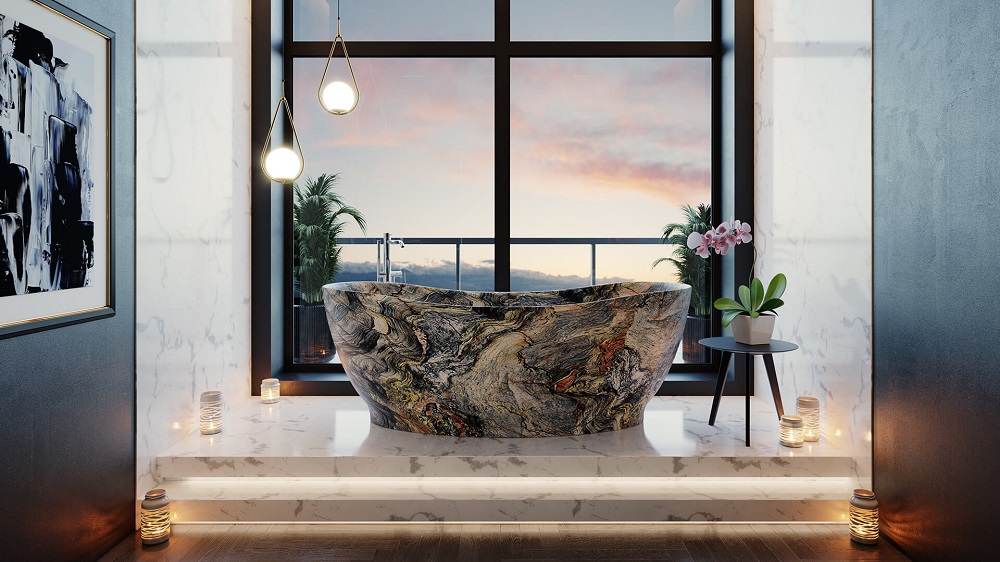 Custom Freestanding Bathtubs
Still searching for that perfect color for your bathroom design? We offer color matching with the RAL K color chart. Head over to our Contemporary Bathtub Collection to select your favorite freestanding bathtub and contact us to customize it. Unlike acrylic bathtubs on the market, T & L tubs are not painted! Our colors are worked into the material during production, this ensures that the finish looks beautiful for the life of the bathtub.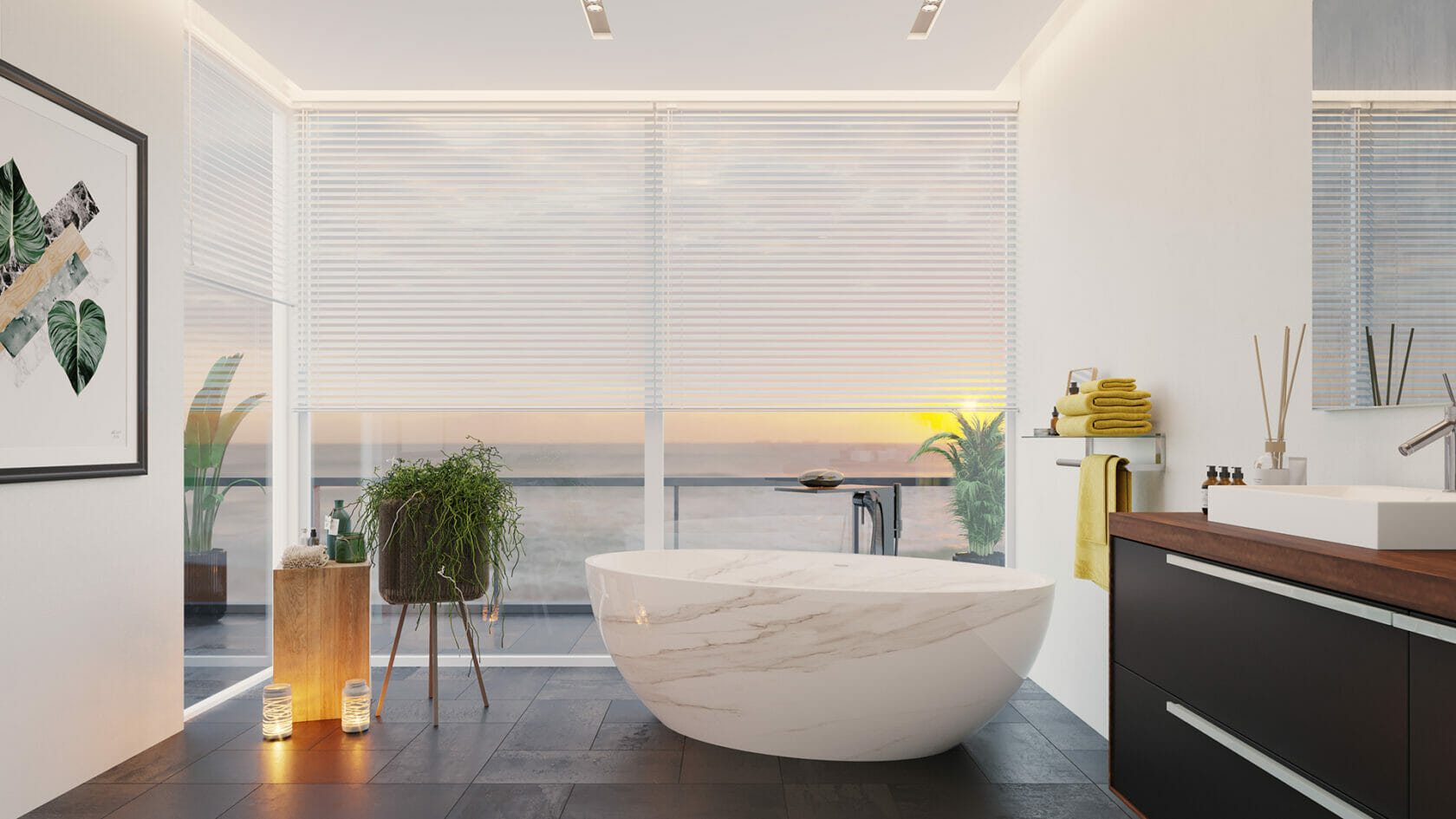 Best Freestanding Bathtub Material
We are able to create beautiful bathtub designs because we are committed to using the best bathtub material. T & L's proprietary InspireStone™ is a stone composite material.
Benefits of our material include:
Non-porous
Easy to clean
Extremely durable
Warm to the touch
Heat retention for a longer soak
Mold and mildew resistant
We are excited to hear about your bathroom project, and ready to help you create the bathroom of your dreams!  To receive a sample of our material contact us today. 
Quick Links:
Easy Online Shopping: HERE
What should I look for in a Freestanding Bathtub?