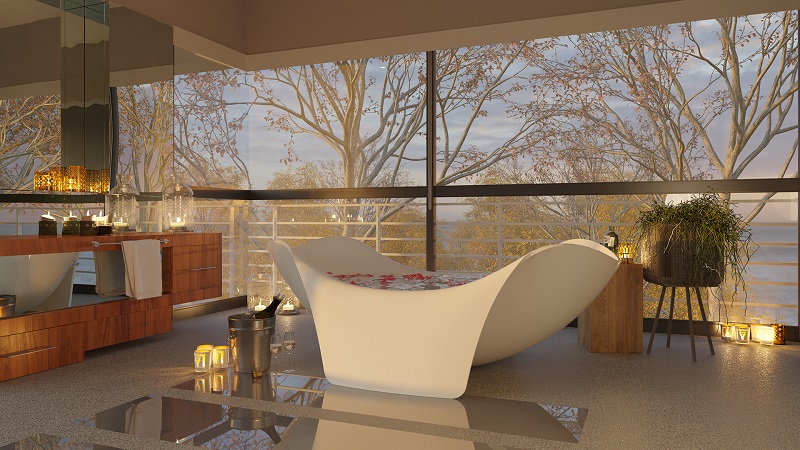 Stunning from every angle. Fall in love with T & L's Romantique large soaker bathtub. Escape the ordinary and experience a heavenly spa experience in the comfort of your home. Meticulously designed for two person bathing, composed of only the best materials, and a true masterpiece for your bathroom design.
World's Most Romantic Bathtub
What could be more relaxing and romantic than soaking in a luxurious bath? Baths are great for de-stressing after a long day, celebrating a special occasion — or just treating yourself. The luxury you can experience with home bathing goes beyond just a tub. When the T & L Romantique large soaker tub was designed, there was one focus – create a truly romantic bathing experience for two. The elegant slopes and curves create the ideal atmosphere for two person bathing.
Tub for Two
The Romantique's magnificent size accommodates two bathers comfortably.  Interior soaking space consists of almost 80″ length and 38″ width with a 27.5″ height. There is no overflow on this bathtub, so it is ideal for a wet room or even outdoor installation.
Most of our bathtubs, including this one features a center drain for maximum comfort and relaxation. Our proprietary InspireStone™ composite stone material retains the heat of the water for a longer soak. Insulated walls help facilitate heat retention as well.
Fill your bathtub with hot water, bubbles and rose petals and enjoy a well deserved soak.
Read More:
5 Best Freestanding Bathtubs for Small Spaces