While searching for the perfect freestanding bathtub for your bathroom you will have an important decision to make: freestanding soaking bathtub or a jetted tub? Often times you have to decide between one or the other because a freestanding bathtub that features the water jet option often has hardware that can be uncomfortable while bathing. T & L International takes bathtub design very seriously so we decided to do things a little differently so you can have the best of both worlds.
What is the difference between a soaker tub and a tub with air jets?
A soaker bathtub is simply that, a bathtub that is used for soaking. There are no added features as far as whirlpool or hot air massage/air jets. These added features create a full body massage using water or air jets installed into the bathtub.
What is the difference between Whirlpool and Air Jets?
A Whirlpool bathtub uses jets to blow heated water into the bathtub. So, as you are relaxing in your bathtub the water is being circulated and heated and then blown back into the bath. This option is slightly outdated as it is prone to mold and mildew build up in the waterways.
An Air Jet or hot air massage unit blows warm air into the bath water. There is a separate blower unit that is connected to the bathtub where the warm air is released and pushed through the micro jets in the floor of the bathtub. This maintains the heat of the water for a wonderful body massage for ultimate relaxation.
The T & L Hot Air Massage Unit
We saw that there was a problem with the level of comfort customers were experiencing when enjoying a whirlpool bath (due to the external jets). Whether you enjoy soaking or indulging in the hot air massage option you deserve the best of both worlds. Instead of installing hardware into the surface base of the tub, we decided that tiny pin-hole jets installed in the floor of the tub were the answer (no hardware). This ensures that you can soak comfortably and use the jets on the days you desire. This incredible self-cleaning unit clears out the hoses by blowing air out of the holes a few minutes after you have turned the unit off. The major advantage is hygiene, or course – there is no build-up of standing water or bacteria. Our hot air massage unit is a remote system that can be installed in a nearby cabinet so that your bathroom design stays sleek and uncluttered.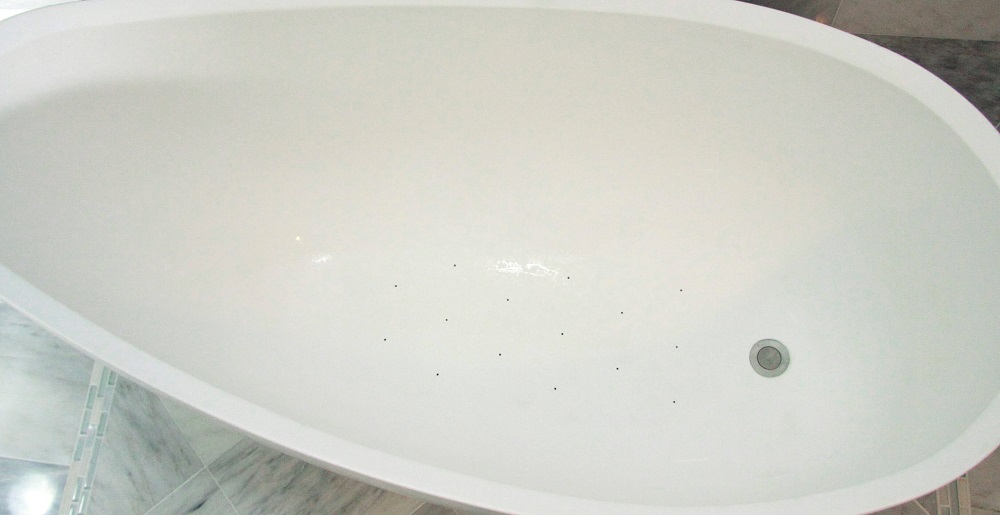 Can you install a freestanding bathtub in an alcove? Absolutely – Alcove Installation by Andria Fromm Interiors
Still searching for the best bathtub material? See our guide here
Which size freestanding bathtub is best? Read about it here