One of the most popular and commonly-seen shapes for freestanding soaker tubs is an oval. Naturally, the oval freestanding bathtub is the most ergonomic and comfortable shape for bathing as the curves of the tub naturally fit the curves of your body.
Freestanding Tub for Two 
Do you enjoy taking a bath with your partner? If you've been looking for a large freestanding tub that allows you to soak with your partner comfortably, we have just the right tub for you. 
The Imperia Bathtub is in a class of its own. Its beauty, splendor, and magnificent appearance make it the focal point of any luxury bathroom. Designed for two bathers, this tub features a comfortable sloping backrest and a center drain, making it the ultimate comfortable soaker tub.
Neptune Freestanding Bathtub 
Our tribute to the Roman God of freshwater and the sea, our Neptune freestanding bathtub is the perfect synergy of luxury and functionality. Our Neptune freestanding bathtub features a deep soaking space and a thin rim to portray a more simple, minimalist style. It also features a center drain to make bathing for one or two bathers more comfortable. 
The Round Hill Hotel and Villas in Montego Bay, Jamaica features our Neptune freestanding bathtub throughout their resort, both indoors and outdoors – bringing the peak of luxury to their guests. Learn more about our hotel project with them at this link.
Our Neptune luxury freestanding bathtub combines timeless classic styling and is made from InspireStone™, a unique hard-wearing smooth composite material that has the appearance and beauty of natural stone, but without the drawback of excess weight – just like all of the Tyrrell and Laing tubs.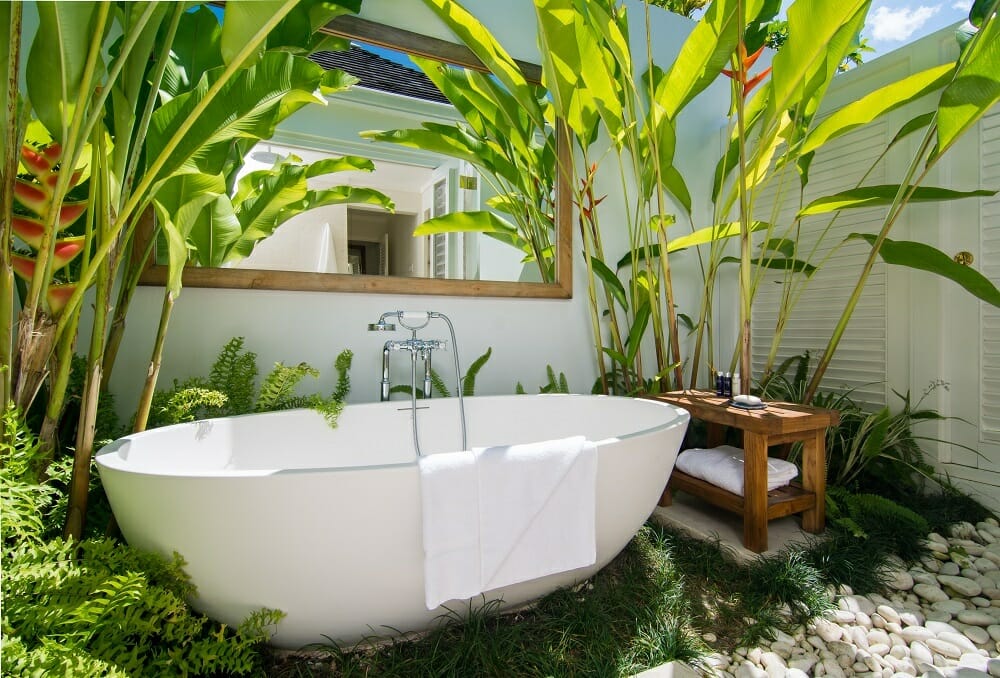 Freestanding Bathtub Under 60 Inches
Just because you have a smaller bathroom space, does not mean you should have to sacrifice the luxurious freestanding bathtub of your dreams. Our Petit Bathtub is small, but stands out in a mighty way. This ovular bathtub is 58 inches at its longest, making it the perfect solution for smaller bathrooms and one person bathing. Our Petit Bath is featured in Four Seasons and Hiltons Hotels as well as private residences around the world. This incredibly popular small bathtub is eye-catching and elegant. It is part of our Deluxe Bathtub Collection and is proudly made in the U.S.A.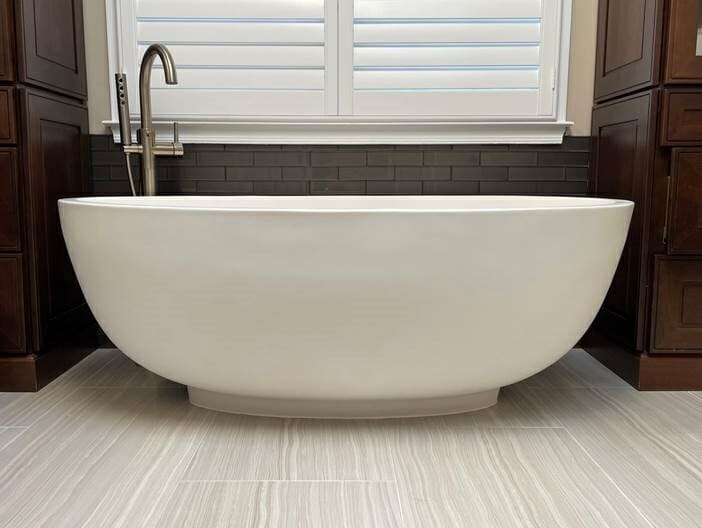 If you aren't sure what size freestanding bathtub you may need, check out this guide. And for more insight into freestanding bathtubs for smaller spaces, view this guide.