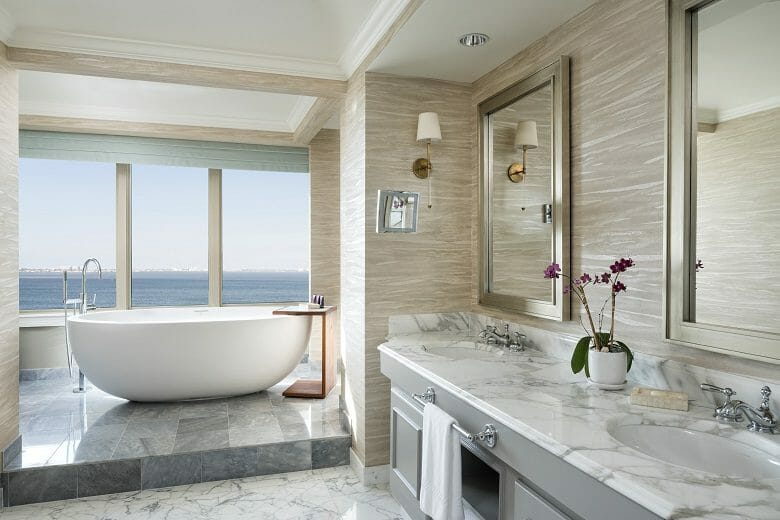 The Ritz-Carlton Sarasota brings the elegance of downtown living to the elegance of a coastal retreat. Between white sand beaches, championship golf sites, fine dining options, and an on-site spa, there are plenty of opportunities to relax and rejuvenate yourself during your time away. 
This luxury stay on the Gulf gets even better when you retreat to your suite featuring spacious layouts, sweeping coastal views, and spa-like bathrooms. 
Which Ritz-Carlton in Florida is Best?
We may be a little biased… but the Ritz-Carlton Sarasota takes the cake in our book! As far as luxury hotels go, the Ritz-Carlton in Sarasota optimizes the sophisticated luxury of a Floridian retreat. 
Especially in their refined Presidential Suites, featuring Tyrrell and Laing's Oceanus Bathtubs, among countless other high-end appointments like a butler's pantry, white marble entrance foyer, Italian marble bathroom, and a desk setup fit for a CEO. 
Luxury Freestanding Bathtub
The Oceanus is our most popular freestanding bathtub, featuring the space for two bathers, the depth for your most refreshing soak ever, and a center train to top off the comfort of your bath. Made in the USA, this tub is ergonomically designed to fit the shapes and curves of bathers bodies for ultimate comfort. 
Better yet? This deep soaker tub is made with Tyrrell and Laings's Proprietary InspireStone™ material. T & L InspireStone™ is an unprecedented material motivated by sophisticated craftsmanship. Appealing to the senses, our luxurious silky smooth finishes are warm to the touch, and retain the heat of the water longer, ultimately elevating your bathing experience. 
Quick Links: Shop Luxury Freestanding Bathtubs HERE 
Not sure which bathtub material is best? Read more here
Freestanding Bathtubs in an Alcove? Yes, please! 
Black Bathroom Inspo