Of course! Bathtubs make a beautiful addition to your luxury garden, patio, or other outdoor space. But before you go and put your bathtub outside, it's important to know a few specifications about your tub, and the location you plan to place it. 
For example, will the bathtub be exposed to direct sunlight for extended periods of time? If so, you need to choose a material that will be able to withstand that direct sunlight. 
Bathing under the sun or stars is a magical experience – one we hope you get to enjoy! 
Freestanding Bathtub Ideas
Now that you're feeling inspired, here are some practical insights about choosing the right tub and location for outdoor bathing. 
First and foremost, your tub's material needs to be able to withstand the weather and sunlight it will be exposed to. T&L's bathtubs have UV protection, and can be installed outdoors in direct sunlight, like the Roundhill Resort in Jamaica did in their luxury hotel suites, pictured below.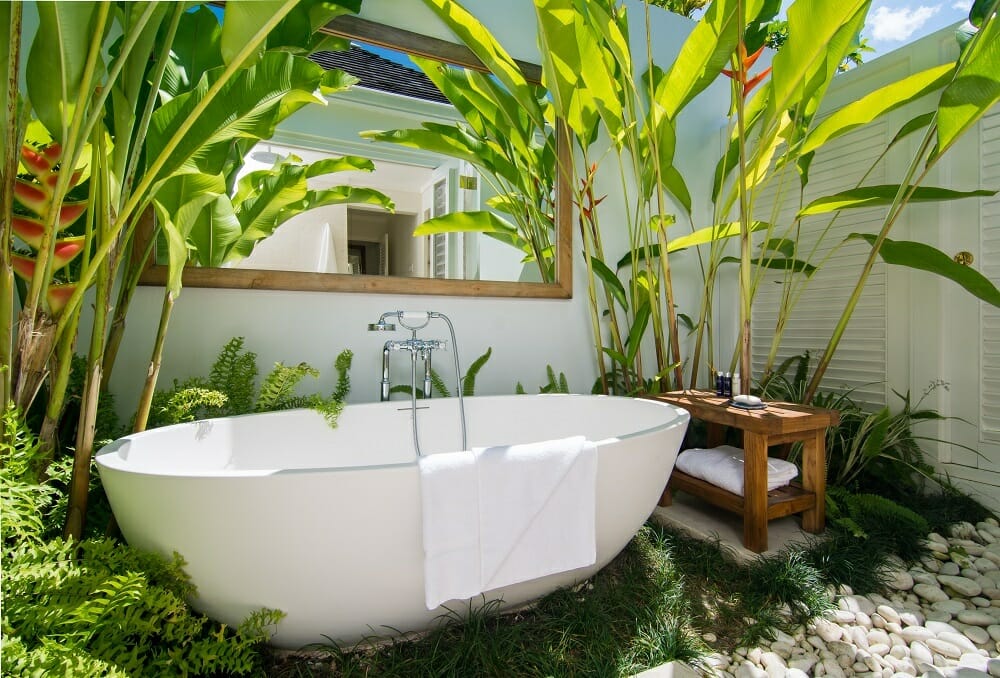 For even further protection, consider investing in a cover for your bathtub when it's not in use, in order to protect it and keep it clean. 
Another great way to protect your tub from the elements is to install it under a roof, shade sail, or pergola. This also adds an element of more elegant beauty to your outdoor bathtub design! 
Is an Outdoor Bathtub a Good Idea?
Outdoor bathing is an unparalleled, spa-like experience, without the cost of constantly going to the spa! Create your own personal, private retreat that's designed perfectly to your tastes and always has availability when you want to soak up the luxury! 
We all need a private space we can escape to in the comfort of our own homes, and an outdoor bathtub not only makes a beautiful feature in your garden, but also gives you the ultimate escape, whenever you need it. 
To get you started, find some inspiration below from our project with Roundhill Resorts. Then, shop ideal outdoor tubs here: https://tandlinternational.com/tyrrell-and-laing-deluxe-tubs/ 
Shop T & L Bathtubs HERE
Designing a wet room? Read This!
Still not sure which bathtub material is best? Read all about it here!