The ideas are endless when it comes to using freestanding bathtubs in your bathroom design. They are so versatile, come in a wide variety of styles and colors, and can be placed almost anywhere – like in the center of the room as a focal point, in an alcove, in a bedroom, as part of an open plan, and so much more. 
Freestanding bathtubs are not just limited to larger bathrooms, either – they are a great option for smaller bathrooms with limited space too. 
Whether your style is a funky pop of color, bold blacks, or classic white, the design options are limitless! Here are a few of the most popular master bathroom design trends featuring freestanding bathtubs, to help you get inspired to design your own luxurious retreat.
Master Bathroom Ideas Layout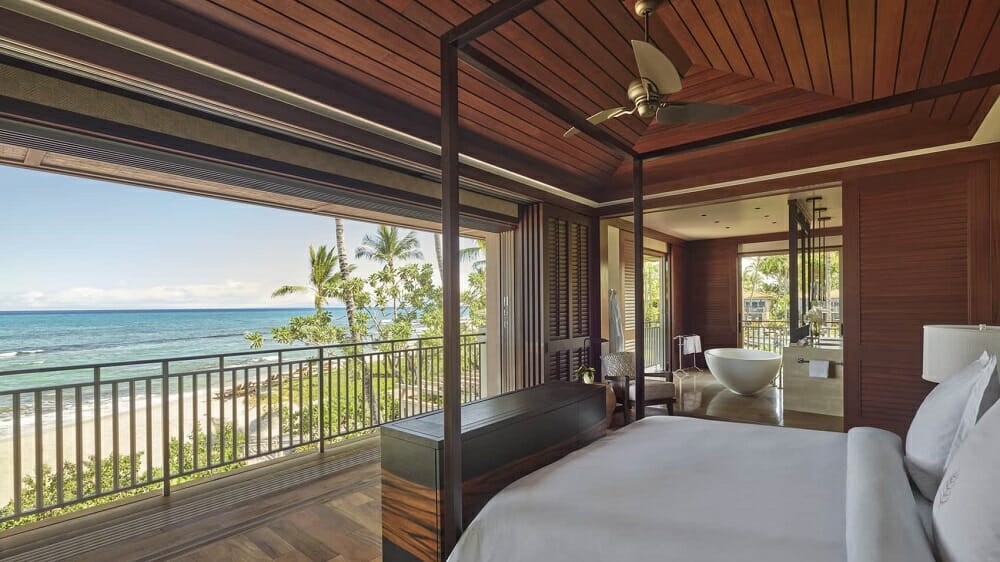 Larger bathtubs such as the T & L Imperia Soaker Tub are the perfect option for a fully open plan bathroom, like the Four Seasons Hualalai did in this image. The fluid design from bedroom to bathroom features large sliding doors and plenty of natural light, beautifully punctuated by natural woods, metallics, and soft whites all put together in an elegant yet minimalistic design. 
The open floor plan between bedroom and bathroom conveys a true sense of luxury and sets the perfect scene for your sunlight-doused soak. 
Alcove bathroom design an option for more traditional layouts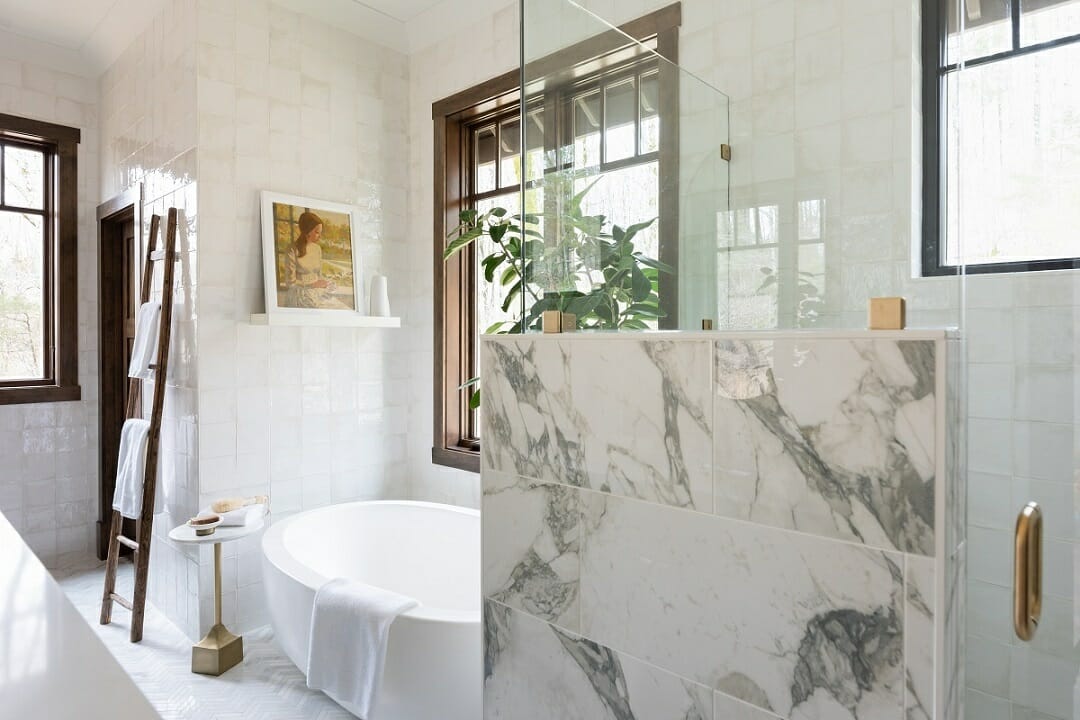 Installing freestanding bathtubs comfortably into alcoves has been a trend on the rise lately! It's safe to say that the rectangular, recessed bathtubs typically found in alcoves are old and outdated, and that freestanding tubs make for a more modern, minimal, beautiful design choice. 
Not only that, but freestanding bathtubs have proven time and time again to stand the test of time, so you can't go wrong with installing one in your bathroom. They have also been shown to increase home value when featured in your master bathroom.
Enjoy a long, luxurious, fully immersed soak while reclining in your beautiful, elegant, comfortable freestanding bathtub – without feeling limited by the alcove in your bathroom. This image features the T & L Adoni Bathtub, as designed by Andria Fromm Interiors. 
Rustic Master Bathroom Ideas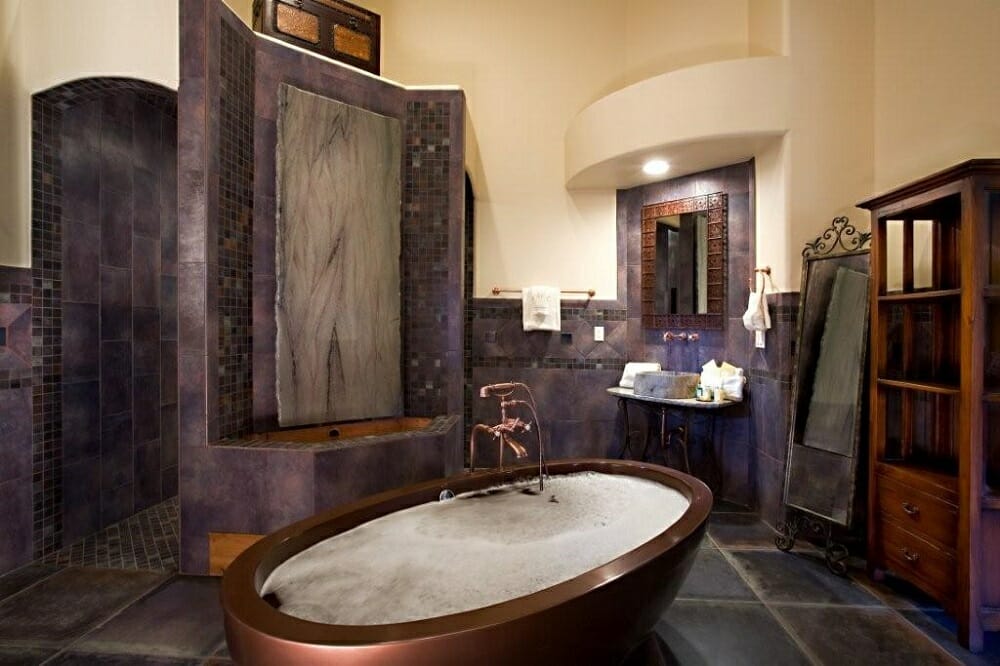 The Della Terra Mountain Chateau, pictured above, effortlessly integrates luxury elements into a rustic design plan, mixing natural woods and metallics with a color scheme inspired by the magic of nature and a view overlooking the Rocky Mountains. 
While you may not be able to get that Rocky Mountain view anywhere, you can create your own version of rustic elegance, even down to the T & L Adoni Bathtub in a custom brown color. This tub is great for two people to enjoy a long, luxurious soak overlooking whatever view you call home. 
Black and White Master Bathroom Ideas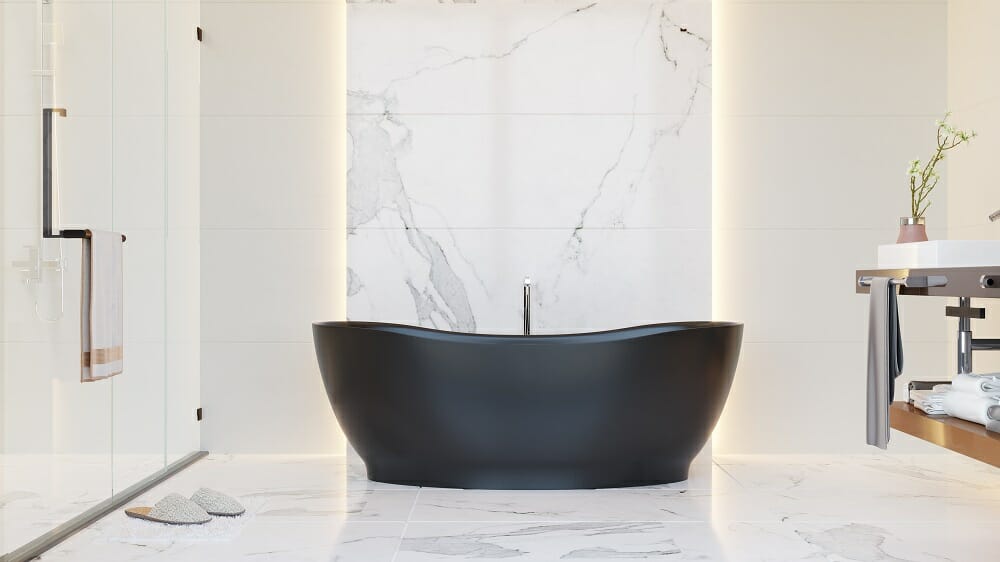 Bold, black bathrooms have become increasingly popular over the past couple years – whether it's paint, tiles, accents, or focal points, black is beautifully on trend and not going anywhere anytime soon. A great way to soften the harsh depth of black is with white accents mixed in. 
And if you find yourself drawn to black bathtubs as the focal point of your bathroom, try T & L's Stella Bathtub featuring soft, petal-like curves inspired by nature as a way to soften the color. This bathtub is comfortable for a long, deep soak for one or two, and can complement a variety of design styles.
Shop HERE