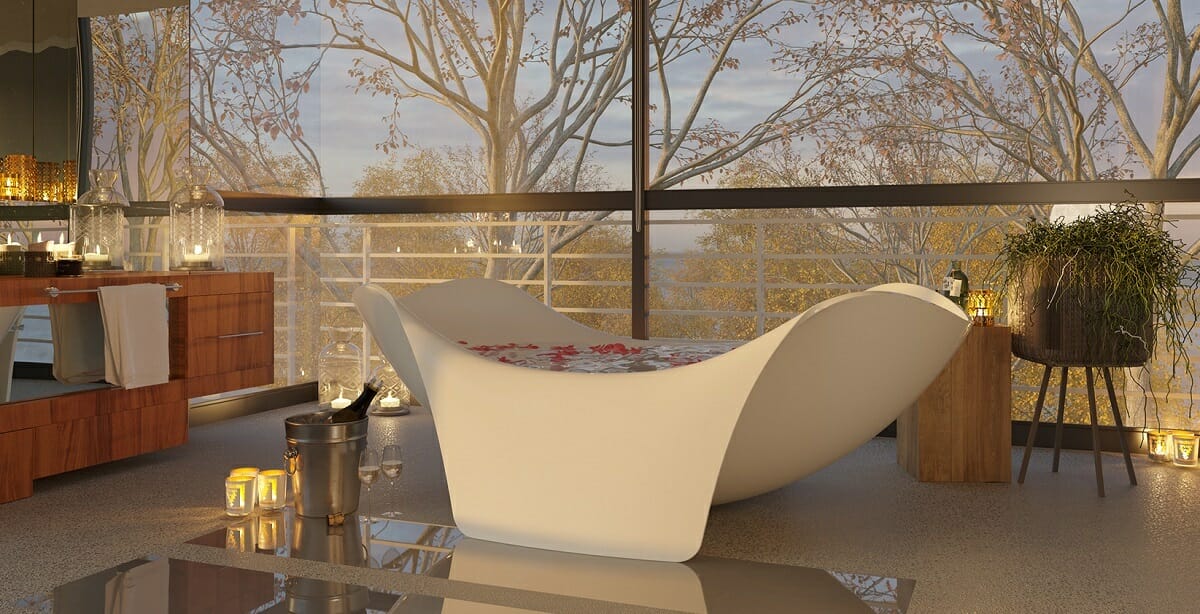 Romance is in the air and luxury is on our minds… queue, our Romantique Bathtub. The most romantic bathtub on the market features plenty of soaking space for two people, has a center drain for maximum comfort, and does not feature an overflow so you can enjoy as deep of a soak as you like. This contemporary freestanding bathtub is available in white or black matte or gloss, and is hands-down, the most stylish and enchanting luxury bathtub for two. 
Luxury Bathtub Dimensions 
The Romantique Freestanding bathtub is just about 80" long and 39" wide, allowing plenty of room for two bathers to soak comfortably. Since the bathtub does not contain an overflow, it has a soaking depth of just around 18", inviting bathers to sit back, stay a while, and soak up the romance!
Since the bathtub is so large, an open concept, or at least spacious, bathroom design is a must-have. We also recommend a freestanding faucet rather than placing this tub against the wall. 
Made from our InspireStone™ stone resin material, each of our bathtubs feel like luxurious stone, without the extra weight – the Romantique sitting at just about 300 lbs. The perfect balance between luxury and durability, our proprietary non-porous material is easy to clean and maintain, and provides the epitome of hygiene and wellness. 
Romantic Bathroom Design
The Romantique Bathtub is inspired by romance. With sensual curves, substantial size, and beauty at every angle, this bathtub makes the perfect centerpiece for any large bathroom. 
To complete the most romantic bathing experience, all that's left to do is pop your favorite bottle of bubbly, turn on the tunes, spark some candles, dim the lights, and grab your partner for a luxurious, romantic soak in the privacy of your own home.
Tyrrell and Laing makes it easy to purchase the most romantic bathtub on the market, and any of our other tubs as well. Whether you're a homeowner, plumber, designer, contractor, or builder, you can conveniently shop all of our freestanding bathtubs online! Our site is complete with 20+ options for bathtubs in various shapes and sizes, and an array of finishes and colors, including a custom color option! 
Enjoy the ease of online shopping without missing out on the knowledge that comes with having outside help on your purchase – at T&L, one of our experts is always available to talk details and help you make your best purchase possible. Start your shopping here.