Have you ever wished you could recreate that serene, luxurious hotel bathroom experience in your own home? Sometimes the most relaxing part of a getaway is indulging yourself in the luxury that is a nice hotel bathroom – clean lines, minimal designs, and high-end finishes make even something as simple as washing your face seem fancy. 
With the right elements and a few simple upgrades, you can turn your home bathroom into a personal oasis that rivals those found in the most exclusive hotels. From sumptuous soaker tubs to outdoor bathing under the stars, let's explore how to bring hotel-style luxury into your home.
Luxurious Soaker and Jetted Tubs
A quintessential feature of any hotel-style bathroom is a luxury soaker or jetted tub. Let's take a look at some inspiration from the hotel bathrooms we've had the pleasure of designing!
Four Seasons Hualalai, Hawaii
At the Four Seasons Resort Hualalai in Hawaii, Slipper is not just a bathtub; it's a statement. Positioned near a large open window, it offers views of nature and streams in natural light, creating an illusion of bathing in the wilderness (without having to brave the elements). Our Slipper tub, designed for two, features a center drain and ample interior space, making it ideal for a comfortable soak for couples.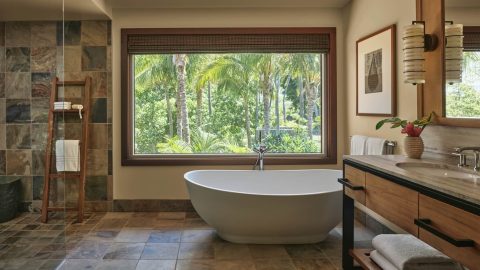 This bathroom's design complements the beautiful bathing experience by incorporating clear glass shower doors that visually expand the space. The use of wood and natural brown tones draws the surrounding nature indoors, creating a cohesive and tranquil environment.
The Round Hill Resort and Villas, Jamaica
Imagine indulging in a sensuous soak under the stars – right from the comfort of your home. At the Round Hill Resort and Villas in Jamaica, guests get to enjoy this experience with our Neptune tub. Designed with a center drain and sufficient room for two, it elevates outdoor bathing into a luxurious indulgence.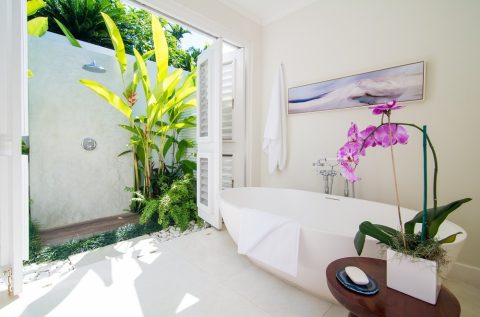 Creating a hotel-style bathroom outdoors epitomizes luxury, and can be the perfect touch to take your bathroom from boring to bold. However, it's important to note that outdoor installation is not recommended in areas with extreme weather conditions.
Luxury Bathroom Accessories: The Finishing Touch
Adding a hotel feel to your bathroom doesn't always require major renovations. Incorporating luxury bathroom accessories can make a significant impact. Think plush towels, elegant soap dispensers, sleek shower curtains, and aromatic candles. These small additions can uplift the ambience and bring that sought-after hotel elegance to your personal space. Here are a few specific ideas to get you started.
Cohesive shampoo, conditioner, and soap bottles
This seemingly simple upgrade can make all the difference in your shower! Rather than a collection of half-used bottles in any random color, shape, or size, fill up matching containers to keep in your shower, then keep the refills under the sink and out of sight. This visual clutter reduction really elevates your bathroom experience!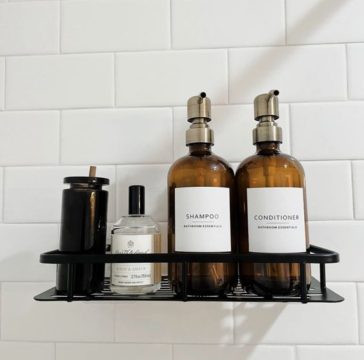 Image: Pinterest, Finds by Jaz
https://www.pinterest.com/pin/636555728608504526/ 
Matching accessories
Changing out your hand soap container, tissue box cover, toothbrush holder, rinse cup, soap dish, and any other accessory that sits on your counter continuously to be a matching set will easily elevate your bathroom decor! For a little extra luxury, consider choosing a bold gold or matte black set.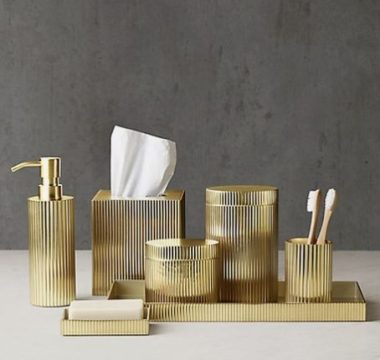 Image: Pinterest, Restoration Hardware
https://www.pinterest.com/pin/662381057715227457/ 
Time for a towel upgrade
If you've had the same old towels for a while, it may be time for a towel upgrade! Nothing refreshes your bathroom experience like a soft, fluffy new towel just like you'd find in a luxury hotel. For the added hotel touch, consider white towels so they always look clean and fresh. Or, consider choosing a simple, serene color that complements the rest of your bathroom decor. As an added bonus, you can even add a small towel warmer so there's always a warm towel waiting when you hop out of the shower.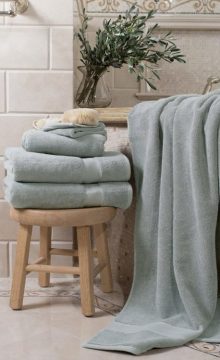 Image: Pinterest, Crane and Canopy
https://www.pinterest.com/pin/243053711131013962/ 
Add fresh eucalyptus to your shower
For an aromatic blast of freshness and the ultimate sensory experience, add some fresh eucalyptus to your shower! The steam of the shower will release essential oils from the eucalyptus promoting relaxation and stress relief, giving you even more of a feeling of that luxury escape.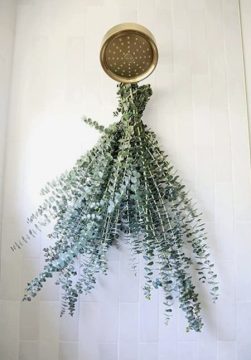 Image: Pinterest, Mama Wunderbar
https://www.pinterest.com/pin/105623553753707687/ 
Creating a hotel-style bathroom in your home is all about embracing luxury, comfort, and even a connection with nature. Whether it's soaking in a spacious tub while gazing at the stars or enjoying the serenity of a sleek, nature-inspired interior, these elements combine to offer a daily escape to tranquility. Start with a focal point, like a luxurious tub, and build your dream bathroom around it with thoughtful accessories and design elements. Your personal spa-like retreat is just a few steps away!