In the home design world, there are two main categories you can sort your design into: builder-grade, and high-end or custom. 
But, have you ever wondered what the difference between the two is, and what exactly a high-end bathroom entails? 
What is a high-end bathroom?
While the phrase "builder-grade" typically refers to the cheapest materials that can be used to still fit legal requirements, high-end bathrooms are completely customized for the homeowner, featuring luxury stone, metals, and other materials. 
Here are a few key differentiators to look for in bathroom design:
Counters, Sinks, and Mirrors

Typically, builder-grade bathrooms use finishes that are cheaper, and wear quicker – like laminate countertops, one vanity cabinet, one sink bowl, and one frameless mirror. 

High-end bathrooms are usually completely custom to the homeowner. The hallmark of a high-end bathroom is luxury finishes and design elements – which could include stone countertops, double vanities, styled mirrors, two sinks, a makeup counter, and more. 

Flooring: 

Many builder-grade bathrooms include a very basic floor, either an LVP that is continued through the main living areas and hallways, or a laminate tile.

All high-end bathrooms feature custom flooring – from gorgeous, intricate tiles to a custom combination of LVP and tile, the one thing that makes a high-end bathroom floor stand out is the uniquely customized design, and the option for a heated floor.

Lighting:

Builder-grade bathrooms mostly feature one boring, bulb-only fixture over the mirror and vanity. 

Custom, high-end bathrooms always highlight a stylized vanity light that brings the rest of the design together.

Towel Racks:

Builder-grade bathrooms use the typical stainless steel, squared off and boring towel rack. 

In your high-end bathroom, why not include a heated towel rack that complements the rest of your design for a little something special? 

Bathtub:

Builder-grade bathrooms almost exclusively use acrylic shower/tub inserts, which fade and crack over time.

High-end bathrooms almost exclusively use freestanding bathtubs, which just scream luxury – if they are large enough, the bathtub will be separate from the shower, and in smaller bathrooms the bathtub will be used as the shower base. 

Showers:

Like we noted above, most builder-grade bathrooms feature the unfortunately popular acrylic insert. 

High-end bathrooms typically make the most of the shower space with a luxury, oversized walk-in, and the option for double shower heads or a steam shower. 
Freestanding Soaking Tub
Transform your bathroom into a luxurious haven of relaxation with T & L's stand alone soaker bathtubs – like Rosso (pictured below).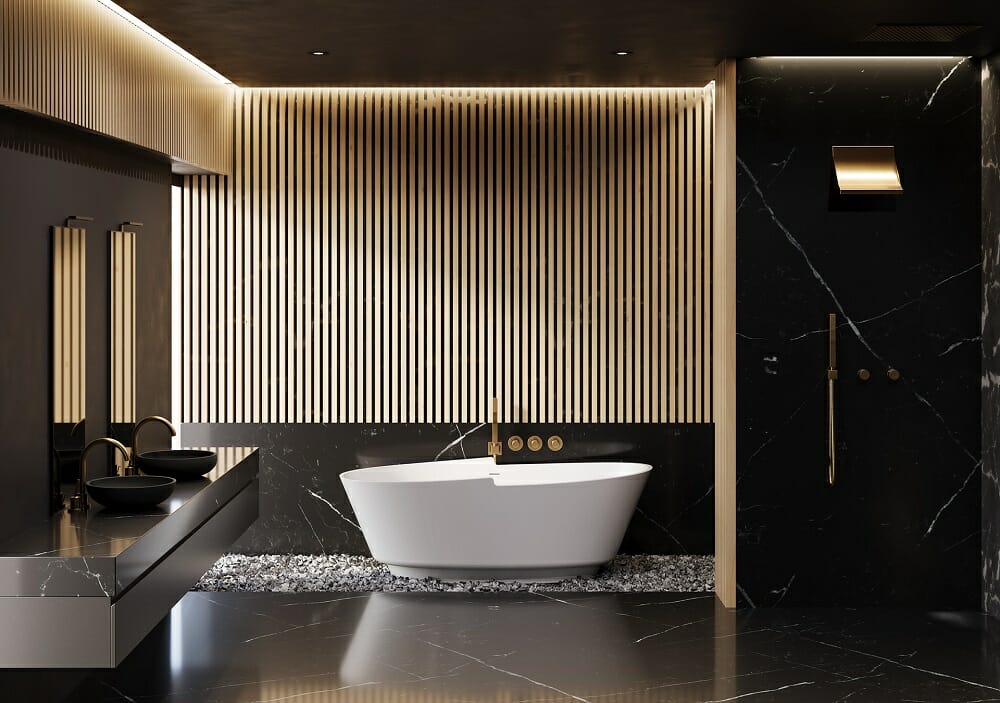 The clean lines of this modern design provide a grand focal point for any luxury bathroom, and add a contemporary flare to your bathroom design. This stunning eye-catching stand alone tub is also designed with back support for ultimate comfort while bathing. Look good, feel good with T & L's freestanding soaking tubs.
How do you make a small bathroom feel luxurious?
Just because a bathroom is small, doesn't mean it can't be luxurious! 
Here are a few of our best tips for making your small bathroom feel bigger, and more luxurious: 
Declutter the countertops, and instead make use of your cabinets, drawers, and closets

Add more light, including replacing the standard Hollywood-style bulb lights that are found in most builder-grade bathrooms

Use white throughout your design, like on your vanity cabinet and your bathtub

Install a small freestanding tub/shower combo to replace the builder-grade acrylic inserts and really amplify the luxurious vibe. A great tub choice for this option is the

Eros

, which was designed specifically for this purpose!
And if you do have the space for a separate shower and bathtub, consider a smaller freestanding bathtub like the Rosebud or Petit – both designed to make the most of your bathroom space.