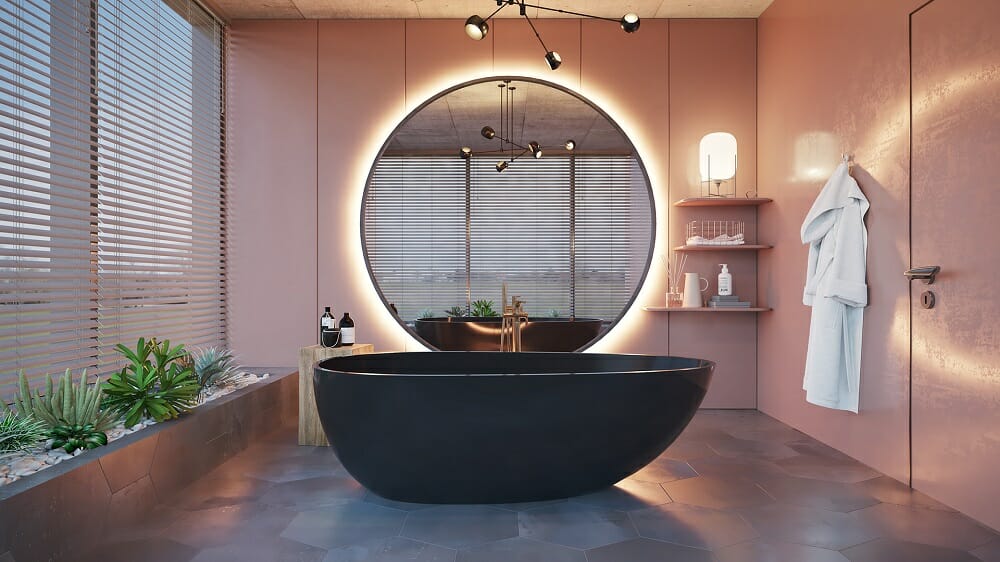 A common misconception is that black bathtubs are an unusual choice, yet they are at the heart of a rising trend in contemporary bathroom design. 
With a timeless allure, these striking bathtubs are now a popular choice for those seeking a bold, modern aesthetic. A black bathtub can serve as an elegant focal point, creating a powerful, dramatic ambiance that is both inviting and captivating.
Unraveling the Beauty of Black Bathtubs
Each of our Contemporary bathtubs has an option to come in black, white, or any custom color, and are available in both matte and gloss finishes. These tubs boast unique designs that set them apart from standard options. The exclusive use of InspireStone™ composite in their construction ensures that they are not only stylish but also durable and easy to maintain.
Black drains, which blend perfectly with the tub, add to the distinctive character and sleek appeal. When closed, these remarkable drains are flush with the floor of the tub, adding a touch of refined detail that elevates your bathing experience.
Innovative Design Meets Timeless Elegance
Create the ultimate home spa experience with our Stella luxury double slipper tub. The Stella freestanding slipper bathtub was inspired by nature with its petal-like curves, yet is modern, elegant, and ideal for today's contemporary bathroom designs. Its subtle double ended design allows one or two bathers to comfortably relax and enjoy a long refreshing soak.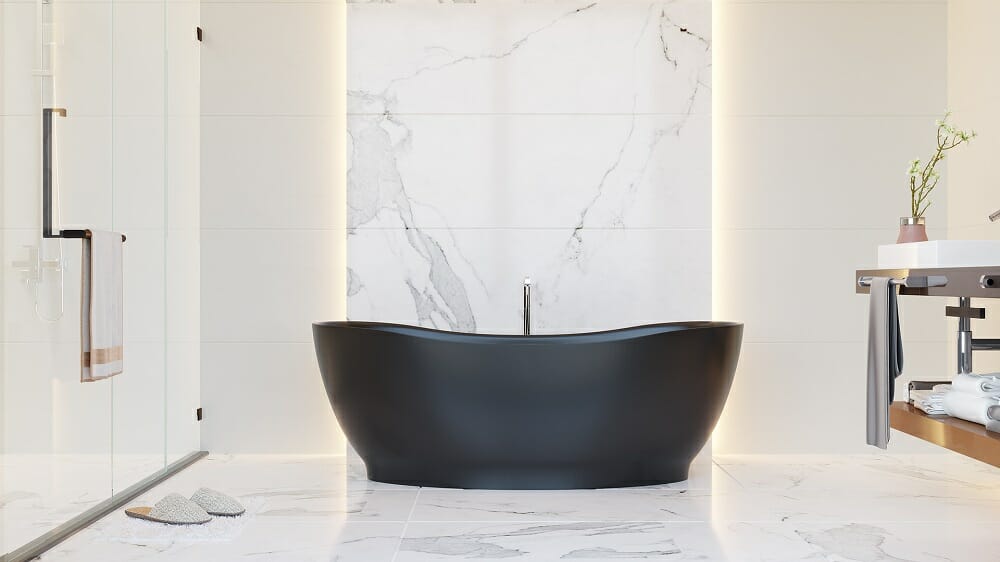 For those with ample space, the Poseidon freestanding bathtub is a statement piece that can transform your bathroom into a luxurious sanctuary. Inspired by the Greek God Poseidon's romantic nature, this bathtub offers generous soaking space ideal for dual bathing. A perfect balance of luxury and durability, our InspireStone™ stone composite material gives it the appearance and beauty of natural stone, without the weight.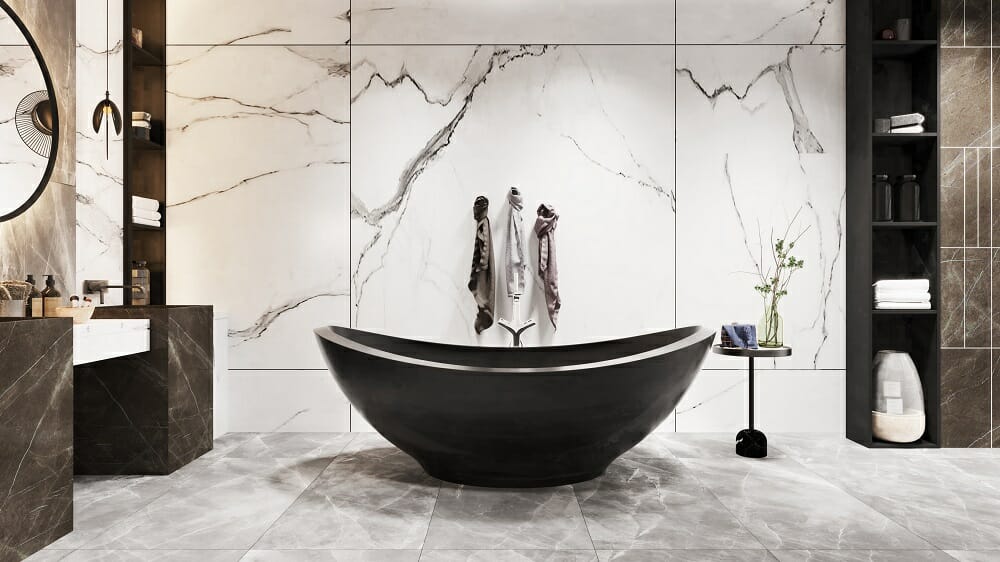 Black Bathtubs: A Maintenance Myth Dispelled
Despite widespread belief, black bathtubs are not harder to maintain than white ones. Regular, routine cleaning can keep your black tub looking as impeccable as the day you first used it. For added guidance, we've created a comprehensive guide to help you maintain your matte black finish with ease. You can download the guide here. 
Coordinate with Complementary Black Sink Basins
To further elevate your bathroom aesthetics, consider pairing your black bathtub with our designer Contemporary Basins. Crafted from our proprietary InspireStone™ stone composite material, these sinks offer the same stylish and practical advantages as our bathtubs. With a range of installation options, our basins can be adapted to meet your design preferences, making them an ideal addition to any bathroom.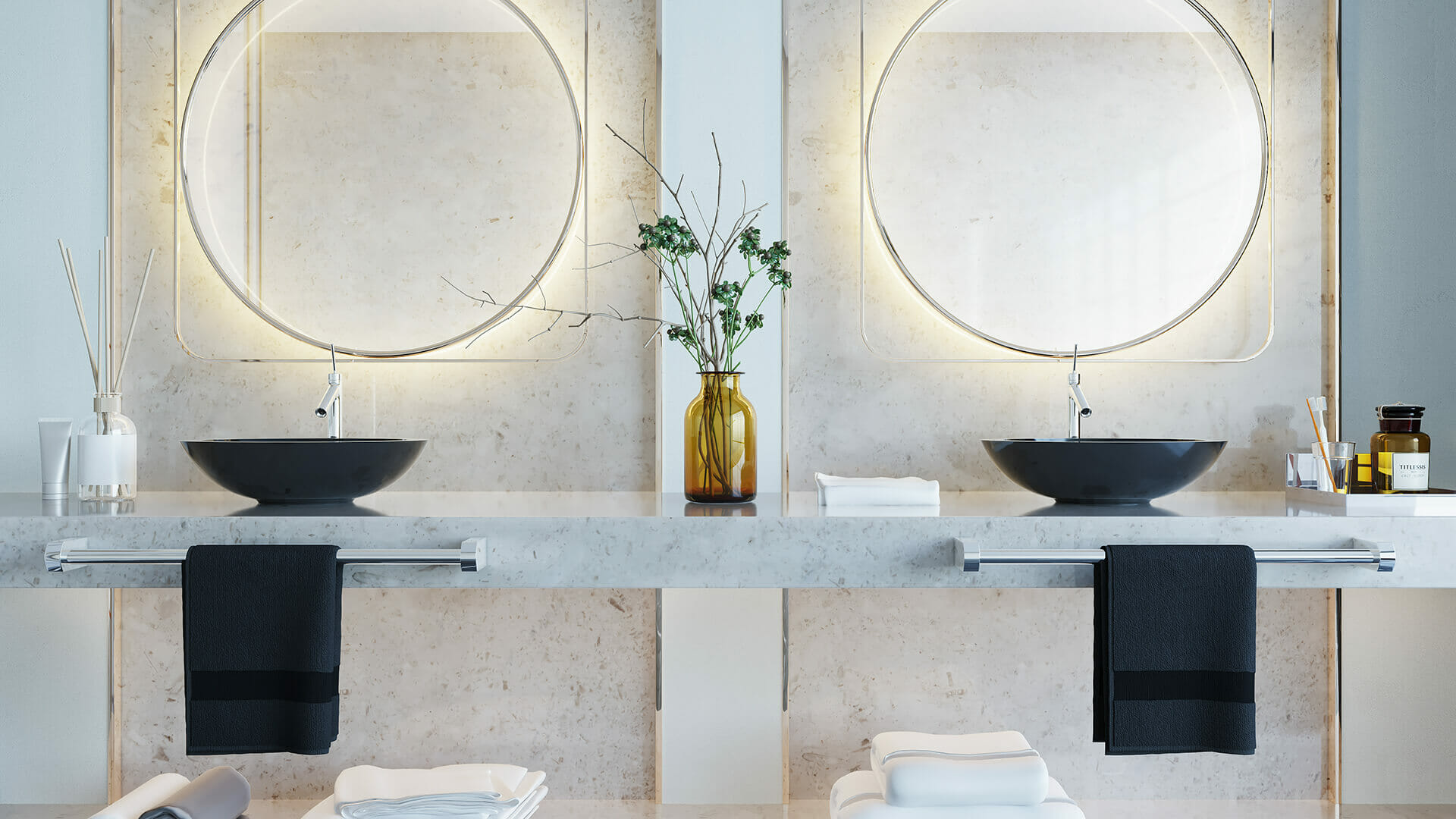 The versatility and unique charm of black bathtubs have undeniably made them a stylish trend in contemporary bathroom design. Whether you're remodeling or merely seeking to add a sophisticated touch to your bathroom, consider the dark allure of a black bathtub.