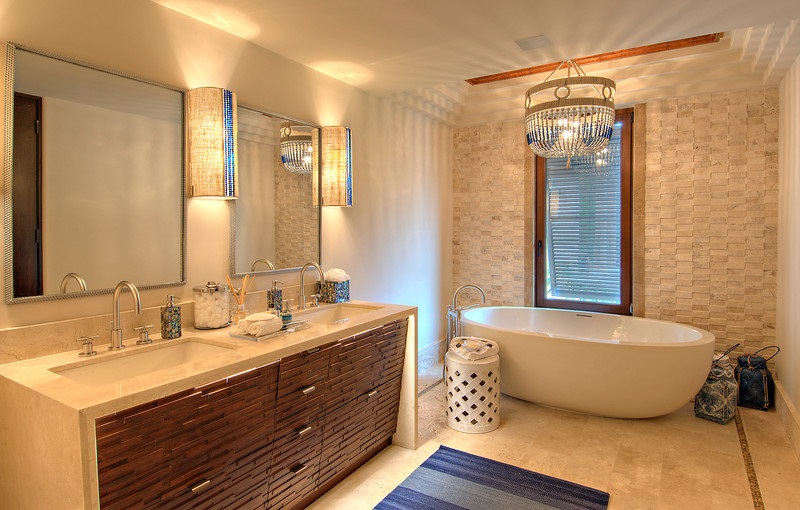 Elegance, luxury, and functionality often converge in the most unsuspecting of places, and nothing exemplifies this more than the modern guest bathroom. 
If you're contemplating a guest bathroom makeover, integrating a freestanding bathtub can effortlessly infuse a touch of class, while also ensuring unparalleled functionality. Let's explore some of the top freestanding bathtub ideas that promise to redefine your guest bathroom's ambiance.
Can You Install a Freestanding Bathtub Against a Wall?
The answer is a resounding yes! Freestanding bathtubs look beautiful when installed in front of accent walls or decorative wall fixtures – all you need is to allow just about 5 inches of space from the wall. 
In the example here, you can see how designer Ingrid Bergman installed our Neptune Bathtub in front of a custom-lighted shelf ensuring essentials like shampoo, soap, and your phone are within reach while you relax. Plus, the faucet conveniently placed in the corner enhances accessibility without compromising on aesthetics, making the addition of a grab bar beautiful and seamless. A thoughtful addition, they cater to a diverse guest list, from the elderly to children, ensuring safety and ease while entering or exiting the bathtub.
Behind this design is the talented Ingrid Bergman of IBK Design. A glance at her portfolio reveals a penchant for marrying function with form, a signature that's vividly echoed in this installation.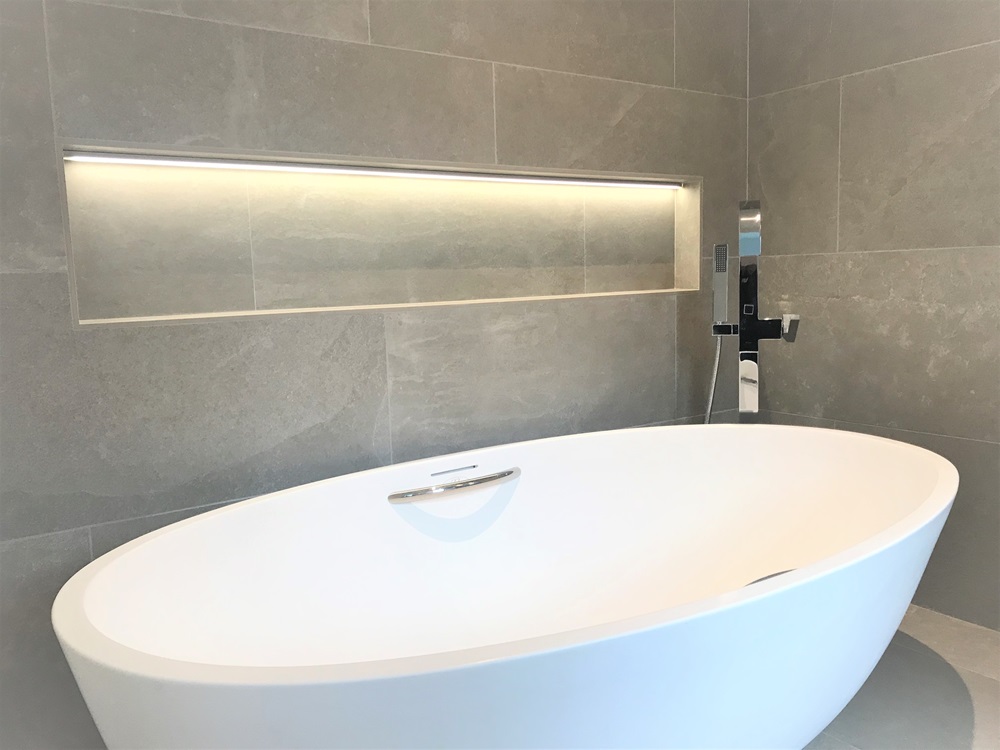 Rectangular Freestanding Bathtub
With geometric precision, rectangular freestanding tubs like Linnia are perfect for corner placements. Their traditional design promotes both solitary relaxation and dual-person soaking experiences. Marrying modern and contemporary aesthetics, these tubs can become the focal point, especially when set against a beautifully tiled accent wall. 
The design pictured here features large tiles, which, apart from their visual appeal, offer the pragmatic advantage of preventing water damage and mold. Nothing elevates a bath experience more than the glow of natural light. Installed near a window, this bathtub area promises serenity with a generous splash of sunlight.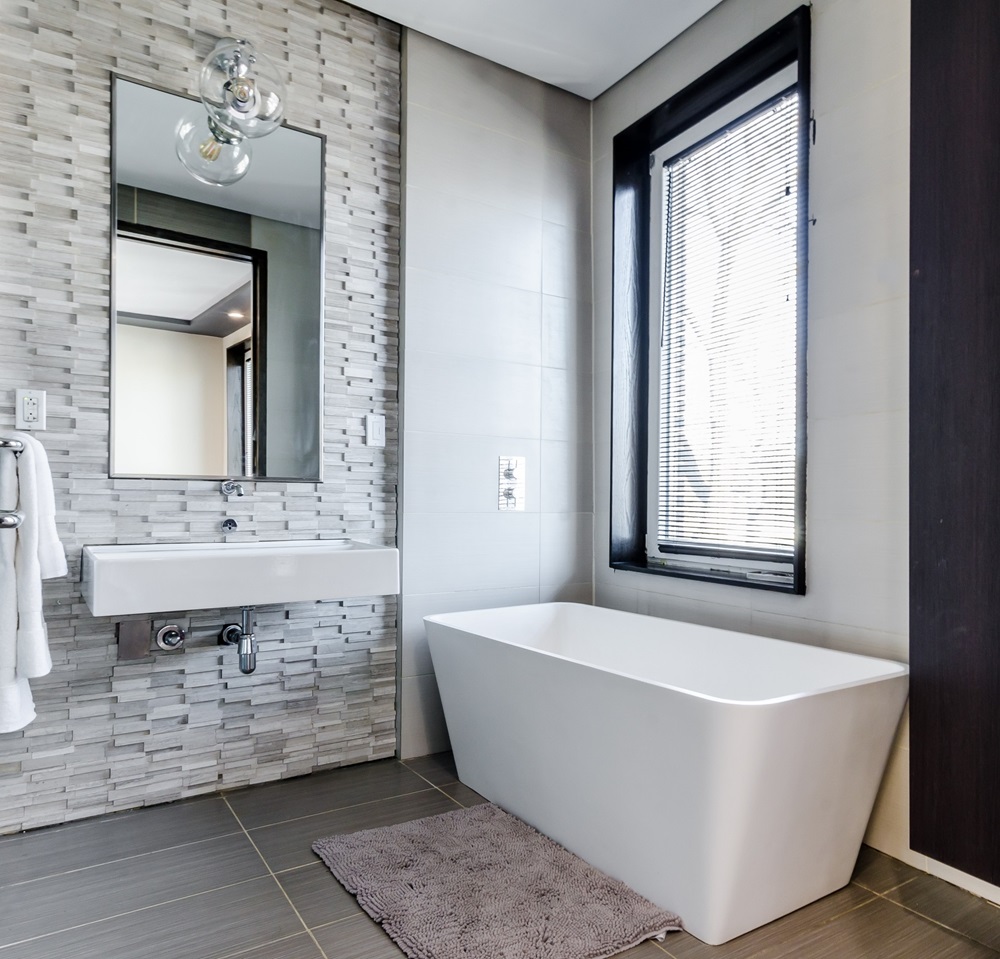 Alcove Freestanding Bathtub
The Neptune bathtub, with its versatile design, stands out in the world of freestanding bathtubs. While its walls are slender compared to popular models like Oceanus or Imperia, its internal dimensions match the Oceanus, comfortably accommodating two.
This homeowner was intent on a modern upgrade from the conventional "drop-in tub," and chose the Neptune for her guest bathroom. Nestled perfectly in the alcove space beneath a window and adjacent to the shower, it ensures guests can easily oscillate between a rejuvenating soak and a refreshing shower as desired.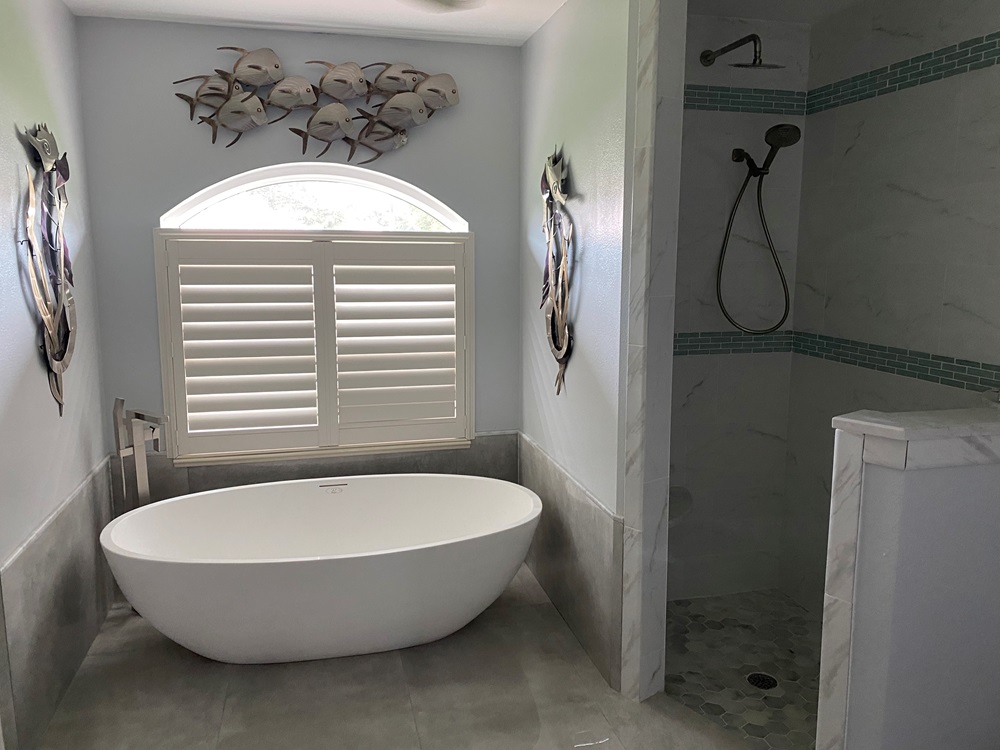 Notably, the Neptune, like all our bathtubs, boasts the InspireStone® material that retains water heat for extended, indulgent baths. 
And for those accidents with wine, nail polish, or coffee? Fear not. The stain-resistant nature ensures spills can be easily tackled without any surface damage.
Freestanding bathtubs are no longer just a mark of luxury; they're a testament to thoughtful design that prioritizes your guests' comfort. Whether it's the strategic placement against a wall, the modern allure of rectangular designs, or the dual advantages of an alcove setting, there's a freestanding bathtub for every guest bathroom. Find your perfect guest bathroom tub here.