"What's Trending?" is always the biggest question every year in bathroom design.
Black bathrooms have taken the world by storm in 2021. They are stylish, classy and bold. Black complements a vast variety of options.
Whether you are creating a statement with a black bathtub as a centerpiece or tiling your bathroom in black, experts say that this trend isn't going anywhere.
Bright white tiles are definitely on every designer's mind right now. The bigger the better, too! Big white tiles make bathrooms look bigger and allow lighting to bounce off the floors creating a beautiful ambiance.
A mix of natural wood, terracotta tile, terrazzo, stone and marble can be blended together, and if done correctly the outcome is gorgeous.
It has become increasingly popular (more so now, than ever) to wrap your entire bathroom, floor to ceiling in tile. Benefits? Durability, hypoallergenic, easy to wipe down and keep clean. It also creates a multi-dimensional appearance where you can mix and match colors and materials adding creativity and dimension.
A recent installation from Andria at Andria Fromm Interiors showcases her fully wrapped tile bathroom design for her client, Jenny. Andria used gold accents, natural wood elements, herringbone tile and stone which gives this bathroom a timeless, sophisticated feel.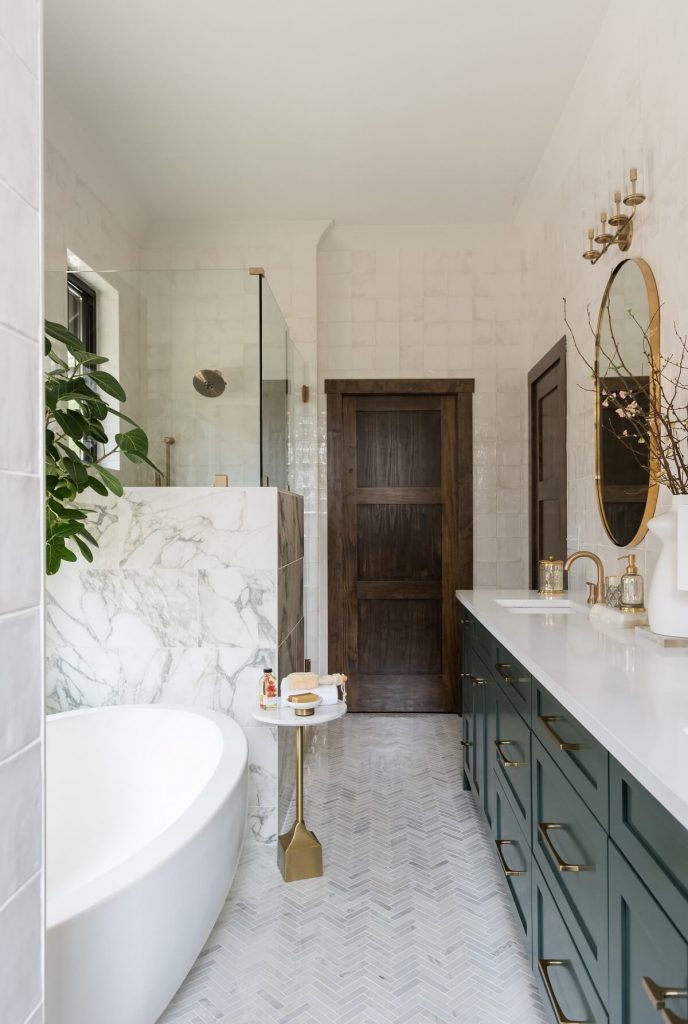 Image by: Allison at Ruby and Peach
The take away – don't be shy when designing your bathroom. Be bold, have fun and don't be afraid to mix marbles, tiles, wood and stone into your design.
Wondering what size bathtub will best suit your needs? Download our guide below!