Garden style bathtubs have been astronomically growing in popularity lately – but you may be wondering what exactly the difference is between a garden style bathtub and any other freestanding bathtub. 
Today, we're here to break down everything you need to know about garden style bathtubs! 
Starting with their key differentiators. Garden style freestanding bathtubs provide more soaking space, allowing bathers to fully submerge into the bath water. 
If you've ever tried to bathe in a non-garden style tub, then you're likely familiar with the awkward, cold, unsubmerged parts of your body being incredibly uncomfortable and exposed during what's supposed to be a relaxing bathing experience. I don't know about you, but that is not an experience I'd like to have again. Enter: garden style bathtubs! 
How Long Do Garden Tubs Last?
Garden tubs can be made from a variety of materials. But by far the best bathtub material is InspireStone™. 
Our proprietary stone composite material is light-weight and extremely durable, with a long lifetime (about 70 years long, in fact). Stone Resin imitates the look and feel of a luxury stone finish. It is non-porous, which is mold and mildew resistant making it incredibly hygienic, and as an added bonus for the bather, it retains the heat of the water.
Not only that, but they are fully repairable, with minor scratches and cracks able to be repaired on site – contributing to the longevity of bathtubs made with this material.
Are Garden Tubs Comfortable?
Our bathtubs have been meticulously designed for each bather to enjoy every minute of their soaking time. 
Ergonomically designed to fit the shape of your body, the backrest slopes of our bathtubs provide back support while allowing you to comfortably lay back with your body submerged under water.
This design creates the ultimate bathing experience! 
One of the most popular and commonly-seen shapes for freestanding soaker tubs is an oval. Naturally, the oval freestanding bathtub is the most ergonomic and comfortable shape for bathing as the curves of the tub naturally fit the curves of your body. Our Deluxe Bathtub collection is mostly made up of oval bathtubs, so whichever you choose you can rest assured you'll be bathing in ultimate comfort. 
Garden Style Bathroom Ideas
Maia Bathtub
This image features the Maia bathtub, placed on a platform in front of a large window which lets in all the natural light you could possibly want. The earth-toned flooring mixed with a marble platform and our garden style soaker tub creates an elevated organic ambiance that feels like a home spa right in the middle of your bathroom. This bathtub also features a center drain for ultimate comfort for either one or two bathers.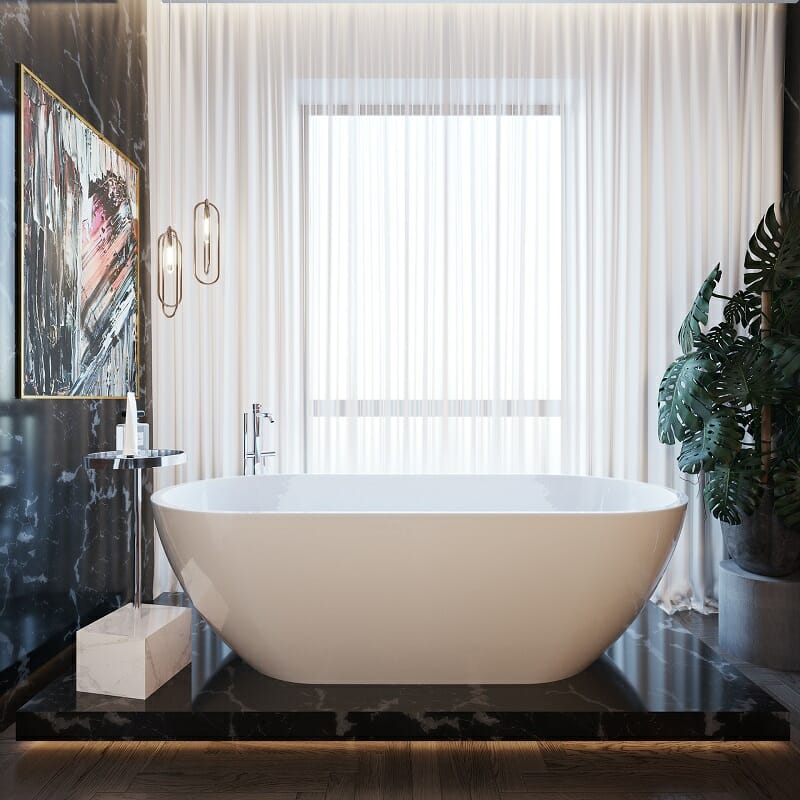 Oceanus Bathtub
Our most popular soaker tub, the Oceanus bathtub, is featured here inside of Jamaica's Villa Cristina. This spacious, open-concept bathroom features high ceilings and a beautiful mix of earthy elements that portrays a laid-back luxury. The bathroom leads out to the patio area with a beautiful view of the sea, and even suits an open-air bathing experience if you choose to leave the doors open during your soak.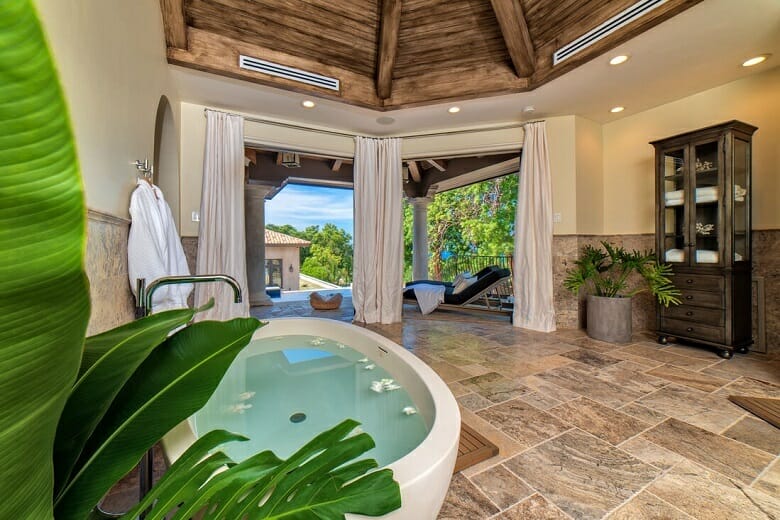 To browse garden style bathtubs in a variety of styles and colors that perfectly complement your bathroom design, start with our Deluxe Bathtub collection. If you have any questions or would like some guidance finding your perfect bathtub, please contact us here.