Living in a small condo doesn't mean you have to compromise on luxury or functionality—especially when it comes to your bathroom.
Whether you're a condo owner, an interior designer, or a contractor aiming to maximize a small space without sacrificing aesthetics, you've come to the right place. In this blog, we'll explore two exceptional small bathtubs designed to transform any compact bathroom into a relaxing sanctuary.
Why Size Matters in Small Condo Bathroom Design
Condo living may come with space limitations, but that shouldn't limit your luxury. Even small bathrooms can become luxurious havens with the right design elements. The choice of a bathtub can make or break your small condo bathroom design, serving both functional and aesthetic roles.
Best Small Bathtub
Are you facing the dilemma of replacing a standard tub or shower in a confined space? The Rosebud Compact Freestanding Tub is your answer. 
Glyn Laing, the founder of Tyrrell and Laing, meticulously designed this tub to provide a sumptuous yet cozy bathing experience for one. Crafted from our proprietary InspireStone® composite stone resin, the Rosebud retains water heat for an extended, enjoyable soak. The non-porous material is maintenance-free and easy to clean, blending seamlessly into your daily routine.
Rosebud: An International Sensation
The Rosebud isn't just a favorite among condo and homeowners; it's also installed in 5-star hotels globally, such as the Four Seasons Punta Mita. Its end drain feature makes it easy to replace a standard tub/shower combo, offering a practical solution for limited spaces which makes it a standout in the world of small bathtubs.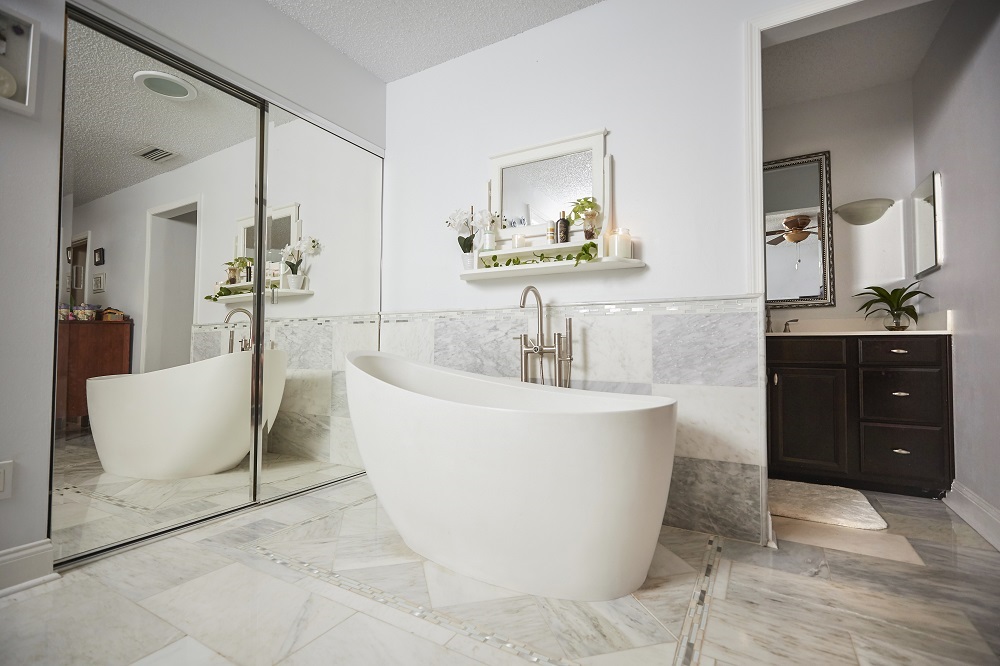 Small Bathroom with Bathtub Ideas
Another jewel in the realm of the best small bathtubs on the market is the Petit Soaker Bathtub. Like the Rosebud, the Petit is also crafted from our innovative InspireStone® material. This small freestanding bathtub offers a luxurious experience, with finishes that are soft to the touch and remarkably easy to clean.
Petit: A Small Bathtub with a Big Impact
Don't underestimate the Petit because of its size. Installed in prestigious hotels like The Cove Eleuthera in the Bahamas and the Four Seasons Punta Mita, this compact bathtub brings a touch of luxury to any small condo bathroom design. Its lightweight yet durable construction makes it a practical choice for those who crave a spa-like experience in a petite space.
Our client, homeowner Pam Vincent, says, "The Petit fits perfectly in my bathroom and the size is just right for me and my husband. I also want to thank you for helping get through this remodel. It's been fun but a lot of work. Your customer service is superior. You could not have been more obliging with all the samples and templates you sent me. Everyone that comes to look at my tub loves it. It is the WOW factor in the bathroom."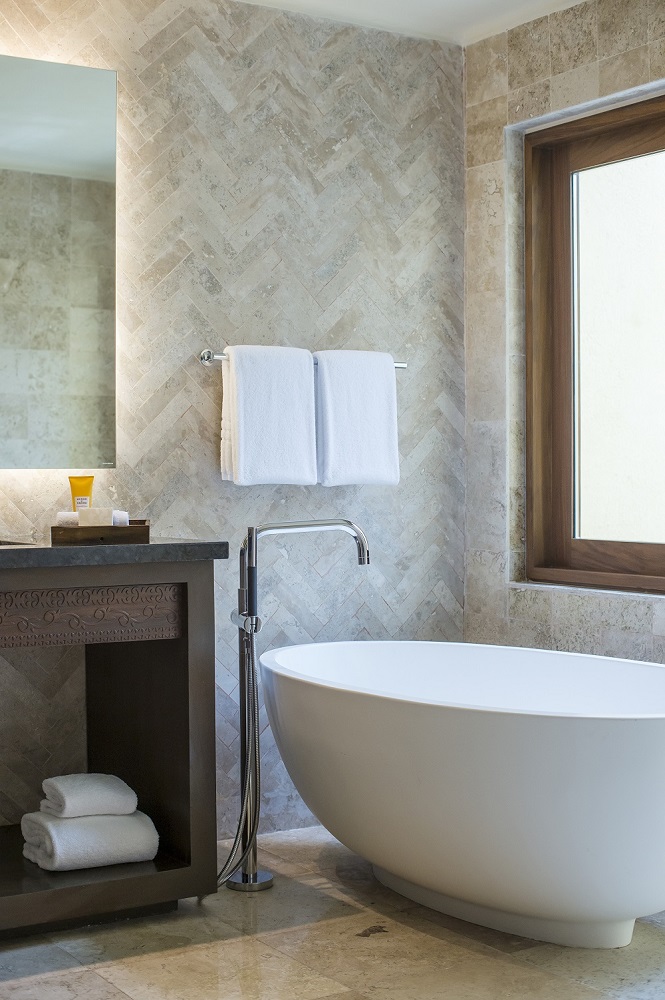 Why Choose Tyrrell and Laing for Your Small Condo Bathroom
At Tyrrell and Laing, we pride ourselves on producing deluxe bathtubs made in the USA. Our manufacturing, hand finishing, and creating processes are completed by local workers, emphasizing quality control and promoting the local economy. When you choose one of our bathtubs, you're not only investing in quality but also contributing to sustainable, local craftsmanship.
The InspireStone® Advantage
Both the Rosebud and Petit bathtubs are sculpted from InspireStone® stone composite, ensuring durability and elegance. 
Our InspireStone® is not only easy to maintain but also stain-resistant, fire retardant, and warm to the touch. Its non-porous nature makes cleaning effortless, and its unique ability to retain heat promises a longer, more pleasurable bathing experience. What more could you ask for in a luxury bathtub material!?
Small Space, Big Luxury
Small bathrooms in condos need not be a design challenge; they can be an opportunity. With the right bathtub, you can transform your bathroom into a luxurious, restful retreat. Whether you opt for the Rosebud's thoughtful design or the Petit's undeniable charm, you're sure to elevate your small condo bathroom into a sanctuary of relaxation and style.
Ready to soak up the luxury in a compact space? Explore the Rosebud Compact Freestanding Tub and the Petit Small Freestanding Bathtub today!