Orion Freestanding Bathtub
You Deserve a Luxurious Soak
Freestanding or Alcove Bathtub
The Orion freestanding bathtub's eye-catching design combines a classic look with a contemporary style.
Designed for those who desire a gentle, nurturing soak in a comfortable position, the Orion oval freestanding bathtub is for those who want to escape from everyday stress and tension.
Our beautiful black finishes provide a timeless sophistication to your bathroom retreat. Our classic white finishes are inviting and revitalizing. You will love your new T & L Bathtub regardless of whether you choose a traditional color scheme or a trendy one.
Handcrafted in our proprietary InspireStone™ stone composite material. Soft to the touch, stain resistant, easy to clean and retain the heat of the water for a longer more enjoyable soak.
Pairs perfectly with our Contemporary Basins – bring your bathroom to life!
Can you install a freestanding bathtub in an alcove? Absolutely! 
See our Alcove Installation Blog Here for inspiration.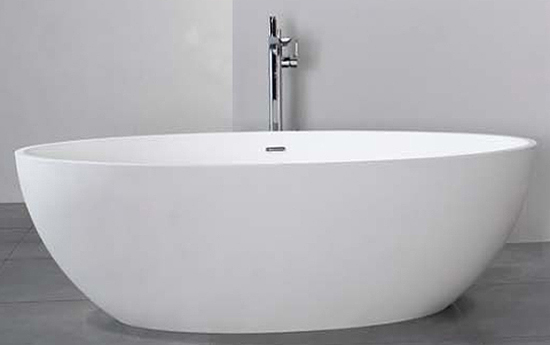 Orion Bathtub Specifications
Luxury Freestanding Bathtub