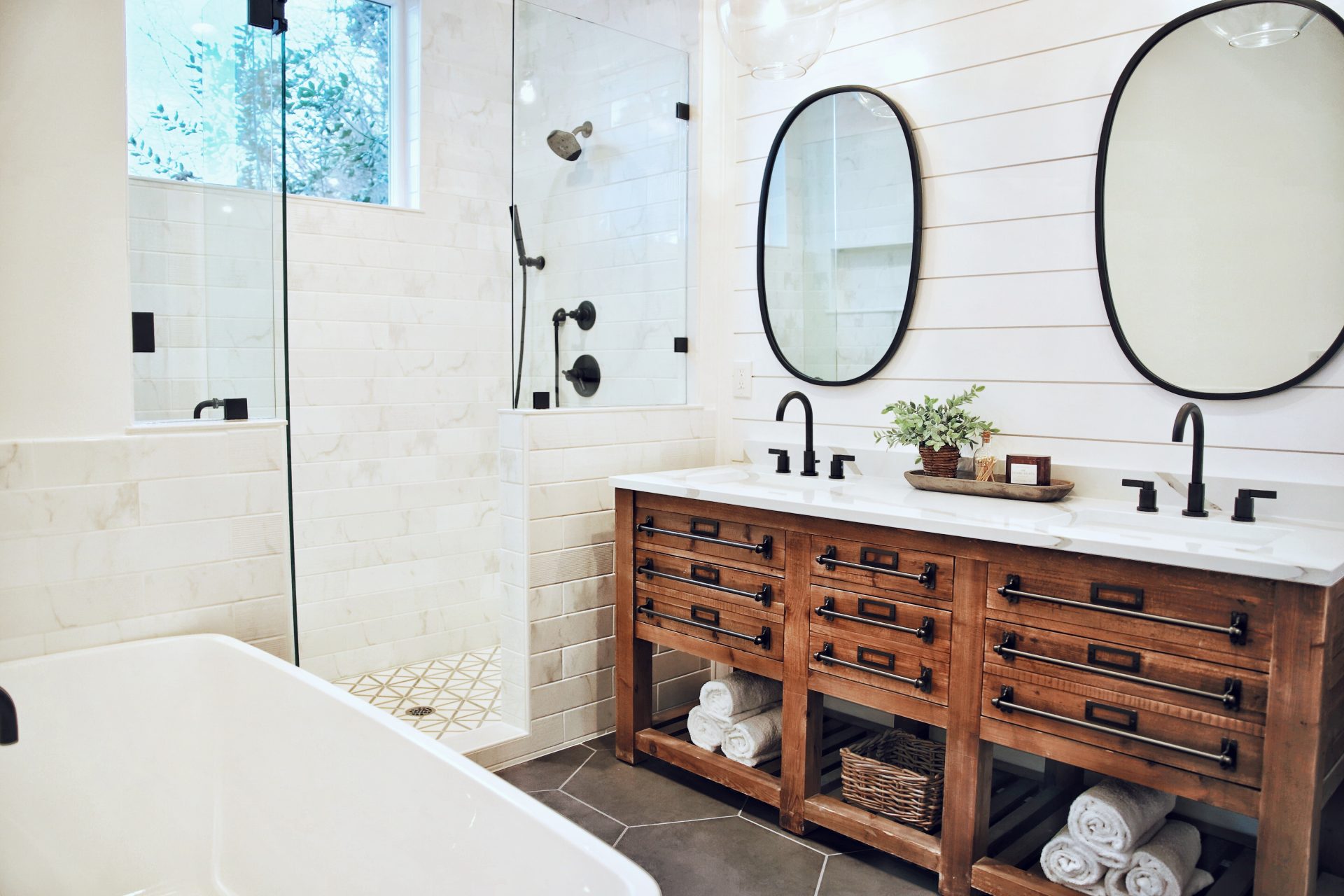 Transforming an old, outdated bathroom into a modern sanctuary doesn't necessarily require a hefty budget. With a few strategic changes, some creativity, and a bit of elbow grease, you can significantly re-invigorate your bathroom's ambiance. 
Here's how you can breathe new life into an outdated bathroom, without draining your wallet.
Start with a Plan
Before you dive into the renovation, assess your bathroom's current condition and decide what needs updating – oftentimes, small changes can create a big impact, so start with some of the cheaper yet bigger elements of your bathroom like the mirror, cabinet, sink, and tile. This is the stage where you'll create a priority list and set a budget. Remember, the goal is to make a noticeable impact without undertaking a complete remodel.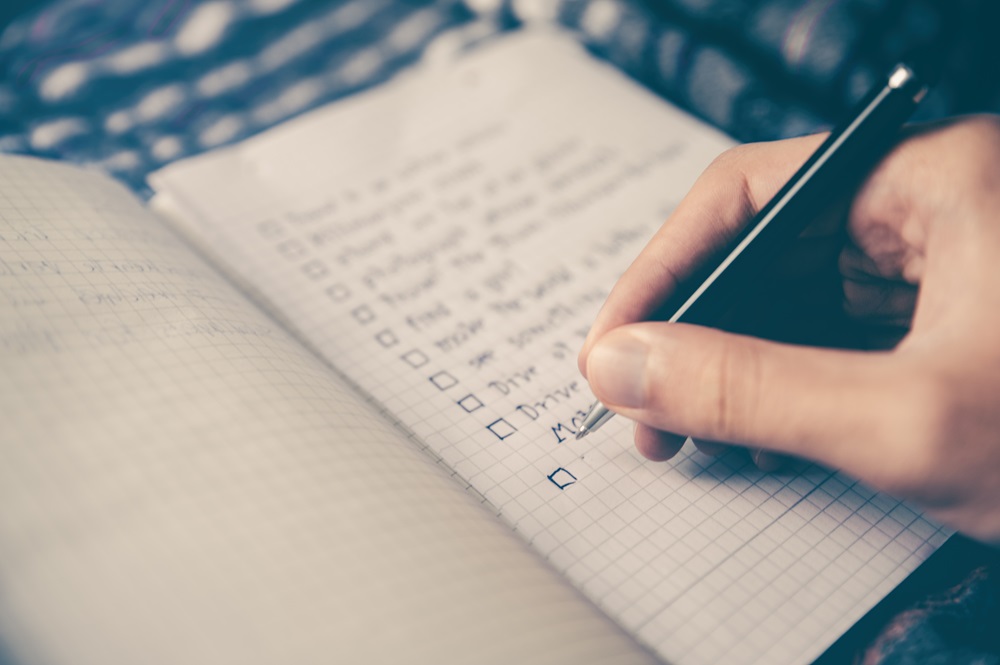 Paint: A Fresh Coat for a Fresh Start
One of the simplest and most cost-effective ways to make an old bathroom look new is with paint. Choose a light, neutral color to make the space feel larger and cleaner, or opt for a bold hue to add character and play into current trends. PRO TIP: pick a paint that's mold-resistant and suitable for damp environments.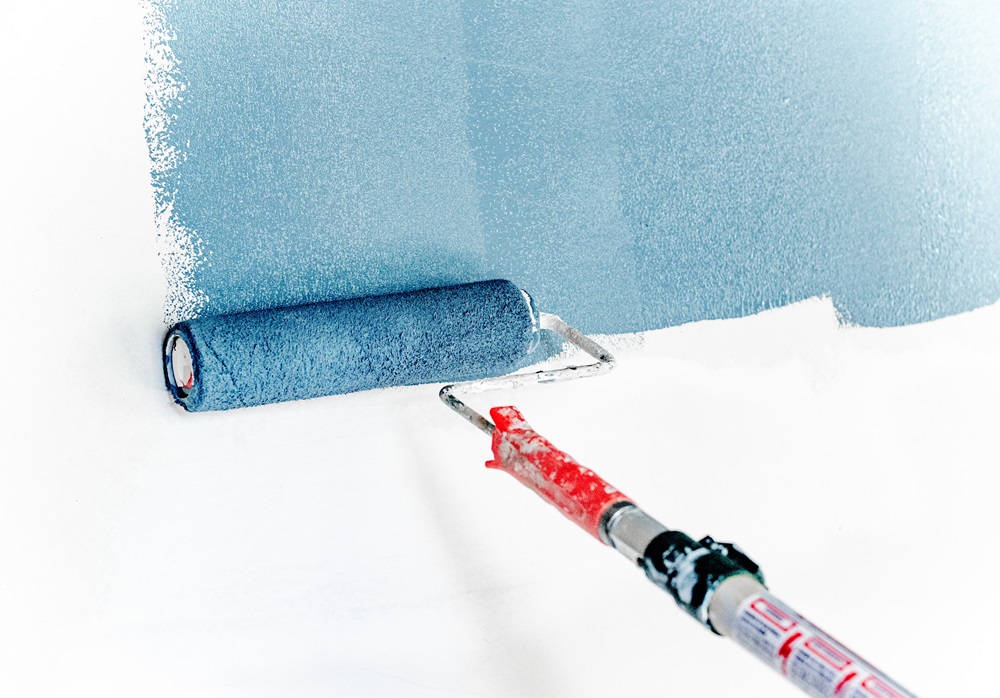 Update Fixtures and Hardware
Swapping out old faucets, showerheads, and cabinet hardware can make a world of difference, especially in a smaller bathroom! Look for modern designs that can fit with your current set-up while elevating the luxury vibes. Consider brushed nickel or matte black finishes for a contemporary look that's also on-trend.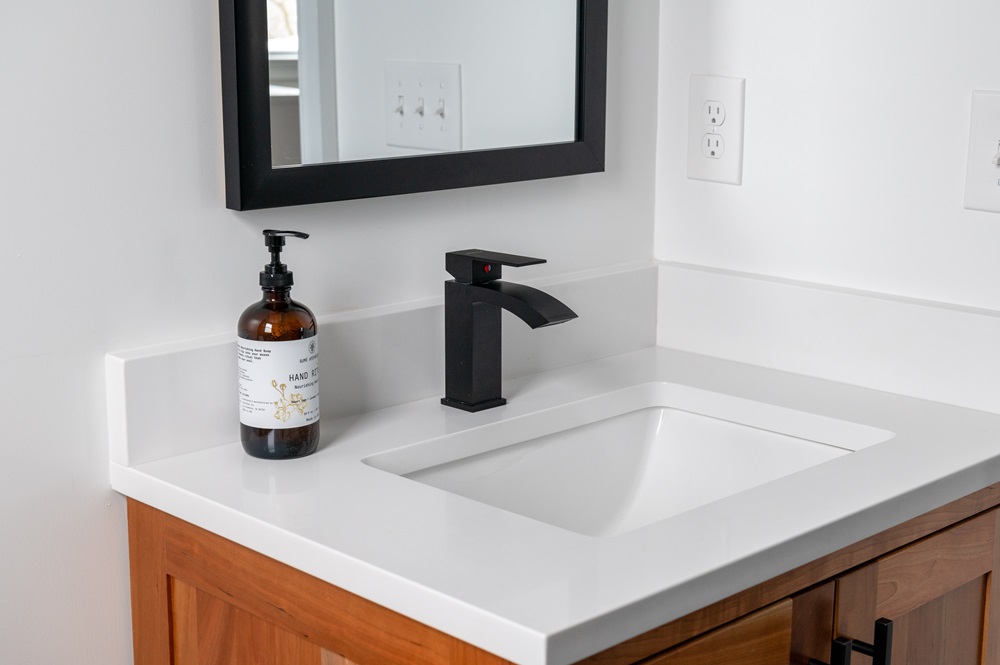 Refinish Instead of Replace
If your shower, sink, or tiles are in good condition but look dated, refinishing them can be a game-changer (and a wallet-saver). There are DIY refinishing kits available, or you can hire a professional to give your fixtures a brand-new look at a fraction of the cost of replacement.
Accessorize Smartly
Accessories are the hidden jewels of the bathroom. A new shower curtain, bath mat, or a set of towels can add a splash of color and texture. Invest in matching soap dispensers, toothbrush holders, and trash cans for a cohesive look that really elevates the space.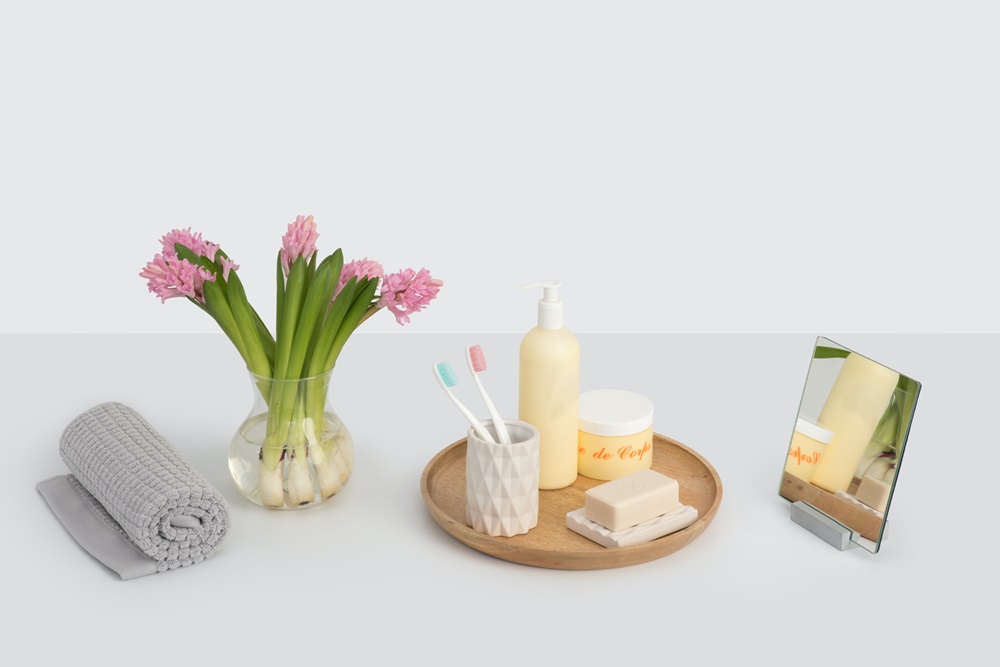 Let There Be Light
Updating lighting fixtures can significantly brighten the space and elevate the bathroom's design. If new fixtures aren't in the budget, even changing existing fixtures to daylight LED bulbs can make the bathroom look more modern and inviting.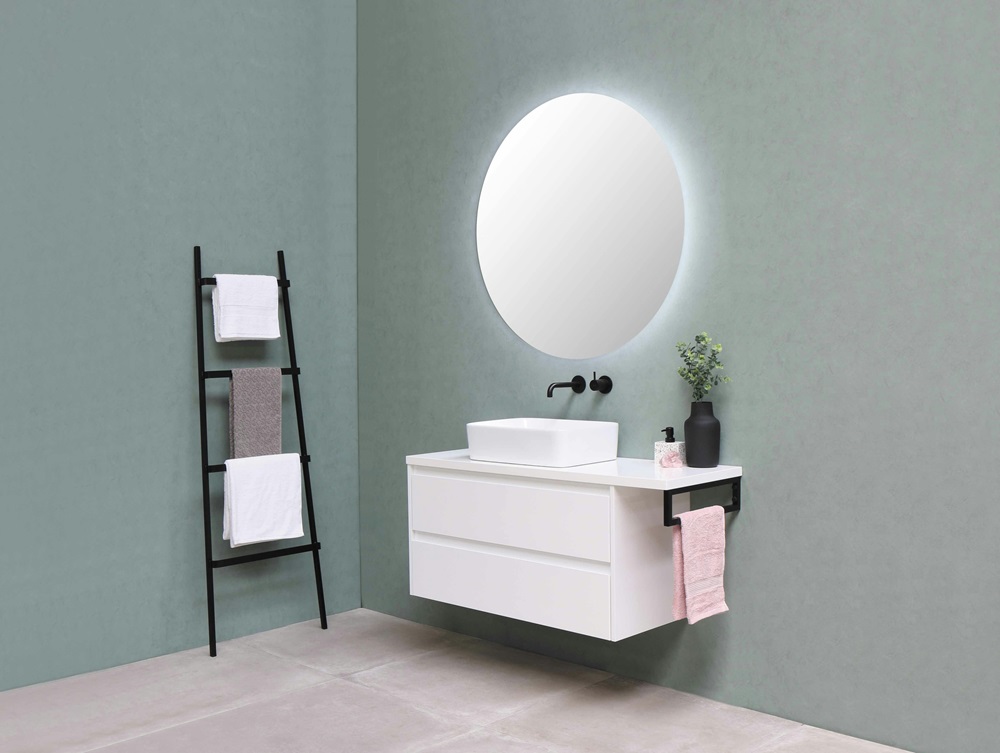 Focus on Details
Seemingly small details can have a significant impact in a bathroom. Install new toilet seats, add fresh caulk around built-in tubs and sinks, and replace or deep clean old vent covers. These minor changes contribute to the overall feel of a clean, new bathroom.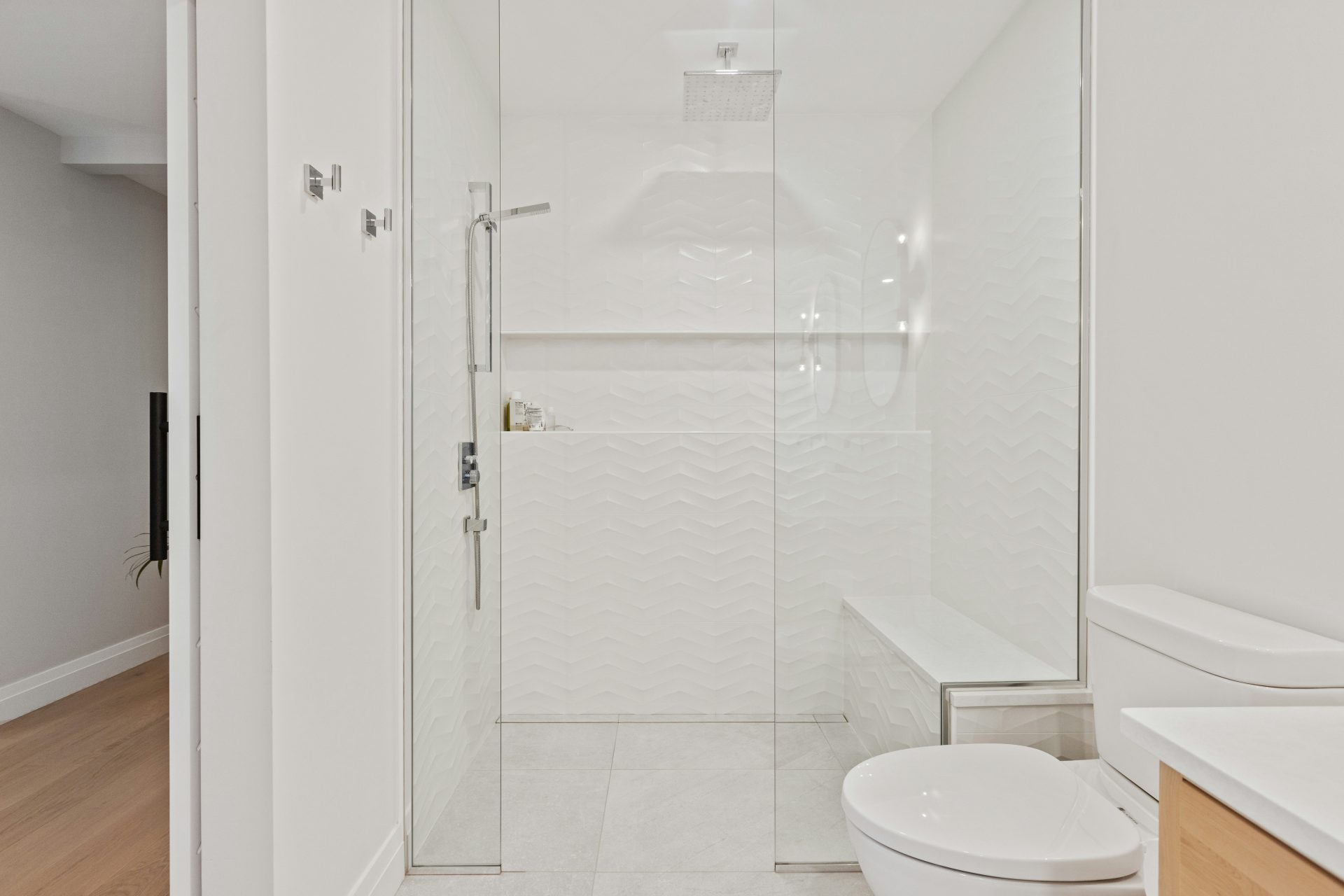 Get Organized
Clutter can make even the most updated bathroom feel old and tired. Add shelves, drawer organizers, and storage baskets under the sink to keep everything in its place. A tidy bathroom instantly looks more modern, clean, and luxurious!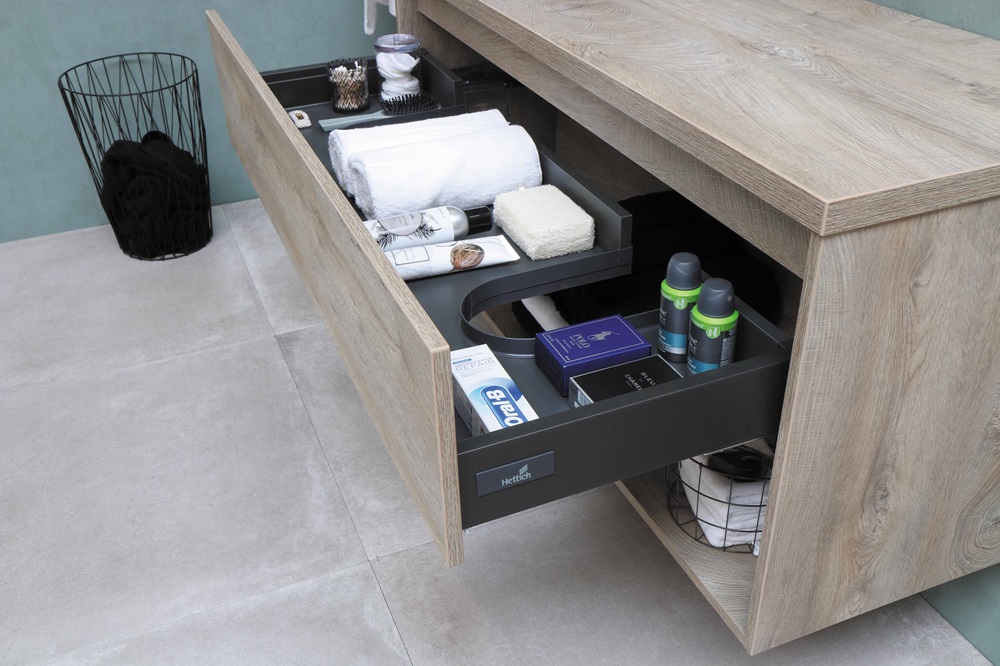 Mirror, Mirror on the Wall
An old or builder-grade mirror can date and downgrade your bathroom. Consider framing your existing mirror, or replacing it with a more modern one. Mirrors also reflect light, making your bathroom appear larger and brighter. Opting for an oversized mirror will reflect more light and fit a bigger wall space so it doesn't feel empty.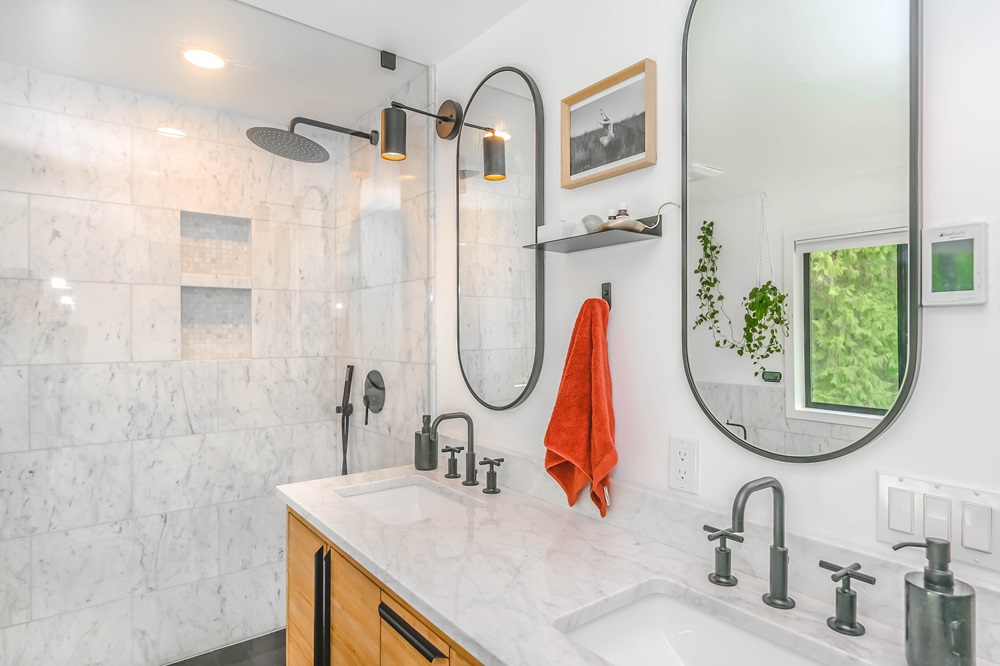 Go Green
Plants can transform the look and feel of your bathroom. Choose species that thrive in high humidity and low light, such as ferns or pothos. They add a fresh, lively touch and can improve air quality. You can even hop on the Pinterest trend train of adding fresh eucalyptus inside your shower for a refreshing, scented steam.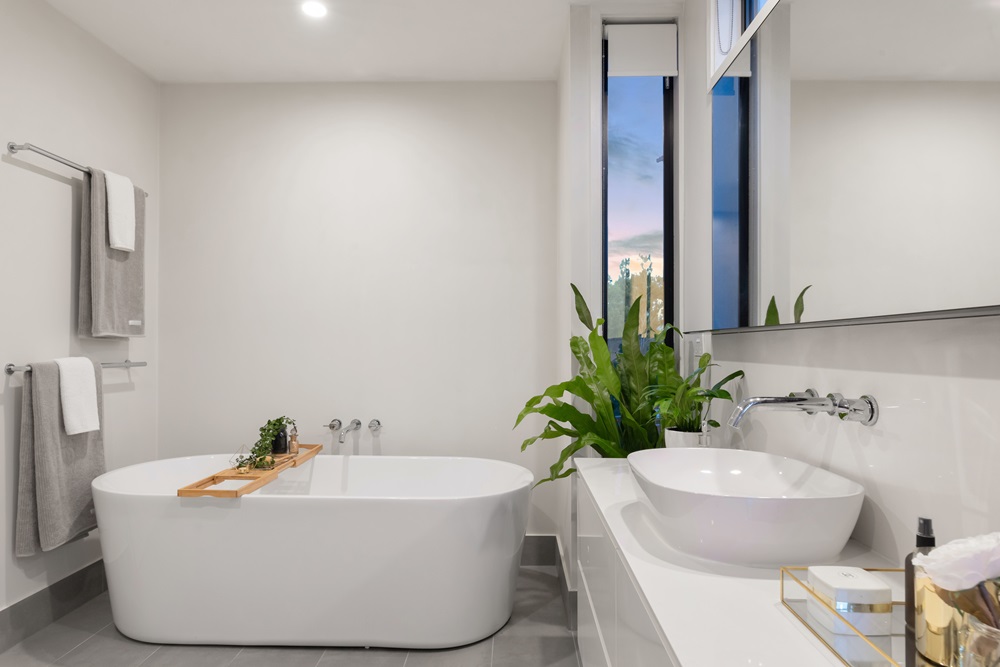 Embrace the DIY Spirit
DIY projects like painting cabinetry, creating your own wall art, or refinishing fixtures can add personality without breaking the bank – but, it's not always going to be an easy project that you already know how to do. There are numerous tutorials online that can guide you through the process, so make sure to have a little patience and a lot of creativity going into it!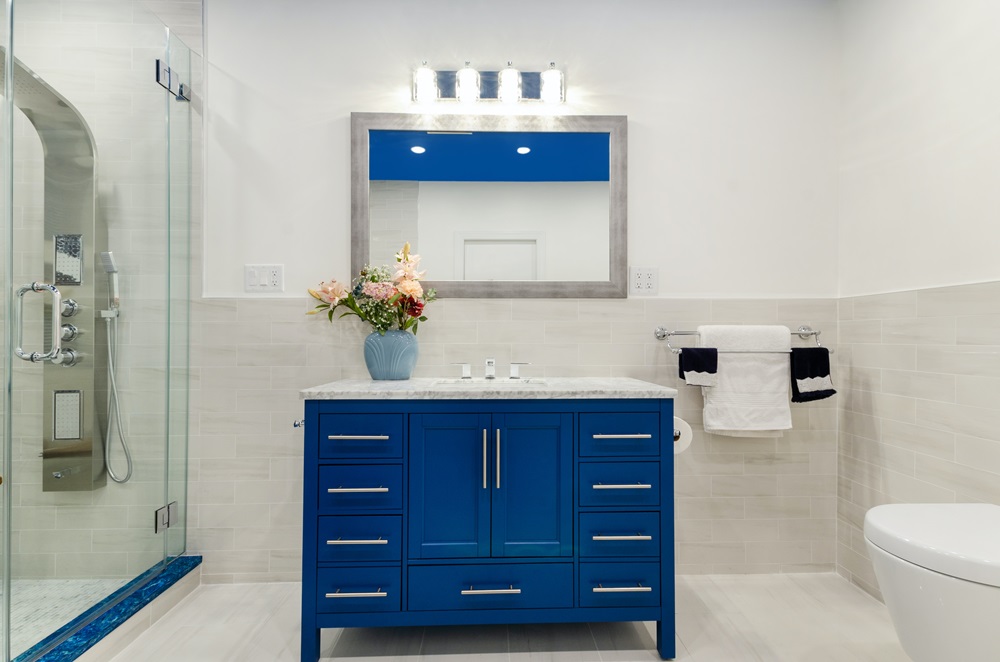 Keep up With Regular Maintenance
Often, a deep clean is all a bathroom needs to look new. Remove rust, clean grout, descale the showerhead, and polish the fixtures regularly. Regular maintenance can go a long way in keeping the bathroom looking fresh, so before you start the DIY work or once you're finished and have created a beautiful space, be sure to add "deep clean the bathroom" to your regular home cleaning routine.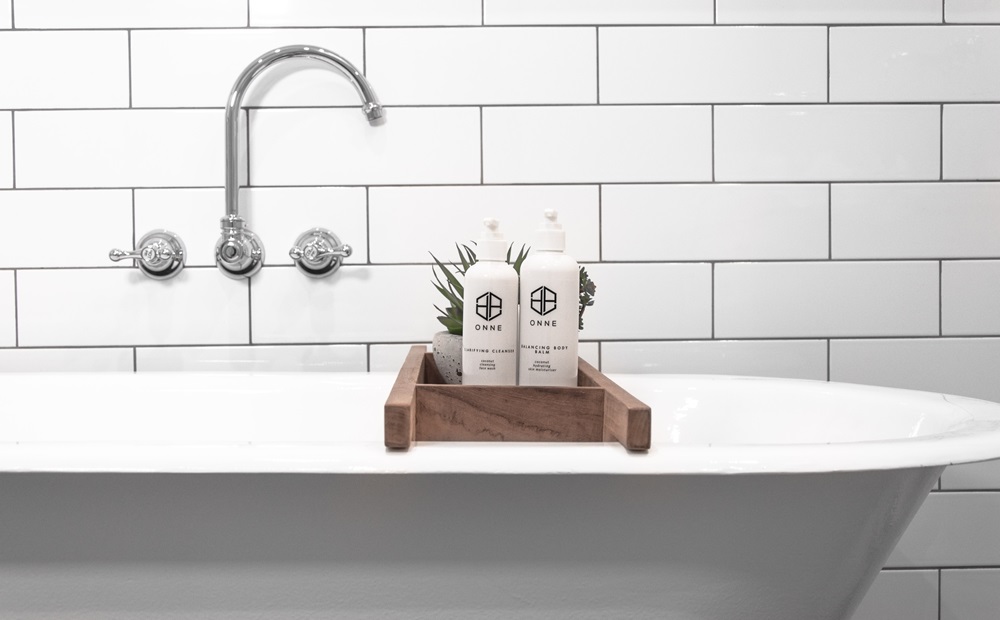 Overall, renovating a bathroom on a budget is entirely feasible with thoughtful planning and smart, focused choices. Focus on cosmetic changes that have a large impact first, like painting and updating fixtures, to create a more modern feel and set a beautiful foundation before adding more. Embrace DIY solutions, and remember that sometimes, a thorough clean can be just as transformative as a new piece of decor. With these tips, your old bathroom can become a new retreat that you just can't wait to come home to! 
SHOP T & L BATHTUBS HERE