Designing your dream bathroom and choosing your tub is one thing… but the more difficult step that comes next is actually installing that beautiful tub in your bathroom. And that part tends to come with a lot of questions! 
In this blog post, we are breaking down some of the most common questions we hear regarding bathtub installations. Hopefully this mini guide will help you install your bathtub without a worry.
Will your Bathtub Fit Through the Door?
Tyrrell and Laing bathtubs arrive in a large wooden crate, so it's no wonder why we get asked so often whether or not they will fit through the door of your house, your bathroom door, up your stairs, or wherever you need to move it.
Once you have uncrated it, following our easy to follow instructions, its time to get it into place for installation. We do offer a bathtub template for you to use during the rough-in stage to ensure your plumbing etc. is exactly where you need it to be.
The trick to getting your large bathtub through the door and around corners is to turn it onto its side, place it on a moving blanket or dollie, and slide it through the doorway, keeping it in its original protective packaging. This way, you won't accidentally ding or dent the tub while moving it!
One of the advantages of our InspireStone™ stone composite material is that if you were to accidently scratch your bathtub during installation – it can easily be repaired!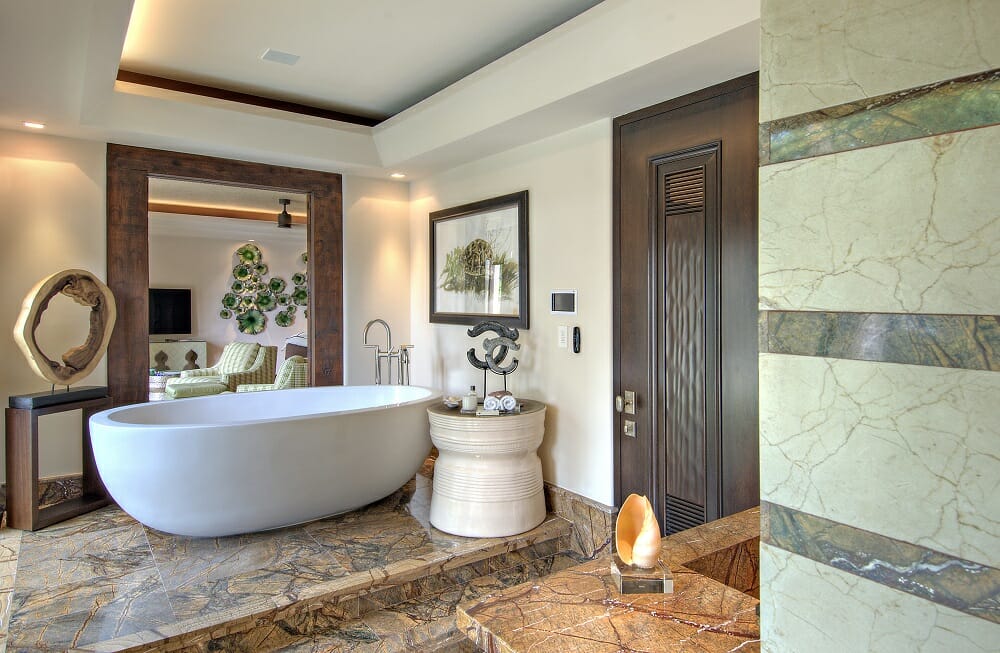 Where Do I install Grab Bars?
Frequently, hotels (or customers) want to install grab bars on either one or both sides of the tub to help with entering and exiting. But, how do you know where to install them? Which side of the tub they should go on? 
This is personal preference, if you require two grab bars they will go on either side about 2″ below the rim of your bathtub. If you only require one grab bar you can have it installed on the same side as the overflow or on the opposite side. This really depends how your bathtub is positioned in your bathroom and if you want it to be visible when walking into the bathroom.
Grab bars are a great addition, making your tub much more accessible and comfortable for anyone and everyone to use as they please!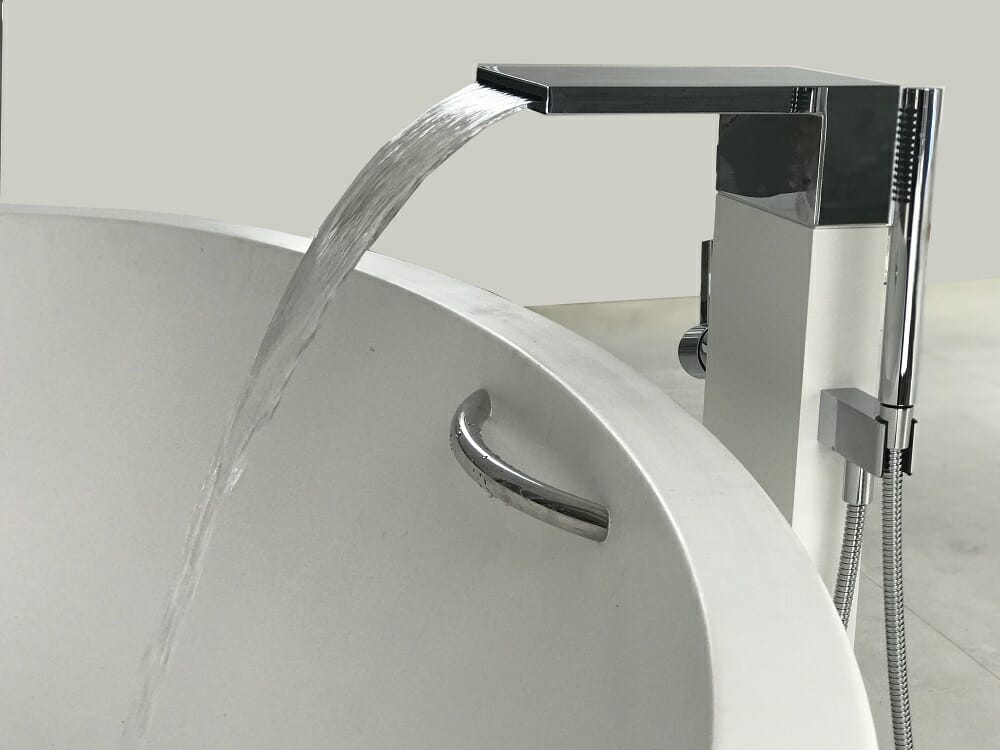 Which Bathtub Drain is Best?
We offer two beautiful bathtub drains to accommodate your design preferences!
First, the traditional "pop-up" drains, which are typically used throughout the plumbing industry on sinks and tubs. While the Polished Chrome is the standard for most manufacturers, ours come in a variety of color options to perfectly match your bathtub finish. White, onyx, matte, glossy, whatever you choose… your drain can match! 
Whichever finish you choose, these drains are perfectly fitted to your unique tub. This style is typically used on our Contemporary Collection. 
The second type of drain we offer is the lift and turn drain, which was custom-designed for our bathtubs. This drain lays flush with the floor of the bathtub so you can enjoy your bath without that pesky, poking drain getting in your way. This style is available in polished chrome, brushed nickel, matte black, and luxe bronze. These drains are specifically used in our Deluxe Collection. 

Can a Plumber Install a Bathtub?
In short – YES! We highly recommend hiring a licensed, professional plumber to install your bathtub. And, we even provide them with easy-to-follow instructions specific to our tubs. 
For easier installation, you could also consider our Island Drain, available in PVC or ABS (depending on where you are located). Plumbers love how easy they are to install, and they are ideal if you don't have access underneath your bathtub for installation. View more here.