One of the main draws of a freestanding bathtub is that it can be installed (almost) anywhere! Whether you're placing it in front of a mosaic wall or an accent wall, in front of a window, in an alcove, on a pedestal, or in the middle of the room – the beautiful possibilities are endless. 
To find some inspiration about all the options you have when installing your freestanding bathtub, check out some photos of our hotel bathroom projects here. 
How Close to a Wall Can a Freestanding Bathtub Be? 
It is typically recommended to place your freestanding bathtub at least 5 inches from the wall when you are using a freestanding faucet between the tub and the wall. However, if your faucet is coming out of the wall, the tub may need to be closer to the wall. 
This is mainly for one reason – so the faucet can be installed properly. But a nice added bonus is the 5 extra inches gives you plenty of room to clean between the bathtub and the wall when you need to. 
Let's take a look at the Four Seasons Denver as a beautiful example of freestanding bathtubs placed in front of a wall. The elegant, understated rooms feature marble bathrooms with Tyrrell and Laing Slipper and Oceanus luxury freestanding bathtubs – all of which are placed against a wall, as you can see in the images below.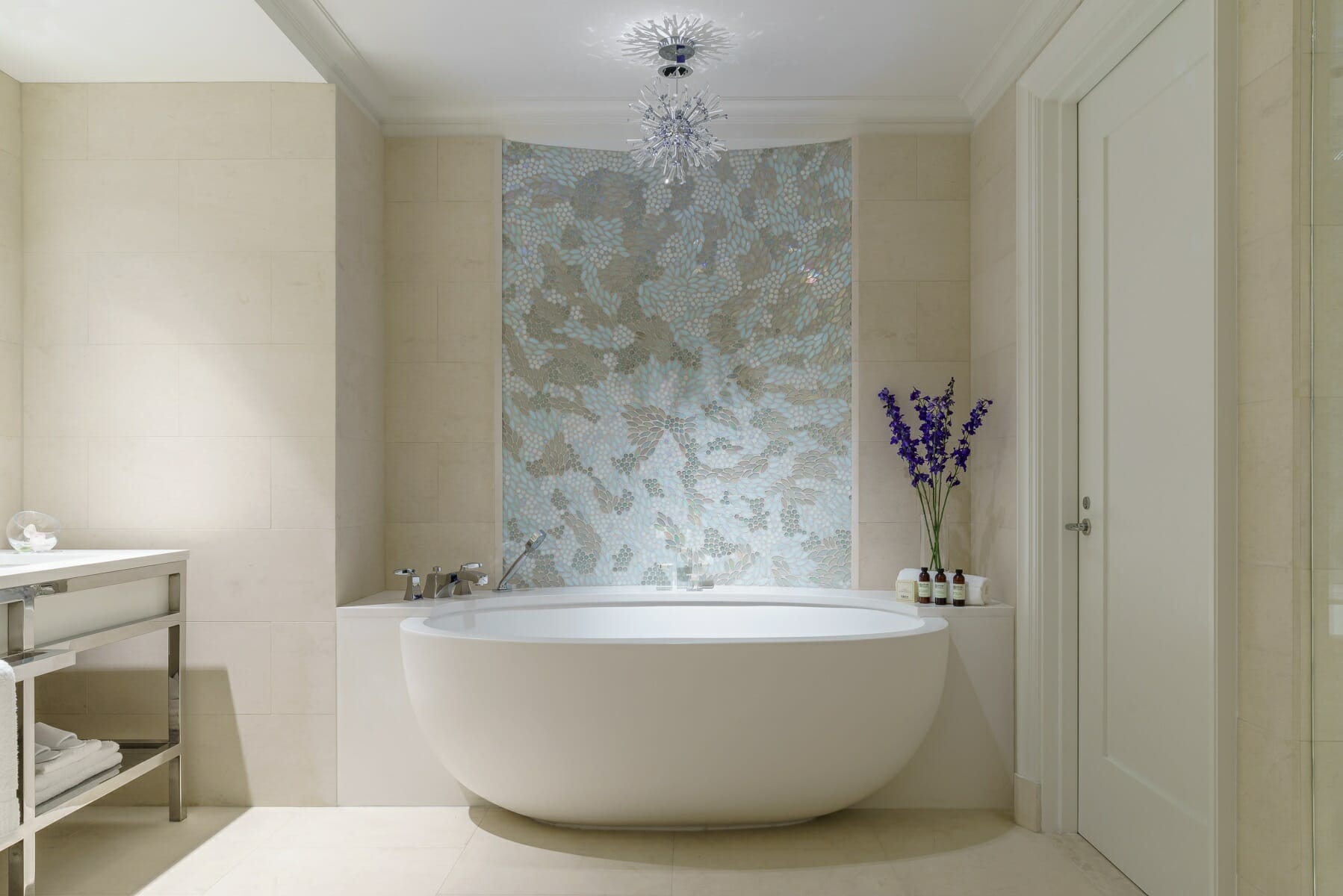 While it may seem like a freestanding bathtub, as heavy as it is, can stand on its own without being secured to the floor, that is not the case. Freestanding bathtubs need to be secured with silicone because of how heavy it is. If it's not secured, it may tip and cause damage to your bathtub, drain, faucet, floor, and more. 
Now if you don't like the idea of an obvious silicone ring around the bottom of the bathtub, no worries! When done right, the silicone attachment should not be visible (unless you're really looking hard for it). 
What is a Freestanding Bathtub?
To put it simply, a freestanding bathtub is a bathtub that sits directly on the bathroom floor, and is finished on all sides. It stands alone on the floor, and doesn't need to be connected to a wall, shower, or anything else. 
With freestanding bathtubs rapidly growing in popularity over the past decade or so, both single and double bather tubs are now available in a wide variety of shapes, sizes, colors, and styles, some even coming with an option for a hot air massage system! 
A freestanding bathtub makes a statement in your bathroom design, catches your eye and creates a luxurious ambiance. But beyond purely aesthetic choices, freestanding bathtubs also make for the most comfortable and relaxing bathing experience, since they are usually deeper than other tubs, and designed with the bathers' comfort in mind. 
Shop our luxury freestanding bathtubs HERE.