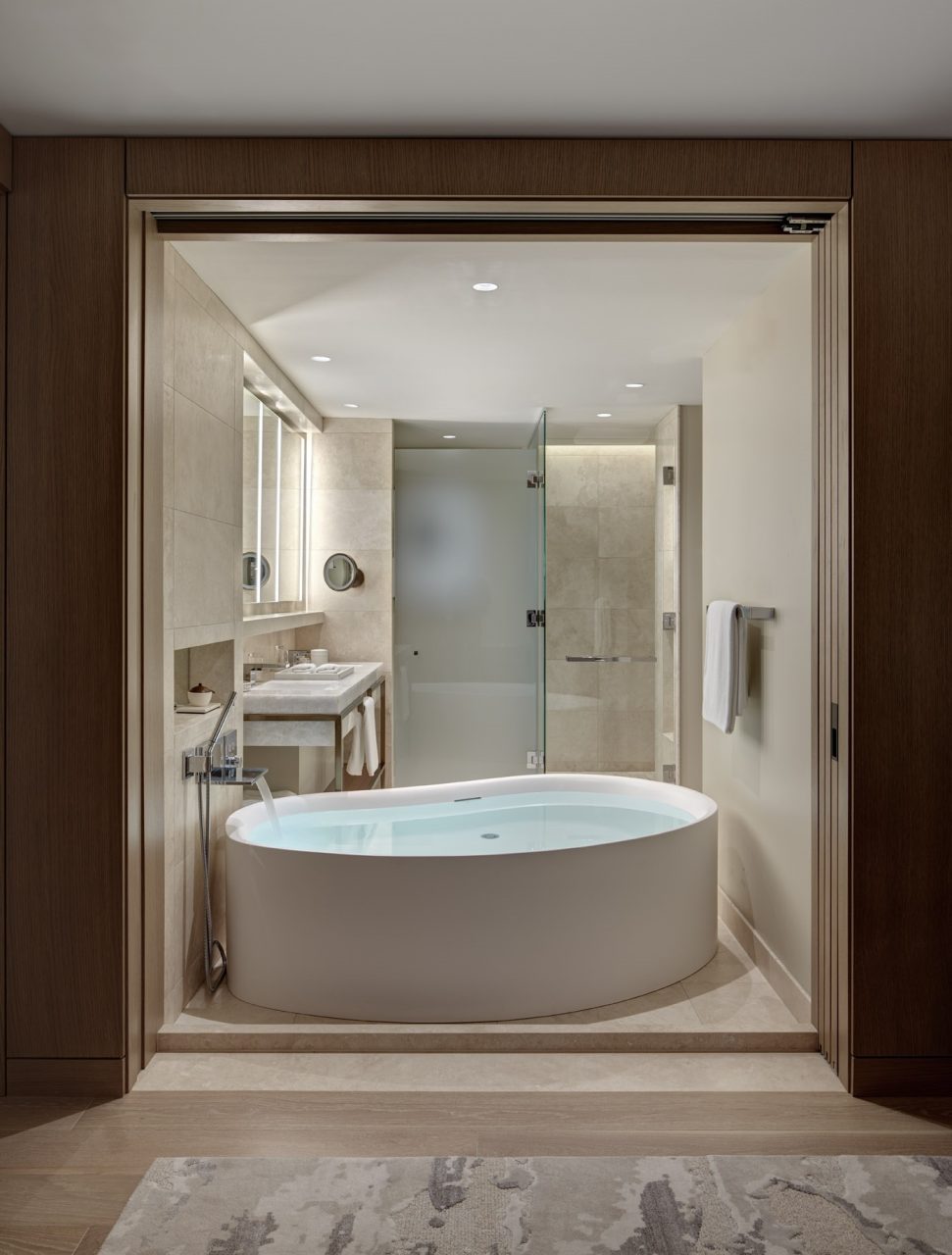 When luxury meets careful craftsmanship, the result is nothing short of extraordinary. And that is exactly the result of Tyrrell and Laing International's prestigious collaboration with the iconic Park Hyatt in Chicago. 
Here, we'll take you through the journey of crafting 16 custom freestanding bathtubs that now grace the opulent suites of this renowned hotel, shedding light on the collaboration, design, and the exquisite finish that sets these bathtubs apart.
The Park Hyatt, Chicago
Located in the heart of the Magnificent Mile, Park Hyatt Chicago is synonymous with unmatched luxury. Its architecture is a seamless blend of sophistication and modern design, and it makes a beautiful mark on the city skyline. Guests are not only treated to unparalleled comfort but also to panoramic views of the historic Water Tower, Lake Michigan, and the city's skyline – what more could you ask for when staying on the Magnificent Mile! 
The allure of the Park Hyatt is further amplified in its elite suites. Our focus revolves around the Chicago Ave Suite and the Lake Michigan Suite, where our bathtubs have found their illustrious homes. 
Our Collaboration with Anderson Miller
Any project of this magnitude requires a harmonious collaboration between multiple stakeholders. One pivotal player in this endeavor was designer Laurie Miller, of Anderson Miller. With a rich portfolio that spans luxury hotels, resorts, and restaurants, Anderson Miller has carved a niche for itself in the world of interior design. Their design philosophy resonates with crafting experiences rather than just spaces, and this project was no exception.
The synergy between Tyrrell and Laing's craftsmanship and Anderson Miller's vision was palpable from the outset. This collaboration ensured that the end product was not just functional in the suites, but also a masterpiece that complements the suite's ambiance.
Completely Custom Bathtubs
Bespoke luxury was at the heart of this project. One of the standout features of our bathtubs in these suites was the custom drain location. Designed to fit snugly in the doorway between the bedroom and the bathroom, this feature demanded precision and innovation in equal measure.
Additionally, customization wasn't limited to just the placement. The sizing and shape of the bathtubs were tailor-made to match the suite's aesthetics and functional requirements. Every contour, every curve was meticulously crafted to ensure it echoed the suite's elegance and the Park Hyatt's legacy.
The Most Functional and Beautiful Bathtub Material
A defining characteristic of our bathtubs is the finish. For this project, we chose our highly sought-after white matte finish in our signature InspireStone® material. At first glance, one might mistake it for real stone, thanks to its authentic texture and appearance. However, the benefits of this finish go beyond mere aesthetics.
While it captures the elegance of natural stone, it does so without the accompanying weight. This not only facilitates installation but also ensures uncompromised structural integrity, especially in high-rise buildings like the Park Hyatt.
More Than Just a Bathtub
While our bathtubs are undoubtedly a visual treat, they are also the portrait of functionality:
Ease of Maintenance:

Crafted to perfection, our bathtubs require no routine maintenance. This is particularly beneficial for a bustling hotel, ensuring that the bathtubs always look their best with minimal effort.
Hygiene First:

Given the ongoing global focus on cleanliness and hygiene, our bathtubs are designed to be effortlessly cleanable. Their non-porous nature means they do not harbor germs, ensuring guest safety and suite cleanliness.
Thermal Comfort:

A bath is more than just a cleansing ritual; it's an experience. Our bathtubs are known to retain water heat, allowing guests to indulge in a long, soothing soak, truly embodying the essence of luxury.
This Project is A Testament to Luxury and Craftsmanship
The collaboration between Tyrrell and Laing International, Anderson Miller, and Park Hyatt, Chicago, is a testament to what's achievable when expertise, passion, and vision converge. These 16 custom freestanding bathtubs are not just functional amenities but a statement of luxury, standing as a testament to the commitment to excellence shared by all involved parties.
As you plan your next stay at the Park Hyatt, Chicago, or embark on a design journey of your own, remember that luxury is in the details. Whether it's a custom drain location, custom shape and size, or a finish that mimics the elegance of stone without its weight, it's these nuances that elevate an experience from ordinary to extraordinary.
Discover the world of custom bathtub designs with Tyrrell and Laing International.
Visit the Park Hyatt, Chicago, to experience this luxury first-hand.