The world of bathroom design is constantly evolving, and one trend that's making waves right now is the freestanding bathtub. These stand-alone beauties are not just about a luxurious soak; they're a style statement, a focal point, and a reflection of personal taste. 
Let's dive into what's trending in the realm of freestanding bathtubs.
Bold Veining: A Stunning Visual Impact
Earlier this year, we launched a finish that's now taking the bathroom design world by storm: Bold Veining. It's not just a trend – it's a revolution in bathtub aesthetics. 
Veining in bathtubs offers limitless possibilities in bathroom design, allowing you to play with color palettes you might have never considered before. It stands out as a bold centerpiece, transforming the entire appeal of your bathroom.
Our Onyx finish, featuring striking veins in hues of blue, gray, browns, and earth tones, has beautifully set this trend in the luxury bathing realm. These pictures showcase our Stella bathtub, a prime example of how this veining trend can be perfectly embodied in a bathtub design.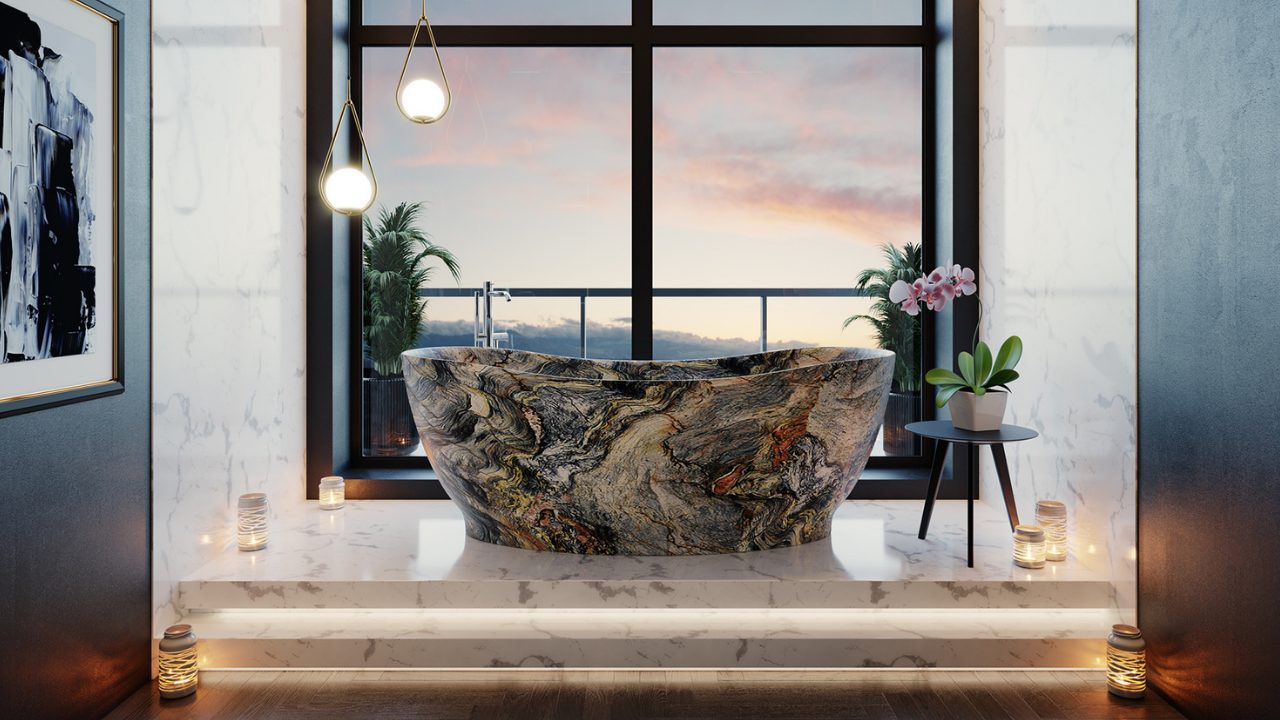 What Type of Material is Best for a Bathtub?
Weight and Warmth Considerations
When it comes to selecting the right material for your freestanding bathtub, there are several factors to consider. Traditionally, many veined or marbled bathtubs have been crafted from actual marble. While undeniably gorgeous, marble bathtubs come with certain drawbacks – their weight being a primary concern, often averaging around 1,000 lbs. In contrast, T&L's InspireStone® Bathtubs average a more manageable 300lbs, offering the same luxurious look and feel as real marble or mined stone tubs without the need for additional floor reinforcement.
Heat Retention and Maintenance
Another aspect where our bathtubs stand out is warmth. Unlike marble tubs that typically feel cold to the touch, our bathtubs are warm and inviting, equipped with a cavity wall that helps retain water heat for a longer, more relaxing soak.
InspireStone®: The Superior Material Choice
Our proprietary InspireStone® material offers a compelling advantage over marble. Being non-porous, it stands in stark contrast to marble's porous nature, which often leads to discoloration from absorbing liquids like wine, juice, or oil. Marble is also susceptible to scratches and is challenging to repair. Conversely, InspireStone® is resistant to scratches, mold, mildew, and stains, proving to be a clear winner in durability and maintenance.
Contemporary Bathtubs in Onyx Finish
Our exciting Onyx finish is not limited to traditional styles; it's available throughout our Contemporary Bathtub Collection, comprised of tubs for every size and style – from round to rectangular, suitable for single or two-person baths. These tubs aren't just about looks; they're customizable in terms of color, finish (matte or gloss), and even the drain kit finish.
Most styles in this collection offer multiple size options, ensuring they fit seamlessly into various bathroom designs and floor plans. Explore our range of contemporary freestanding tubs here.
The trend in freestanding bathtubs is clear – bold veining, superior material, and contemporary designs are in. With our range, not only do you get a bathtub that's a statement piece, but also a practical, durable choice for your personal oasis. Whether you're renovating or just seeking inspiration, remember that the right bathtub can transform your bathroom into a sanctuary of style and relaxation.