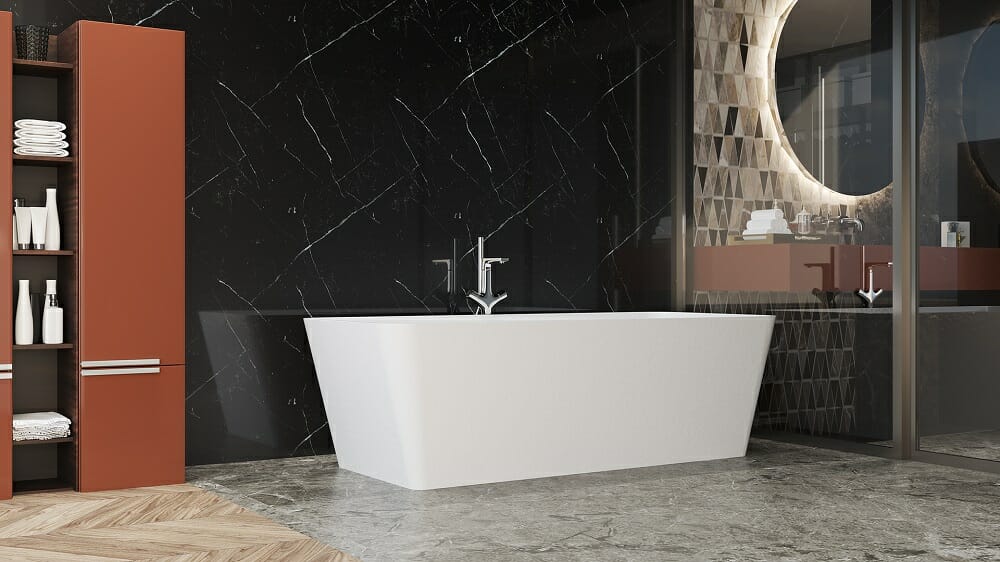 Are you thinking of replacing your worn-out standard drop-in bathtub? If so, now is the perfect time to consider upgrading to a luxurious freestanding bathtub that combines both comfort and class. 
The Acqua Freestanding Rectangular Bathtub is a stylish design statement that can elevate your bathroom to a whole new level of elegance. This chic, yet comfortable bathtub offers ample room for solo soaking or dual-bathing, making it perfect for sharing a relaxing evening soak with your significant other.
This freestanding centerpiece bathtub is designed with a flat bottom that is suitable for both shower/bath combo installations or standalone soaking. The design not only adds a contemporary touch to your bathroom, but also promises unmatched comfort for all.
Rectangle Tub Dimensions
The Acqua Freestanding Rectangular Bathtub measures a spacious 58.46" in length and the tub's width is a comfortable 24.5″. This generous length provides plenty of space for a solo bather to stretch out and unwind, while the width provides plenty of room for your shoulders and back. Combined with the sloped back design, this ensures a comfortable and relaxing bathing experience.
The tub can also comfortably accommodate two bathers, making it an ideal option for couples. This bathtub is designed with a center drain to maximize comfort for one or two bathers. The specially designed positioning allows two people to bathe simultaneously without the discomfort of one person sitting on the drain.
With a height of 21.5″, this bathtub is easy to step into and out of, making it an ideal choice for bathers of all ages. This height is also practical for parents who need to lean over the tub to bathe their children.
Once filled, the Acqua bathtub provides over 17″ of soaking space, promising a relaxing and immersive bathing experience.
Rectangular vs Oval Bathtub
Whether you prefer the modern aesthetics of a rectangular bathtub or the classic charm of an oval one, Tyrrell and Laing offers top-quality options for both (and more). All our bathtubs are designed with the same dedication to beauty, comfort, and luxury, no matter the shape.
All of our bathtubs are made from InspireStone®, a durable and premium-quality material. This unique material is resistant to wear and tear, ensuring that your bathtub maintains its pristine finish for years to come. Furthermore, InspireStone® is renowned for its heat-retaining properties, ensuring your bath stays warm for longer.
Both rectangular and oval options are available in our standard colors – pristine white, elegant black, and a range of custom color options in matte or gloss finishes. This allows you to choose the perfect color and finish that matches your bathroom decor and unique style. 
At the end of the day, the choice between a rectangular and oval bathtub boils down to personal preference and the overall design aesthetic of your bathroom. 
But no matter your choice, rest assured that with Tyrrell and Laing, you're investing in a bathtub that brings together luxury, comfort, and style. Upgrade your bathroom today with the Acqua Freestanding Rectangular Bathtub and elevate your bathing experience like never before.