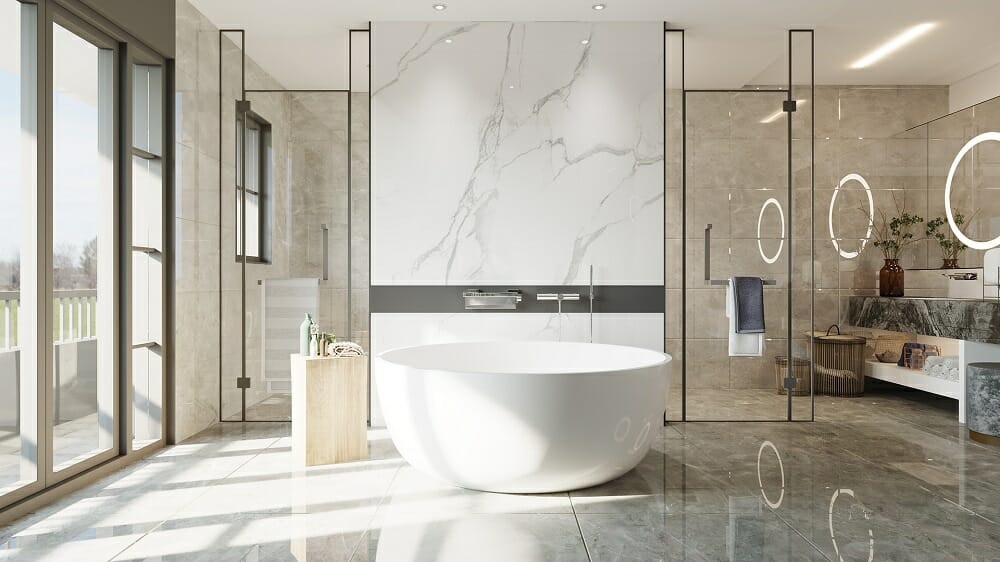 Choosing the perfect bathtub can significantly elevate your bathroom luxury to the next level – but how do you know which one to choose? 
While oval bathtubs frequently claim the top spot for comfort – the comfort, luxury, and elegance of round bathtubs should not be overlooked. If you've ever asked yourself if round soaking tubs are comfortable, then our Atlantique Round Bathtub is going to revolutionize everything. 
The Superior Comfort of the Round Atlantique Bathtub
Our Atlantique Round Bathtub is designed for ultimate relaxation. 
Unlike many more traditional bathtubs, it offers superior back support, allowing you to lean back, relax, and soak away your stresses. This ergonomic design ensures that the tub is comfortable and therapeutic, providing a spa-like experience right in your home.
Best Heat Retention Bathtub Material
One of the defining features of the Atlantique Round Bathtub is its construction from our unique InspireStone™ material. Unlike conventional materials like cast iron, which can be cold to touch, InspireStone™ is warm, providing a welcoming surface as soon as you slip into your bath. 
This revolutionary material not only enhances comfort but also contributes to the energy efficiency and water conservation of your bathtub. The InspireStone™ material used in our Atlantique Round Bathtub is designed to retain heat, which allows for longer and more enjoyable soaks, without the need to constantly top-up with hot water. Say goodbye to the discomfort of cooling water and embrace the luxury of a warm, comforting soak that lasts.
Perfect Bathtub for Alcoves and Varying Bathroom Sizes
Are you looking to upgrade your outdated undermount or builder-grade bathtub? Round soaking tubs like our Atlantique are the best replacements to consider! Their design makes them an ideal fit for alcoves, adding a modern touch to your bathroom without the need for a complete renovation.
The Atlantique comes in two sizes, ensuring that regardless of your bathroom dimensions or needs, we have the perfect fit, so you can optimize your bathroom space without sacrificing comfort.
Most Comfortable Round Bathtub
Not only are round soaking tubs more comfortable, but they also offer additional benefits to enhance your bathing experience. From superior back support, to heat retention, and a warm-to-touch surface, the Atlantique Round Bathtub provides a luxury you can indulge in every day.
Ready to transform your bathroom into a relaxing oasis? Check out our Atlantique Round Bathtub and experience a new level of comfort today.